Not All Tools are Equal: Find the Best Measuring Cups for Your Kitchen
If you're newly outfitting a kitchen or just exploring cooking or baking further, then you'll likely need to purchase some measuring cups. However, not all measuring cups are the same. Many are made with different uses in mind (liquid versus dry ingredients, hot versus cold ingredients, etc.) and come with different features. Whatever your reason for purchasing new measuring cups, here are four options to consider. All of these measuring cups are available for budget-friendly prices on Amazon.
Photo: Getty Images/iStockphoto
Heading out the door? Read this article on the new Outside+ app available now on iOS devices for members! Download the app.
Best Budget Option
Vremi 3 Piece Plastic Measuring Cups Set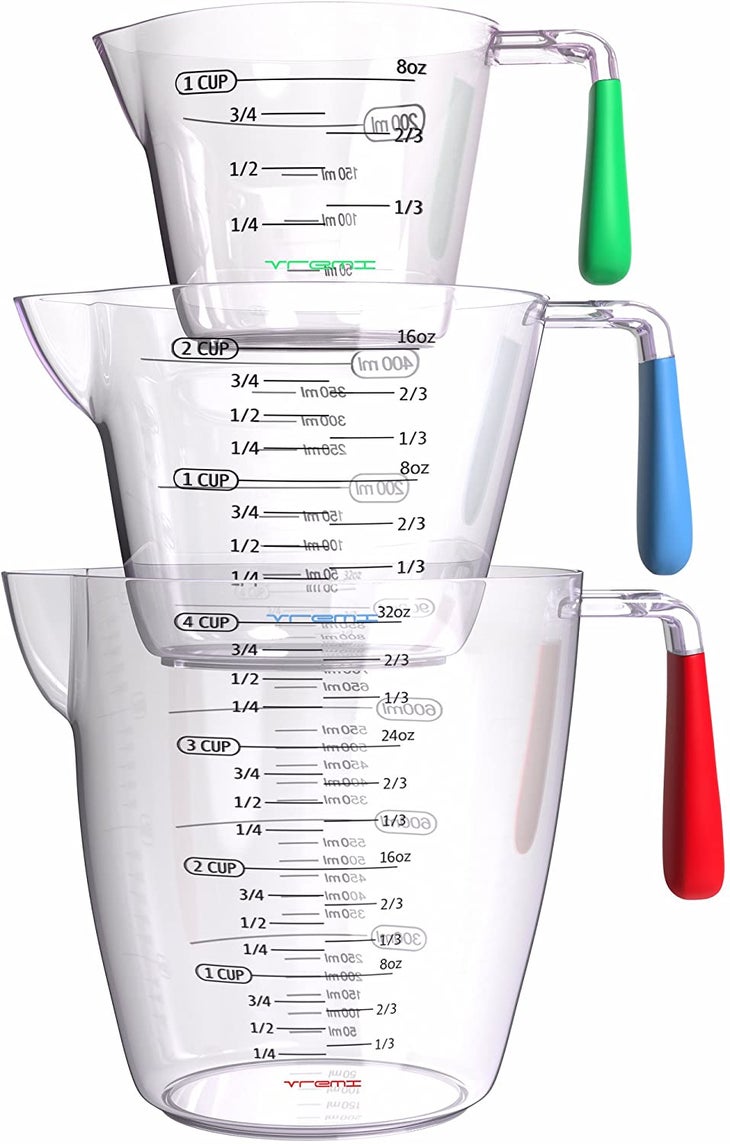 Three Liquid Measuring Cups for $12. A budget-friendly option for those who need a quick fix.
What We Liked
If budget is your primary concern, then you'll want to look at this set of three measuring cups available for a pretty low price. For the mere 12 dollar price tag, you get not one, not two, but three measuring cups, all in different sizes (one cup, two cups, and four cups), and they all feature BPA-free plastic and non-slip handles. Buy it now.
Best Angled Design
OXO 1056988 Good Grips 3-Piece Angled Measuring Cup Set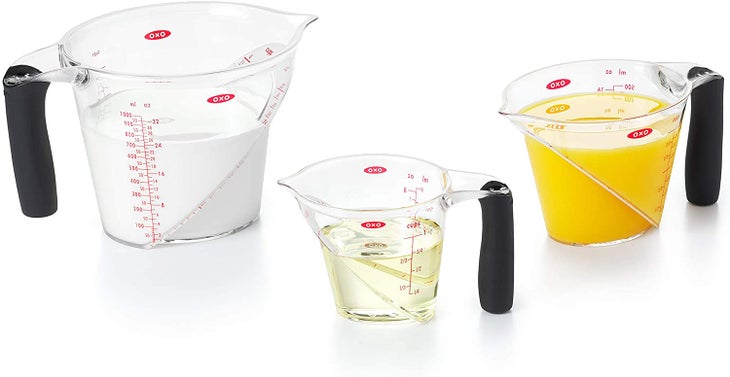 Stop Measuring Ingredients the "Old" Way. Angled measuring just makes cooking easier!
What We Liked
Angled measuring cups provide you with a very handy little feature that you don't realize is so incredibly valuable until you have it. Angled measuring cups allow you to view your ingredient quantity from above — so you're not bending over as you pour to gauge when you reach the very narrow line that marks the desired quantity. The angled design makes it easier to get to your desired quantity the first time, without having to add and remove some of the ingredient as you go. This set comes with three angled measuring cups in three sizes. Buy it here.
Best Glass Version
Anchor Hocking 77897 Fire-King Measuring Cup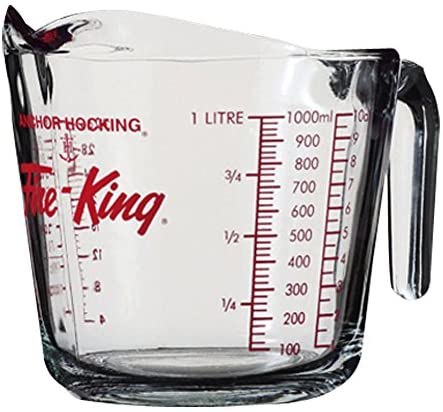 Never Worry About Measuring a Hot Ingredient Again. This glass measuring cup stands up to any challenge.
What We Liked
If you've ever tried to microwave butter in a plastic measuring cup, or tried to pour a hot ingredient into a plastic measuring cup, you've likely learned the hard way that they don't stand up too well when things get heated. Avoid these issues with a glass measuring cup. This one holds four cups, for use in just about any cooking project, no matter how large. Get it here.
Best for Families
Curious Chef Children's 2-Cup Clear Measuring Cup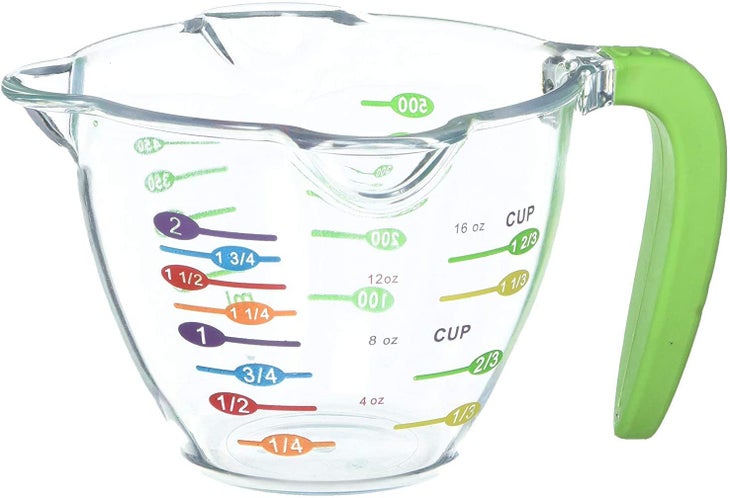 Get Everyone in the Kitchen. The family that cooks together, stays together.
What We Liked
If you've been wanting to get your kids involved in cooking, you might want to purchase this kid-friendly, children's measuring cup — though, really, it's not like adults can't use it, too. However, it does have some more kid-friendly features, such as a slip-free handle and colorful, easy-to-read measurement markers. Get it now.