Our Four Best Jars
What's the first thing you think of when you see the word jar? Is it your favorite jelly? Maybe pickles or other food? But what about Q-tips or beads? Jars come in a large variety of sizes, shapes, colors, and even lids. When making your decision, look for jars that are food safe and compare durability, care, and look. For this review, we decided to take a look at jars that will handle all of your food storage needs. But don't get stuck on limiting their use just to food.
Photo: Getty Images/iStockphoto
Heading out the door? Read this article on the new Outside+ app available now on iOS devices for members! Download the app.
Best Acrylic Jars
STORi Premium Quality Plastic Apothecary Jars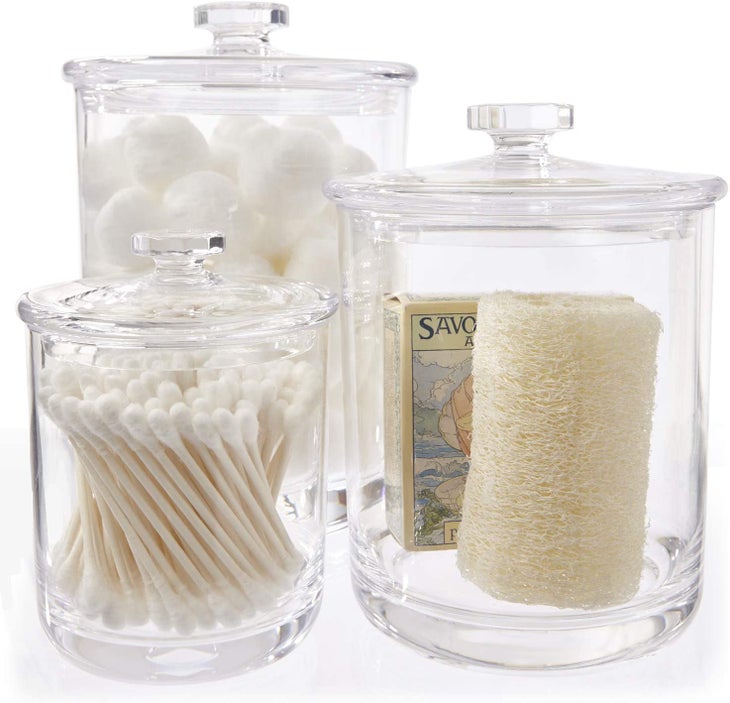 Sizing Up Your Needs. How often have you found a product that is just the right size for everything you want to use it for? Probably never.
What We Liked
Made of tough acrylic, these functional jars are available in 60, 30, and 15-ounce sizes. Order one, or a mix of all three sizes. Each jar has a durable base and lid so you can safely store anything from cotton balls to lemon drops. The clear, decorative lid is easy to grab and adds a decorative touch. You found a great product but now you have to figure out where you're going to get one that fits right. STORI gives you three sizes because they know you want the freedom to choose. While they look like glass, you can rest easy knowing these jars will never shatter. Get it here.
Best Countertop Jar
77L 18.6 FL OZ Glass Food Storage Jar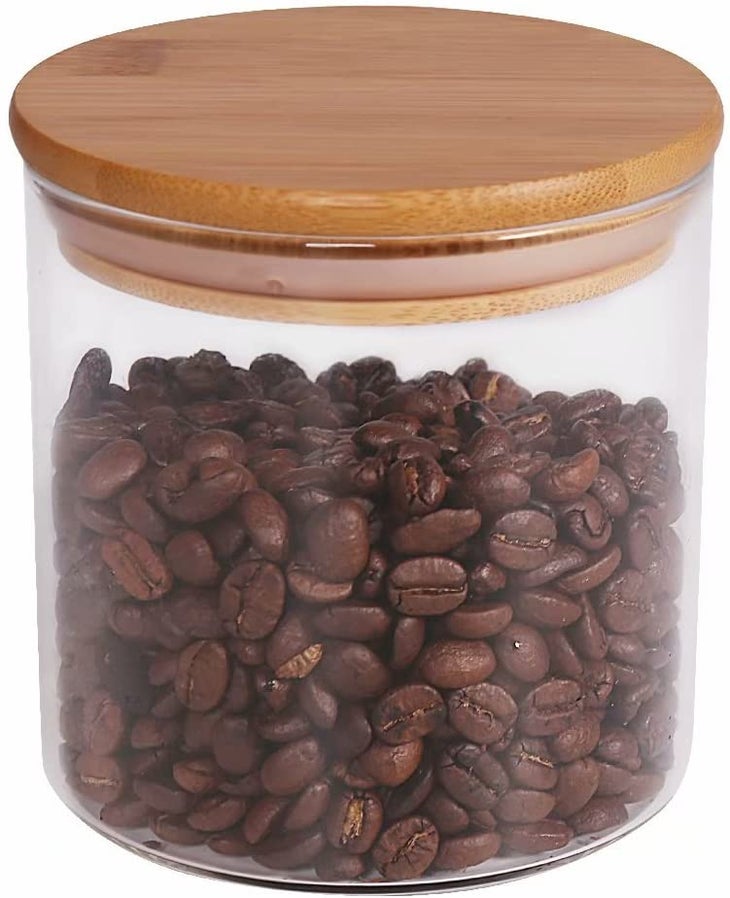 Don't Run Out. Wouldn't life be a lot easier if you could see you were getting low on coffee beans before it was too late?
What We Liked
These thickened-glass jars are a practical solution to store the things we use daily. The air-tight bamboo lid and simple design mean you can keep your flour, rice, coffee and candy safely on the counter. An attractive jar with a simple top that keeps your beans or other food fresh and secure, while not taking up much space is what you need. You can use the jar, without the lid, in the microwave. There are three sizes available. Buy it now.
Editor's Choice
Ball 40801 Golden Harvest Mason Regular Mouth 8oz Jelly Jar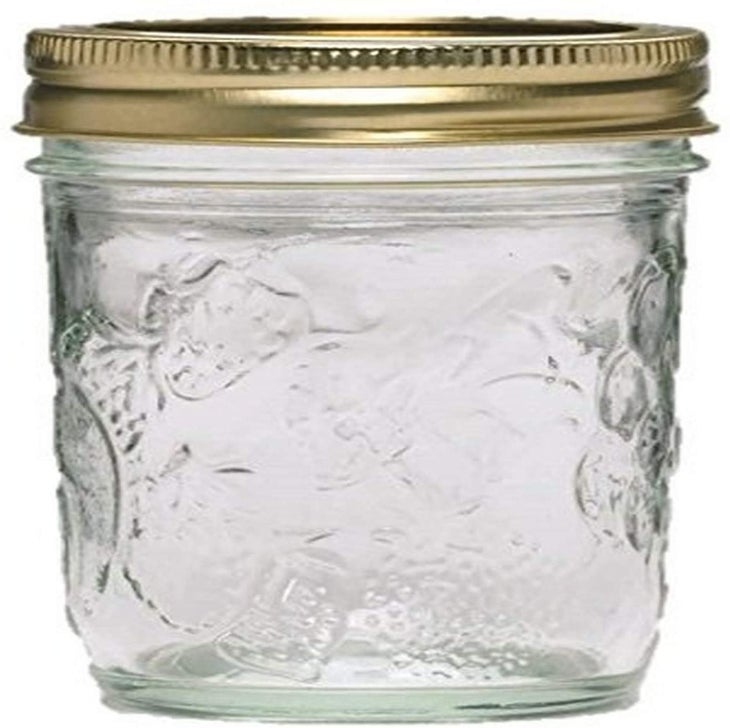 Small Size, Big Value. Giving home-made preserves to friends and family is a fun, practical way to show you care.
What We Liked
Ball jars have gold-colored lids that stay sealed until you're ready to use the food inside. These little jelly jars are easy to store and the Vintage Design is a great look. The eight-ounce is just right for mustards, sauces, and preserves. These finely-crafted decorative jars let you spread your love out to a dozen different people. Or, use these little beauties in your own pantry or freezer. Each pack has 12 jars and lids. Buy it here.
Most Practical
KAMOTA Mason Jars 16 oz.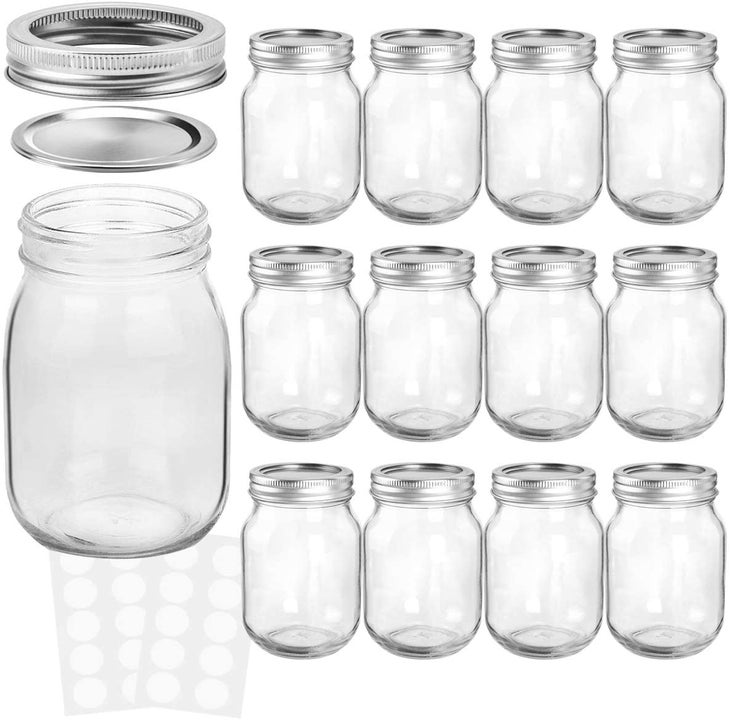 More Than Food Storage. Get your creative side going.
What We Liked
Kamota jars are leak-proof, easy to clean, and safe for the freezer. Kamota glass jars are made of BPA-free, food-safe premium glass. The silver lids are lab-certified to be corrosion-resistant and exceed FDA safety standards. The simple design makes them a practical choice for storing anything from food to bathroom items. Jars make fun and practical storage containers, gifts, or lights. Take out the paint, glue, and stickers for a personalized touch to your storage needs. Rewritable, waterproof stickers let you quickly know what's inside. Each case has 12 jars and lids. Get it now.