The Best Dry Measuring Cups
Dry measuring cups are essential cookware, as any serious chef or baker will tell you. Whether you're trying out a new recipe for an appetizer, main course, dessert, or anything else, you want to always have a set near at hand. With dry measuring cups, there are a few qualities for which you should be looking. First, you want the measuring cups to be composed of a material that isn't likely to chip or break. Durability should always be a concern if you hope to own a particular set of cups for many years to come. You also want them to be clearly marked with both a metric scale and cups and ounces. The markings should be bold and easy to read. Finally, you want them to be aesthetically appealing. Unattractive cookware isn't a welcome addition to any modern kitchen.
Heading out the door? Read this article on the new Outside+ app available now on iOS devices for members! Download the app.
Best for Saving Space
Vremi 3 Piece Plastic Measuring Cups Set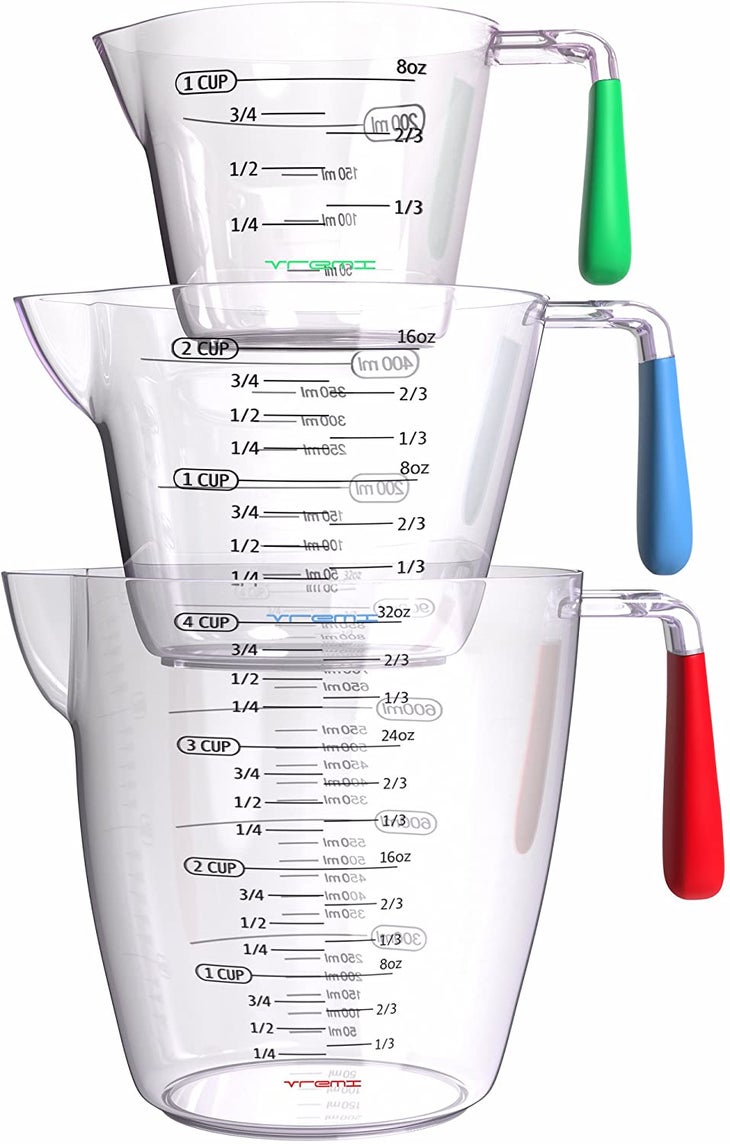 Attractive, Compact Nesting Cups. This nesting cup set is perfect for cooks who have a limited amount of space in their kitchen cupboards.
What We Liked
The 3-Piece Plastic Measuring Cup Set, by Vremi, checks all the major boxes as to what you'd want from a kitchen staple. This is a sturdy product, as each of the three sizes are composed of solid BPA-free plastic. Dropping one isn't likely to damage it, but each one also comes with an easy-to-grip silicone handle that makes such an event unlikely. These measuring cups are clearly marked with a metric scale in addition to cups and ounces, if you prefer that. What's particularly nice about this set, though, is how neatly the three cups nest inside one another. It's a common complaint among serious home chefs that they don't have as much cabinet space as they'd like. You can save room by stacking these measuring cups and stowing them away when you're done using them, leaving more room for your other cooking utensils. Order Online.
Best Design
KitchenAid KE058OHAQA Classic Measuring Cups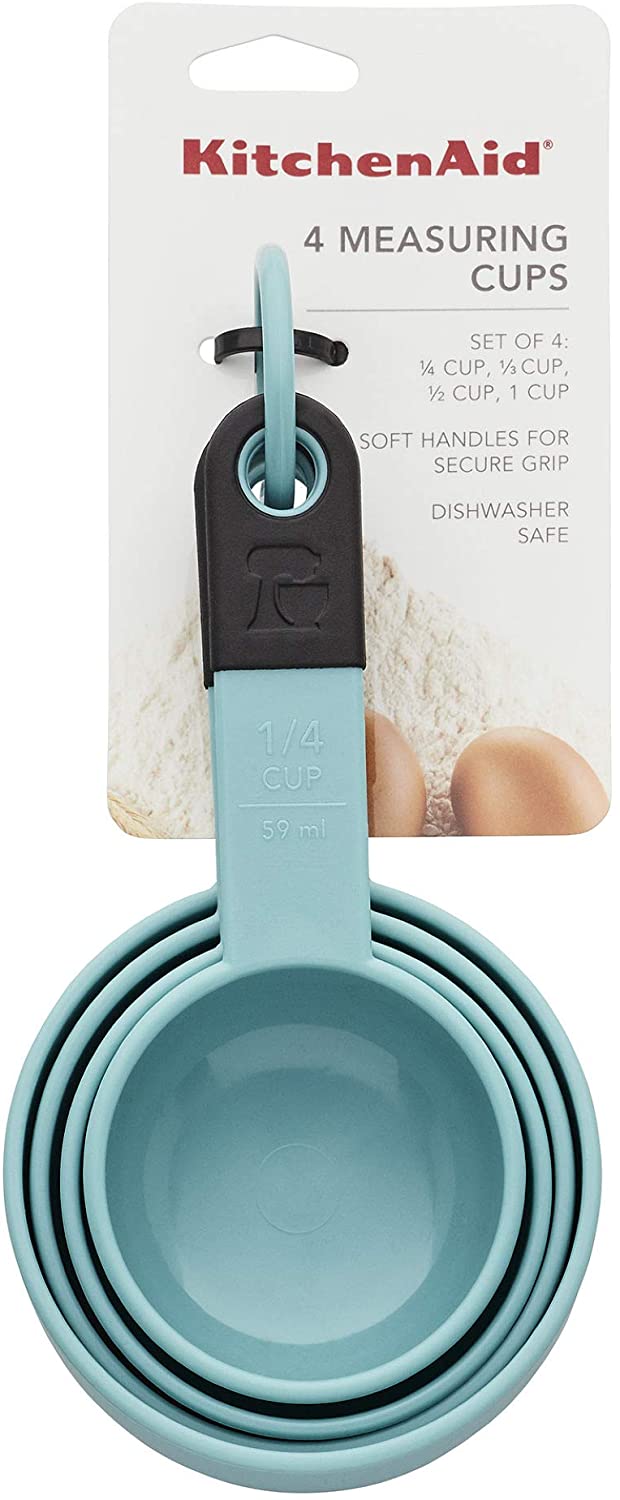 A Well-Designed Kitchen Necessity. A tough, durable set of measuring cups that cling together with a plastic ring, ensuring you will never misplace one.
What We Liked
This is a set of measuring cups by the well-known brand, KitchenAid. You get four cups to a set, and they come in several vibrant colors. These cups work with both dry and wet ingredients, and the size of each one is printed on the handle, so you'll never make a mistake while you're measuring. The exterior of each one has a matte finish, while the interiors are glossy, making these an elegant addition to your kitchen. They're dishwasher safe, and they take up very little space in a drawer. Probably the best feature, though, is the way the cups are held together by a thick plastic ring. Cups that can be separated are easily lost. You'll have no chance of misplacing one of these, as the entire set always remains intact. Get Yours Today.
Best Spoon-and-Cup Set
Kaptron Tools Spoons and Collapsible Measuring Cups Set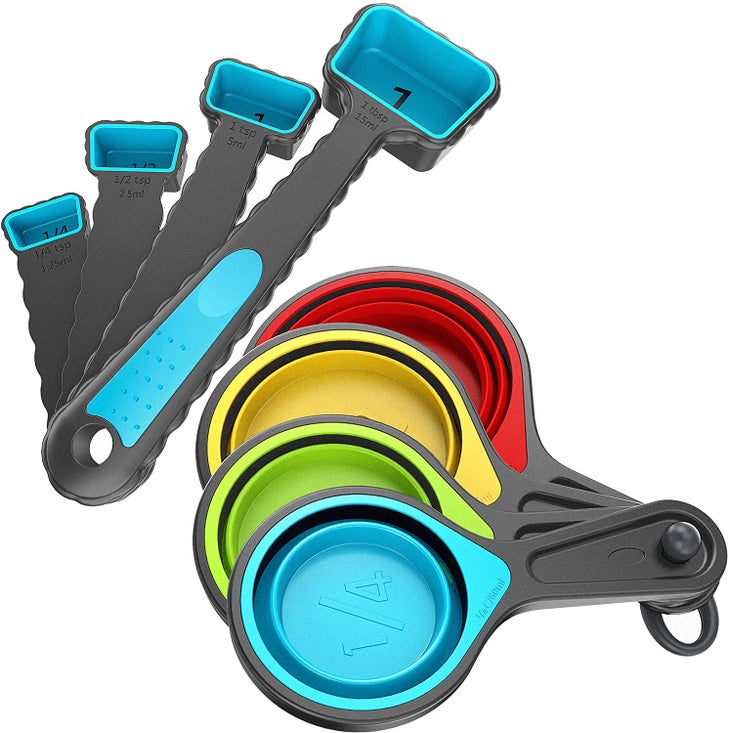 A Handy Set of Measuring Cups and Spoons. Rather than purchasing a set of measuring cups and spoons separately, Kaptron lets you add both to your kitchen simultaneously.
What We Liked
The Spoons and Collapsible Measuring Cups Set, from Kaptron Tools, lets you kill two birds with one stone. Rather than buying each of these implement sets one at a time, you get both together, and you'd be hard pressed to find a better-looking set of cookware. You get four spoons and four measuring cups, all of them dishwasher safe and suitable for handling both dry and wet ingredients. They're colorful, adding a splash of whimsy to your culinary efforts. Each separate cup and spoon are clearly marked, so you'll never make a measuring mistake, and the cups are collapsible, so they will take up very little precious drawer space. Purchase Here.
Most Extensive Measuring Set
Prepworks by Progressive Ultimate 19-Piece Measuring Cups & Spoon Set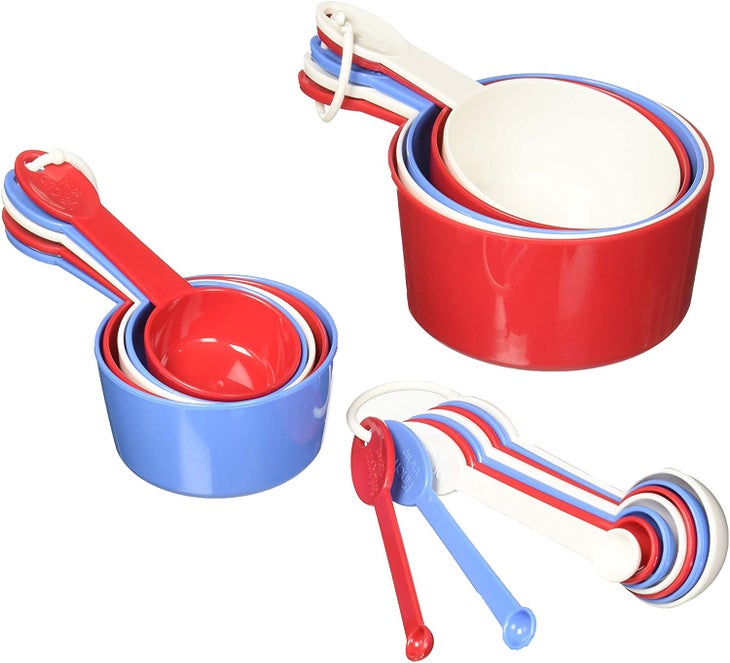 An All-Inclusive Cup-and-Spoon Set. Any serious home chef will surely appreciate this 19-piece measuring set when it's time to dazzle with culinary prowess.
What We Liked
Prepworks by Progressive describes this as being the Ultimate 19-Piece Measuring Cup & Spoon Set, and it's hard to argue with that assessment. You get nine spoons and ten cups, all of them BPA-free and dishwasher safe. This set has a patriotic flair to it, as the colors of choice are red, white, and cornflower blue. Prepworks by Progressive has been in business for upwards of 40 years, and they make products built to last. The spoons and cups in this set feature long handles and both standard and metric measurements, and they also come with three storage rings to keep any of the individual pieces from wandering off. What's probably best about this set, though, is the sheer variety of measuring implements that come with it. Few other companies offer anything that's this well-suited to handling any recipe or occasion you might encounter. Buy Here.