The Best Teacups
If you're looking to make your daily tea habit feel a little more special, a new teacup may be just what you need. Teacups come in a wide range of styles, sizes, and materials, and often include different pieces. Some include just a single teacup, while others come with lids, saucers, and spoons. We've rounded up four great options to help you find one that fits your needs and aesthetic. Whether you like simple styles or those intricate, vintage designs, you should be able to find your new favorite teacup in our options below.
Heading out the door? Read this article on the new Outside+ app available now on iOS devices for members! Download the app.
Best Value
Jusalpha Vintage Blue Bone China Teacup, Spoon, and Saucer Set
Saucer and Spoon. Made of bone china and coming with a teacup, saucer, and spoon, this Jusalpha teacup offers an elegant style and well-rounded set for an affordable price, making it the best value option on our list.
What We Liked
Featuring a blue and white pattern with gold banding, this teacup from Jusalpha can make a stylish addition to your teacup collection or a thoughtful gift. With a capacity of seven ounces, it's a convenient size for a hot cup of tea. Best of all, you don't have to empty your wallet to order it today. Order Online.
Most Classic
Royal Albert Old Country Roses Teacup & Saucer Set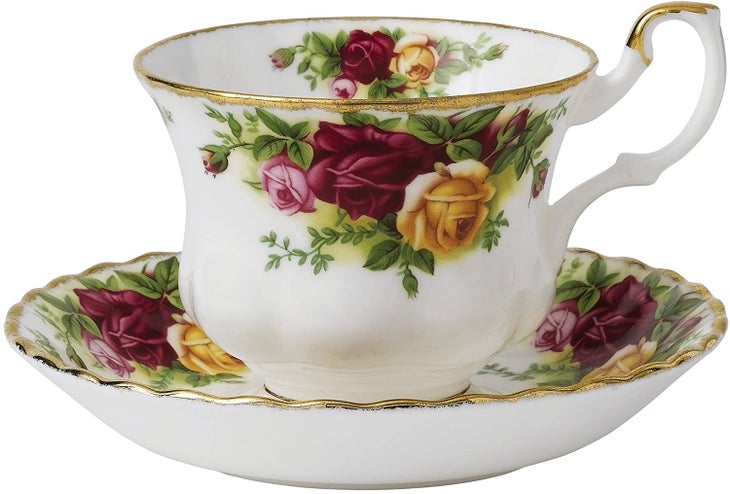 Old Country Roses. Featuring Royal Albert's Old Country Roses pattern, this teacup boasts a popular design that's been around since 1962, making it an excellent choice for those who want a traditional style.
What We Liked
Made of fine bone china, this teacup and saucer set from Royal Albert features clusters of burgundy, pink, and yellow roses sure to suit those with a penchant for classic designs. It looks lovely on display, but it functions well, too. Your tea time certainly just got fancier! Purchase Yours Today.
Most Unique
Brew To A Tea Tea Cups with Lids, Pack of 2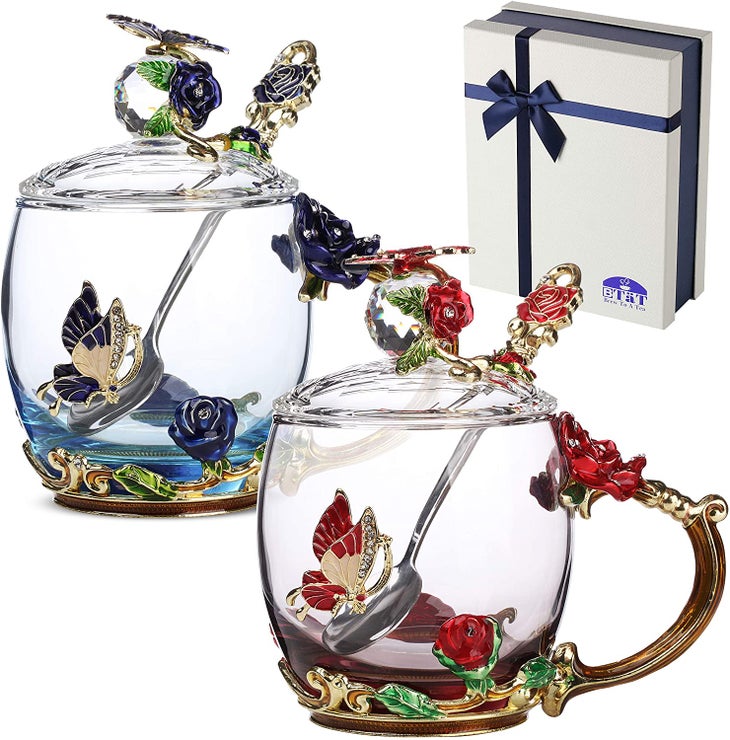 2-Pack with Matching Glass Lids. Offering a set of two glass teacups with glass lids and stainless steel spoons, this set of teacups is the only option here that includes lids. It's a great pick for those who want to keep their tea warm and covered.
What We Liked
These glass teacups from Brew To A Tea feature unique and intricate designs of butterflies and roses on the teacups, spoons, and lids. They offer a capacity of 11 ounces that's suitable for large servings of tea. For added convenience, the glasses are dishwasher-safe. If you're looking for something out-of-the-box for the tea lover in your life, go with these surprising gems! Get It Here.
Most Minimalist
Kitchables Tea Cup Set of 4
Four Glass Teacups. Featuring four double-walled glass teacups, this set from Kitchables stands out as a great option for those who prefer a simple, understated style.
What We Liked
Boasting the simplest design of any of the options on our list, these elegant glass teacups from Kitchables also offer a relatively small capacity of 2.5 ounces, making them a great pick for quick, small servings of tea. Buy Now.