The Best Whisks
Anyone who is serious about baking and cooking in general knows that a well-crafted whisk is a must-have if you want to consider your kitchen set complete. There are many different recipes that call for a whisk; whipped coffee, anything with eggs or desserts where you're using whipped cream. You can also use a whisk if you want to lightly mix dry ingredients, but you would prefer not to sift them. With a whisk, you want a combination of durability and flexibility. A sturdy handle is an absolute must-have. The handle should be sealed, so that food or liquid cannot get inside. The last feature you should be looking for in a long-lasting whisk is for the wires to be of stainless steel. This will ensure that the whisk will not react when it comes in contact with acidic foods. Read on for our 3 top whisk choices.
Heading out the door? Read this article on the new Outside+ app available now on iOS devices for members! Download the app.
Most Heat-Resistant
OXO 1244780 Good Grips 11-Inch Better Silicone Balloon Whisk

Well-Constructed, Heavy-Duty Whisk. This whisk is what you want in your collection if you're using metal, ceramic, or non-stick cookware.
What We Liked
This balloon-style whisk measures 11 inches, and comes with a comfortable handle that is soft, yet easily gripped. It will never melt, warp, or discolor, even when you're in the midst of the most high-intensity cooking projects. It is dishwasher safe, and receives high marks for versatility. You can safely use it with virtually any sort of cookware, including non-stick, metal, and ceramic. Perhaps what's most impressive about it, though, is its heat-resistant capabilities. It can withstand heat of up to 600 degrees Fahrenheit, a claim that is made by few other whisks on the market. It's brought to you by OXO, a well-known supplier of cooking implements that most chefs will recognize. Get it here.
Best Design
Muclipkot Kitchen Wire Whisk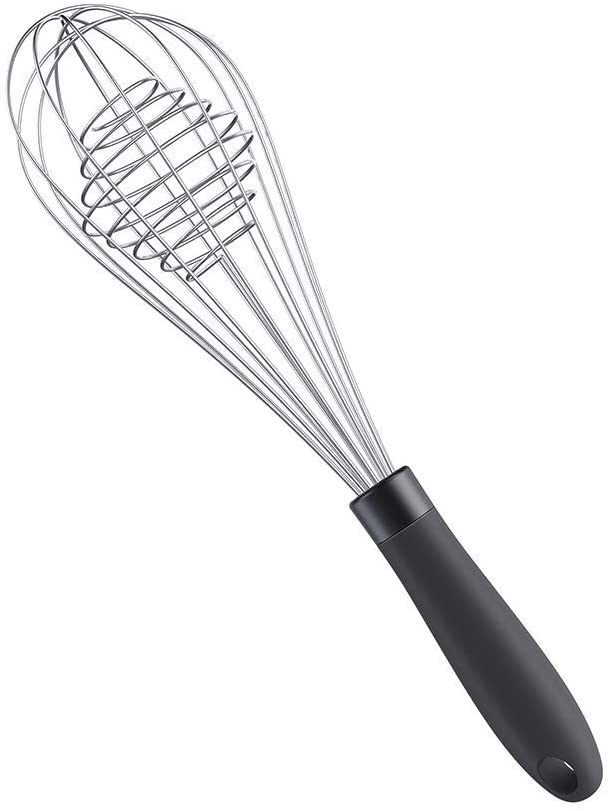 Dependable Whisk with a Unique Design. This wire whisk has a unique design feature that makes it an attractive candidate for your collection if you undertake lots of ambitious baking projects.
What We Liked
Muclipkot's addition to the wire whisk market measures 12 inches. If your recipe calls for whisking melted chocolate or whipped cream, doing prep work with sauce toppings or mixing eggs you'll want to have it close at hand. It has a solid handle grip that you can grasp firmly, and at 12 inches, it is longer than some other competitors on the market. What's best about this whisk, though, is the open-tip design that you'll see with few other versions. It makes cleaning easy, but it's also what allows you to break up ingredients faster. If you're pressed for time while in the midst of a family gathering, you'll be glad to shave a few minutes off the prep work and get that recipe made faster. Buy it now.
Best Whisk Set
TEEVEA (Upgraded) 3 Pack Very Sturdy Kitchen Whisk Silicone Balloon Wire Whisk Set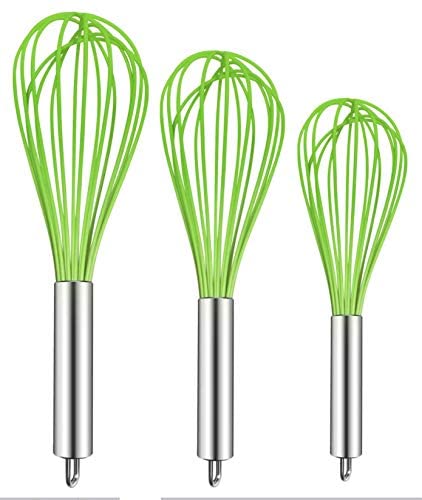 Different-Sized Whisks for Any Recipe. It's rare to see a set of different-sized whisks that you can buy together, and you're sure to get a lot of use out of this one.
What We Liked
This is a three-pack of different-sized whisks, one 8 inches, one 10, and one 12. Often, you'll see whisks on sale as single items, and you'll need to make three separate purchases if you'd like to own a variety. This set comes with thick wires and handles, and it's obvious that they'll stand up to dense batters without warping or breaking. You can use these for beating eggs, frothing milk, and much more. These are heavy-duty whisks that are heat-resistant and will never rust. The craftwork that has gone into these utensils is readily apparent, and they're made of only the highest-quality silicone and stainless steel. Buy it here.