Top Beverage Refrigerator Choices
Beverage refrigerators come in a wide variety of sizes and price ranges. You can get anything from a small, personal unit that holds a couple of cans, to refrigerators big enough to stock drinks to last all night at your next gathering. Place one in your office, garage, on the patio, or get one to take in your car. It's easy to have cool refreshments close by, no matter where you are. Take a moment to use our reviews for help with finding one, or two that will work great for you.
Photo: Getty Images/iStockphoto
Heading out the door? Read this article on the new Outside+ app available now on iOS devices for members! Download the app.
Super Quiet
hOmeLabs Beverage Refrigerator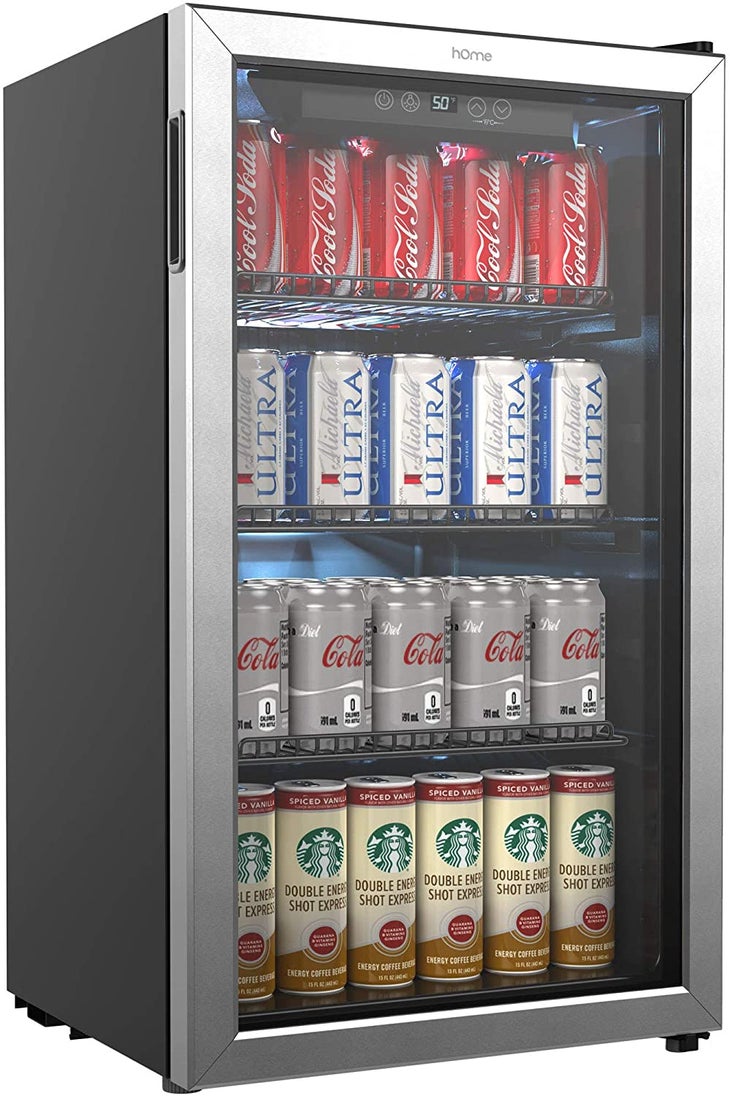 Party perfect
Why fool around with lugging out ice and hauling around ice chests when you can simply stock your favorite beverages in one convenient, large cooler?
What We Liked
The LED interior light makes it easy to see your drinks. It's big enough to hold five cases of 12 Oz. cans or several bottles of wine. The door is see-through, with a stainless steel frame. Besides, with this cooler, you can easily see what's chilling inside without letting out the cold. The large digital display is easy to read and the controls feature a memory function that resets the temperature automatically if the power goes off. The chiller is a heavy-duty vertical 120V/240W unit that is whisper-quiet. It comes with a small convection fan so it cools quickly and consistently circulates the air. There's also an auto defrosting function. The feet are adjustable so it will be level and the three shelves are removable. The unit measures 18.9" W x 33.3" H x 17.30" D external, and the internal size is 16" W x 29" H x 12" D. This fridge will cool to 34F. Get it here.
Most Portable
AstroAI Mini-Fridge and Warmer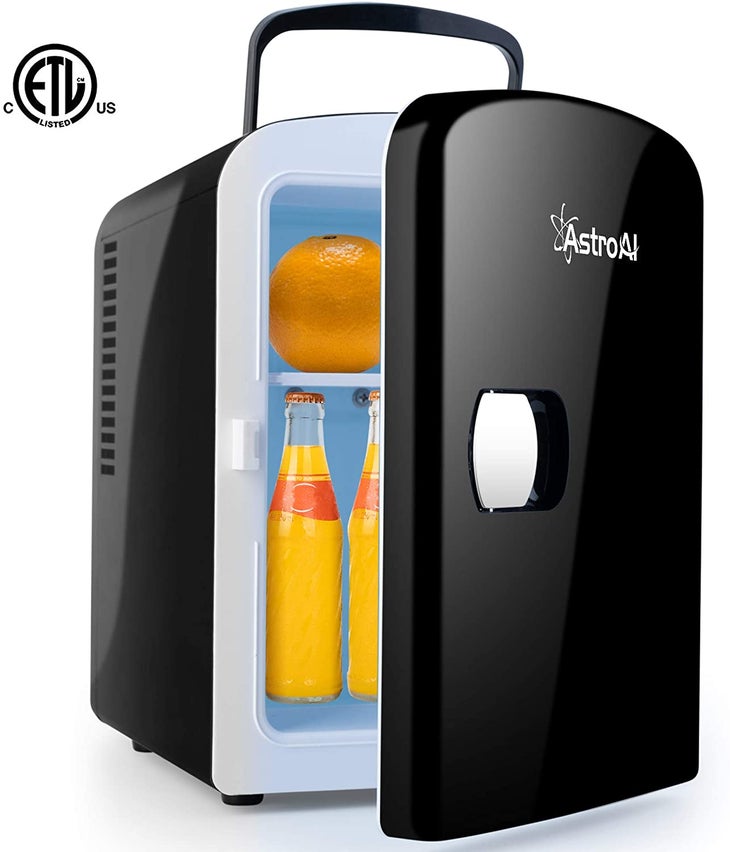 Have it your way
This is the personal-sized fridge/warmer that gives you full control. You can take it on the road or plug it in at the office, and you can select whether to heat or cool.
What We Liked
All four colors, white, pink, black, or blue, are bright and attractive. It only takes about an hour to reach the temperature you want to achieve. It has a capacity of four liters, measures 5.5" x 5.3" x 8.07" inside, and has a removable shelf. Plugs for 100V and for 12V make this cooler/warmer available at home or on the move. It's Freon-free, quiet, and environmentally friendly. Certified by CE, FCC, ETL, and RoHS, this powerful, little refrigerator comes with a three-year warranty. Your control range is from 32 to 150 degrees F, that's a lot of versatility in a compact package. Buy it now.
Best Controls
Vremi Beverage Refrigerator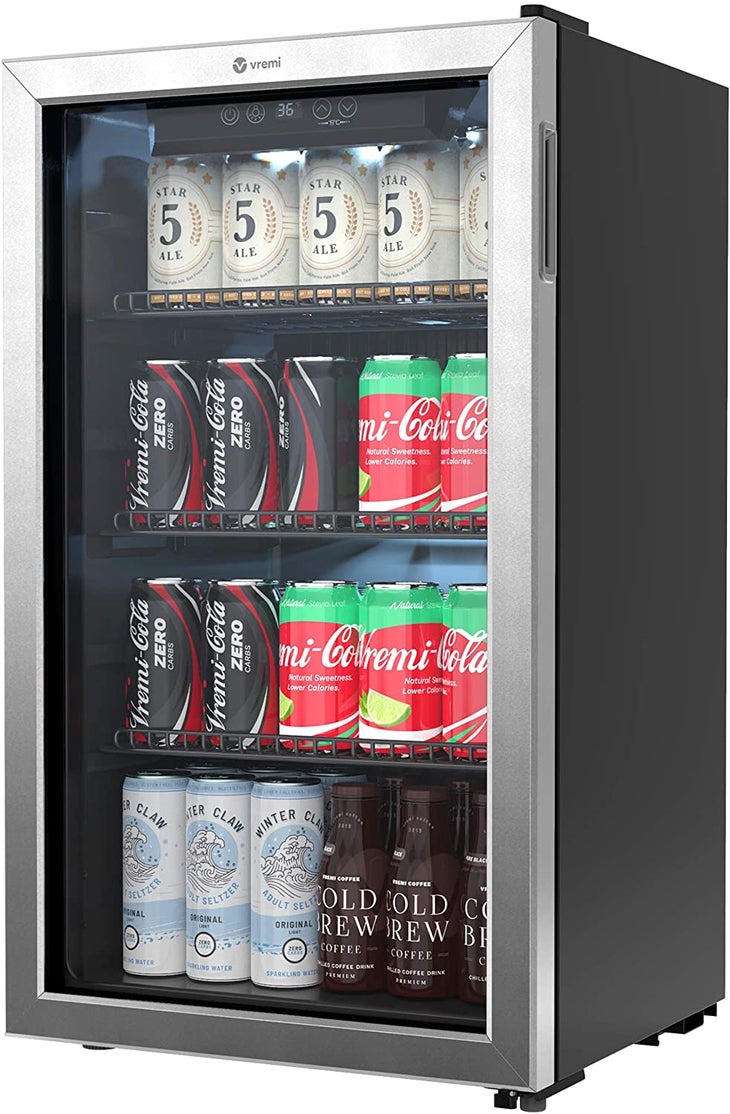 Efficiency at Your Fingertips
This refrigerator for beverages lets you select the temperature by adjusting the large digital display.
What We Liked
The great design of this refrigerator includes a left-hinge, double-pane glass door that is accented with a black stainless steel frame. It comes with soft white LED lighting so you can see your beverages without opening the door and removable shelves. And if there's a power outage the memory function will automatically restore your settings. It will chill up to 120 cans to a temperature you select, between 34°F to 50°F, and has an auto-defrost function. The 115V, 75W single-zone vertical chiller is energy-efficient, quiet, and has a small convection fan to evenly distribute cold air throughout the cooler. It measures 18.9 x 17.3 x 33.3" and has an auto-defrost mode so you won't have to worry about regularly unplugging your fridge because of ice buildup. Buy it here.
Great Mini-Fridge
Midea Compact Refrigerator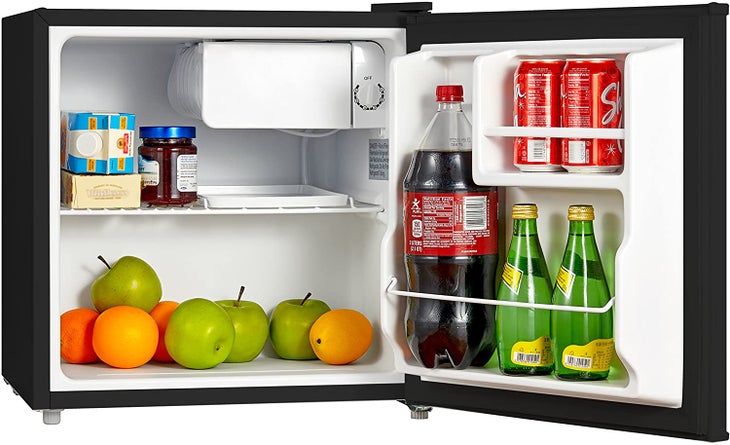 The Perfect Companion
If you're working in the shop, garage, barn, lab, or office all day you'll appreciate having a small refrigerator close by.
What We Liked
There's plenty of room in this quiet, energy-efficient, 1.6 cubic-foot refrigerator that comes with a reversible door and temperature controls. A mini-fridge makes it super easy to grab a bite or drink without having to disrupt your rhythm. There is a small freezer compartment, a removable rack, and the door holds additional items. The legs are adjustable so you can ensure this black, 17.7" x 18.6" x 19.4″ refrigerator is level. It comes with a full one-year warranty. Get it now.