Top Choices for Double Boiler
There's a bit of an art to making sauces and puddings creamier, smoother, and richer. Done with the right equipment the experience from start to cleanup can be wonderful. We want you to get the most of your culinary experiences so we've carefully analyzed double boilers and came up with four suggestions we believe won't leave you steaming. With sizes ranging from two to four-quart capacities and weighing from two to five and a half pounds, we know you'll find the right combination.
Heading out the door? Read this article on the new Outside+ app available now on iOS devices for members! Download the app.
Top Pick
Farberware Classic Stainless Series 2-Quart Covered Double Boiler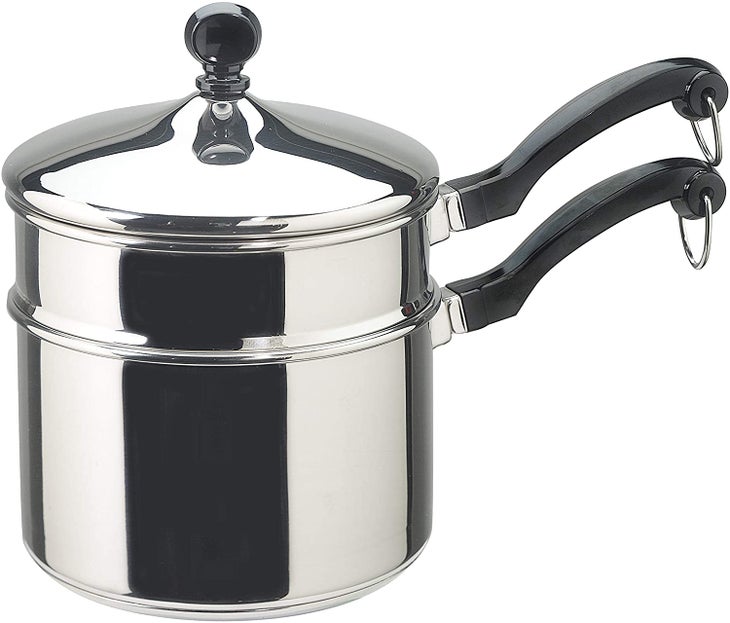 Small package with powerful results. The Farberware Classic 2-quart saucepan and double boiler feature a full-cap aluminum base core that delivers even heating. Whether you're making chocolate sauce or hollandaise sauce, this midsize beauty delivers a smoothness to your recipes.
What We Liked
Weighing in at only 2.86 lbs, this midweight beauty will handle jobs from light steam to a gentle boil. The bell-shaped stainless steel lid evenly locks in heat to deliver superior flavor. The Phenolic handle provides a secure grip and is safe up to 350 degrees. On top of having great looks, it's also dishwasher safe for quick and easy cleanup. Order Online.
Lightest
ExcelSteel 579 3-Piece Boiler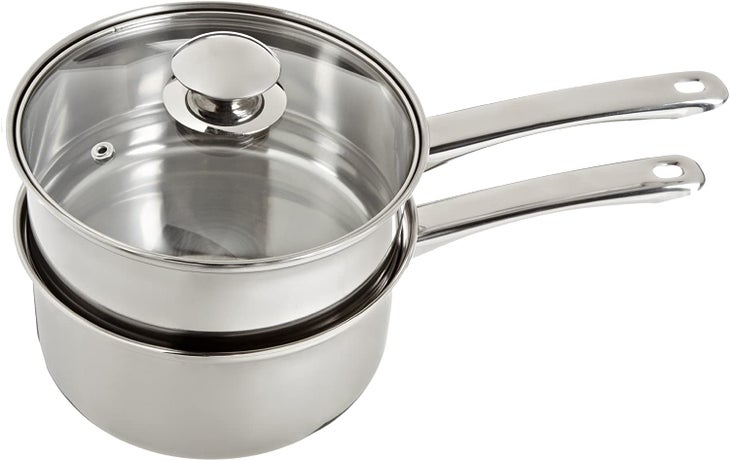 Create the Perfect Dish. Impress your friends and family with delectable creams and sauces. With this lightweight quality stainless steel double boiler, you'll have them asking for more cheese, chocolate, and other favorite recipes.
What We Liked
The ExcelSteel 579 is a 2.5-quart solution that is easy to handle at only 2.2 lbs. The see-through tempered glass means you can keep an eye on your progress. Since it's dishwasher safe, you can forget about losing time with hand cleaning. Pop it in the dishwasher and get back to your guests. Purchase Yours Now.
Superior Clean Up
T-fal B1399663 Specialty Stainless Steel Double Boiler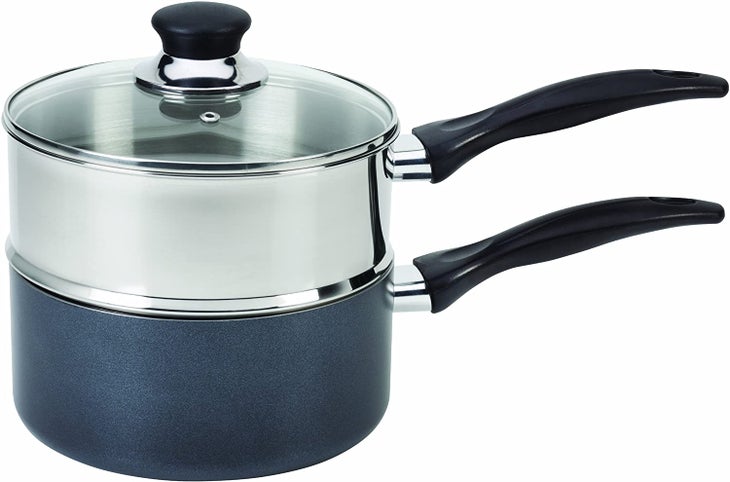 Non-stick Convenience. A lightweight top pan is paired with a durable non-stick bottom that won't chip or peel. Now top and bottom are easy to clean.
What We Liked
The 3-quart capacity is big enough to handle your recipes, yet lightweight at only 2 Lbs. You'll love the safe grip of the handle and the lid is a perfect fit for the top and bottom. Click Here to Buy.
Editor's Choice
Cook N Home NC-00313 Double Boiler Steamer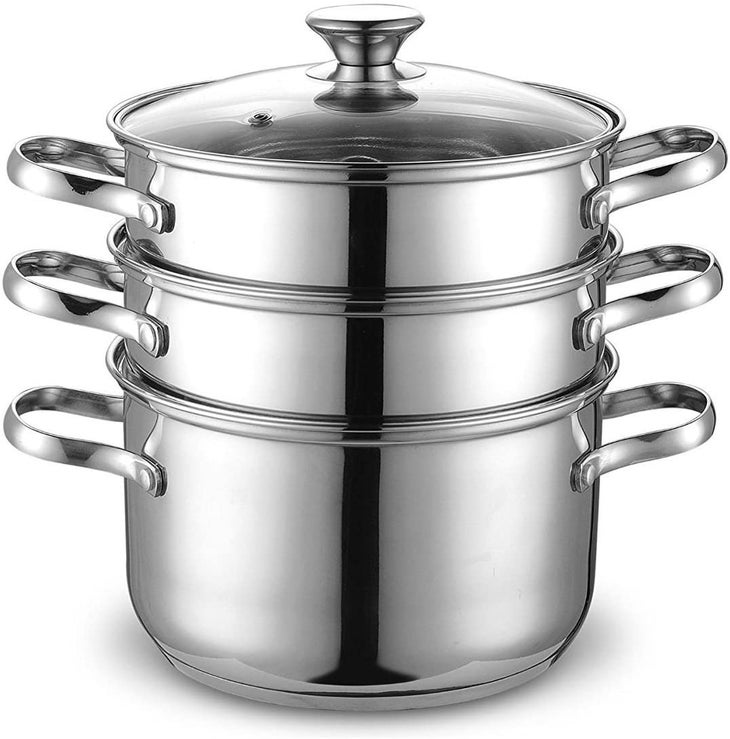 Quality You Can Feel. When you pick up this beautifully polished 4-quart double boiler with a steamer, you'll instantly appreciate the quality. It's heavy-duty so it holds up for use on most heat sources, including heat induction, gas, electric, halogen, ceramic, etc.
What We Liked
The glass lid comes with a steam vent and a durable, comfortable riveted handle. The mirror-polished stainless steel construction is attractive and easy to clean. The steamer insert provides freedom of choice. It fits quart pans ranging from 1 to 4-quart sizes. The Cook n Home Double Boiler weighs 5.5 Lbs, holds 4 quarts and it's dishwasher safe. Buy Here.