Top Egg Slicers
Hard-boiled eggs are one of the most delicious and nutritious snacks you can find. If you like enjoying them sliced on toast or on their own, you certainly need an egg slicer in your life. Egg slicers seamlessly cut eggs into equal bite-sized pieces. Below, we mention our favorite egg slicer options currently available. With a variety of sizes, helpful features, and blade designs, you're bound to find the perfect egg slicer for your needs with any of these top picks.
Heading out the door? Read this article on the new Outside+ app available now on iOS devices for members! Download the app.
Most Durable
Westmark Germany Multipurpose Stainless Steel Wire Egg Slicer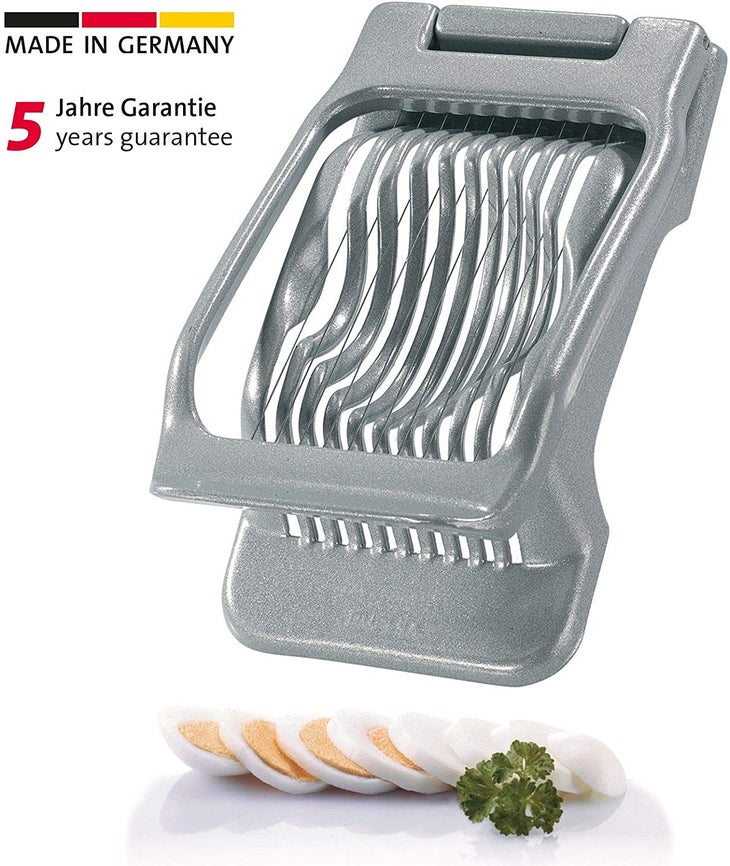 Long-lasting Egg Slicer. This egg slicer is built out of stainless steel, making perfect for everyday and long-term use.
What We Liked
This multi-purpose German-made egg slicer is fashioned with stainless steel blades, making it incredibly sturdy and perfect for regular use. Notably, this slicer can be used to cut more than eggs. Feel free to use the slicer to cut your favorite soft fruits and vegetables. Your purchase is protected by a 5-year warranty, so you're bound to love this robust kitchen gadget. Order Online.
Best Value
OXO Good Grips Egg Slicer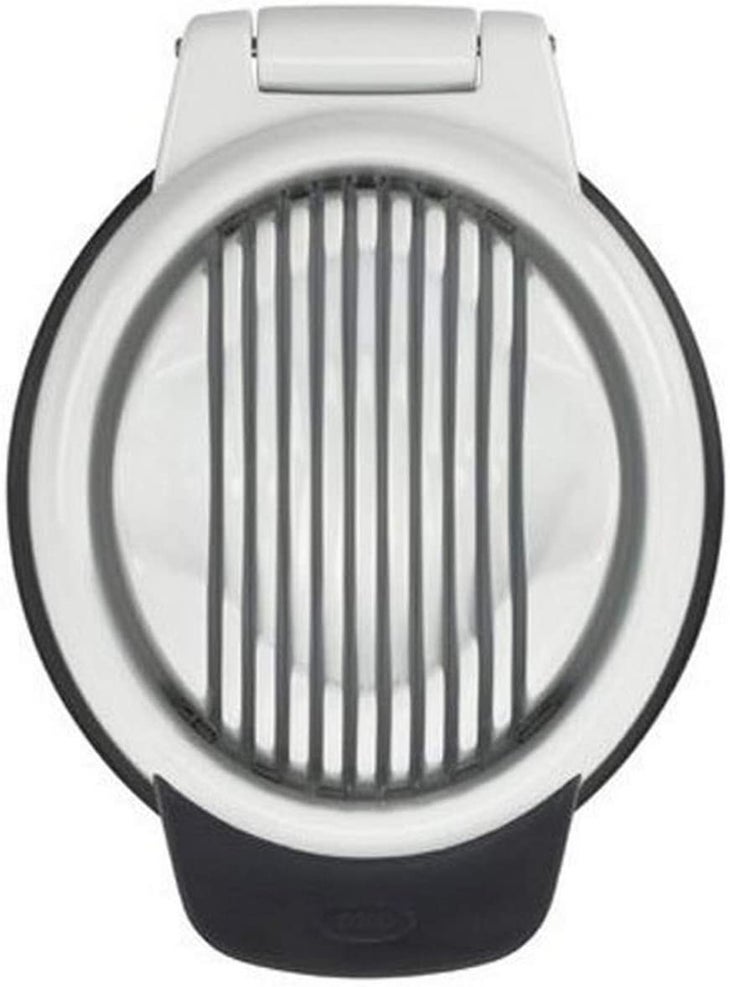 Excellent Egg Slicer. This egg slicer is simple yet sturdy and makes a great addition to any cookware collection.
What We Liked
Looking for a simple yet effective egg slicer? We think this slicer is the perfect fit for you. The slicer quickly and easily fashions eggs into perfectly distributed 5-millimeter slices. It can also be cleaned in the dishwasher for optimal convenience. With the comfortable non-slip base and sturdy design, you'll be able to cut eggs uniformly with ease. Purchase Yours Today.
Most Versatile
ZYLISS Egg Slicer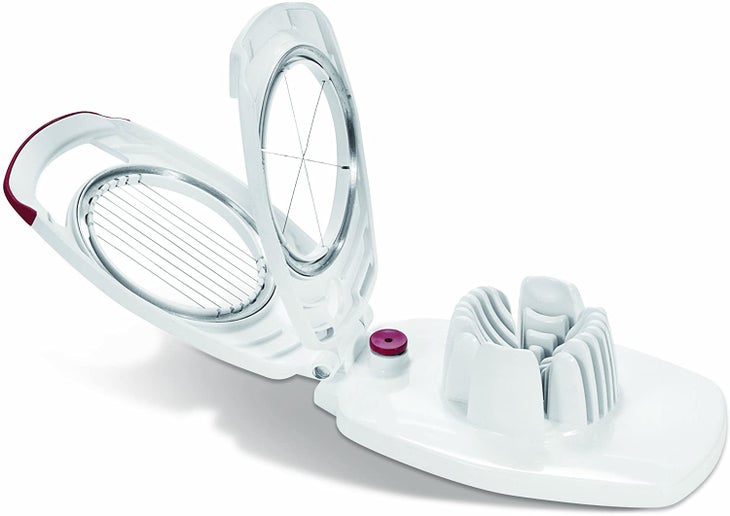 Multi-purpose Egg Slicer. This egg slicer can be used for creating both egg slices and wedges, making it a super versatile tool.
What We Liked
This non-slip egg slicer is packed with a ton of handy features, including a handy shell piercer. The egg slicer also has wedging attachments for maximum flexibility. Notably, the slicer is made out of high-quality ABS plastic and stainless steel blades. You're sure to enjoy using this slicer for all of your hard-boiled eggs. Get creative as you "plate up" your favorite salads, brunch dishes, bowls of ramen, and even appetizer boards. Get It Here.
Best Overall
Gourmia GCU9265 Egg Slicer & Wedger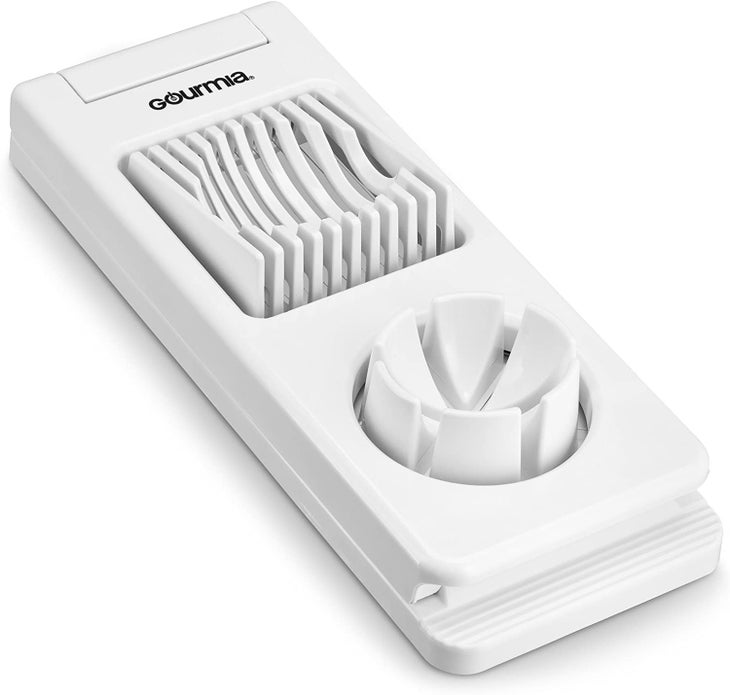 Flexible Egg Slicer. This ultimate egg slider also has a built-in wedger making it a great tool for egg lovers of all kinds.
What We Liked
This versatile egg cutter has everything you need to properly enjoy hard-boiled eggs. The slicer has a built-in cutter and wedger for two different egg-enjoying options. Plus, this slicer is incredibly easy to operate with its handheld design. This slicer (and dicer) is also dishwasher safe for an easy clean with every use. Take your culinary creations to the next level! Buy Now.