Top Four Chef's Knives
Preparing a home cooked meal can be really enjoyable. But without the right tools, it can be a serious pain. Having a sharp, well-designed knife cuts down on anxiety and time in the kitchen. We've found these four knives to be quite sharp and comfortable to use. There's a lot to consider – the blades shown here are made from one of three types of stainless steel, are either stamped or forged, and two have a full tang. Handle designs can vary as well. Whether made of polypropylene, santoprene, or pakkawood, the handle of each of these top knives is designed to fit comfortably in your hand. Check out the top four chef's knives we discovered on the market.
Heading out the door? Read this article on the new Outside+ app available now on iOS devices for members! Download the app.
Best Color Selection
Mercer Culinary Millennia 8" Chef's Knife

Sharp As Can Be. You expect a knife to be sharp right out of the package. But the sharpness of this one might surprise you. It cuts through bread like slicing through butter, so watch your fingers!
What We Liked
The Mercer Culinary Millennia feels great to work with. Santoprene provides the handle with comfort, while the propylene means it's durable. Slip resistance for a confident grip is provided by textured finger points, while the finger guard keeps your hands safe. The one-piece, high carbon, stain-resistant Japanese steel blade is easily sharpened and maintained. It has great balance, and you can forget about rust, corrosion, or discoloration. The NSF certification gives you confidence about safety, quality, and performance, too. We particularly liked that the handle is available in eight vibrant colors to choose from. Get it now.
Best Blade Design
Home Hero 8" Chef Knife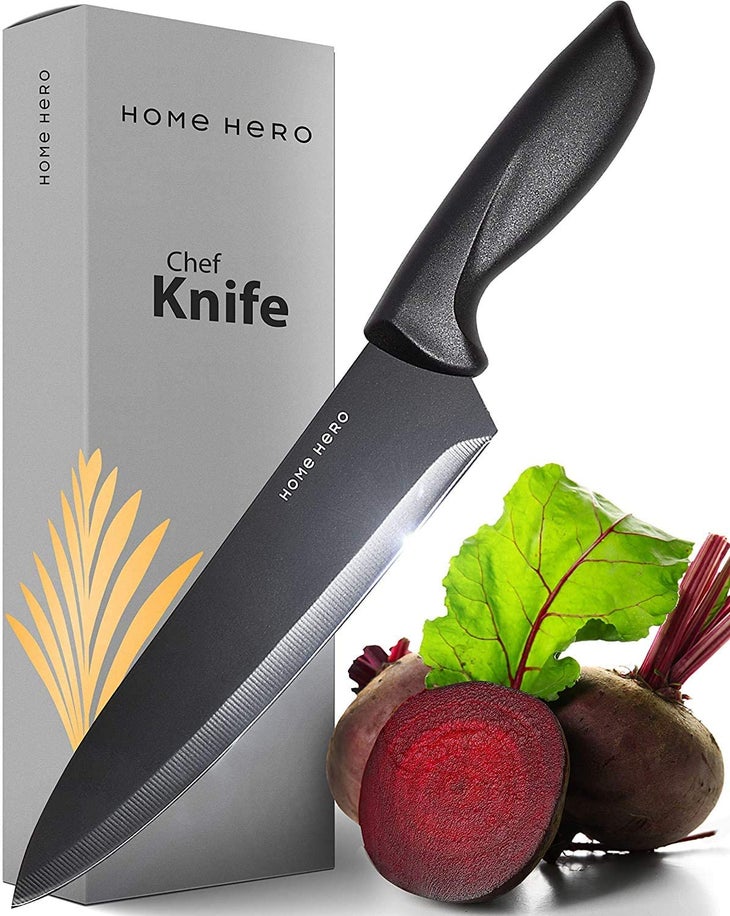 Built for Comfort. Having to work at cutting, slicing, and dicing can sometimes leave the wrist tired and painful. Not so, with the Home Hero Chef Knife. The sleek ergonomic design and super sharp blade results in less time spent handling food. Enjoy making precision cuts!
What We Liked
The Home Hero 8" Chef Knife is a great all-purpose kitchen chopping knife. You get a TPR-Protected polypropylene handle for comfort. Meanwhile, the curved, 1.5-millimeter thick premium stainless steel blade provides a non-stick coating to keep food from sticking and maintaining its pretty appearance. Built with quality materials and accuracy, this bargain-priced knife will last. Plus, satisfaction is backed with a 100 percent money-back guarantee. Buy it now.
Best Grip
Mercer Culinary Genesis 8-Inch Chef's Knife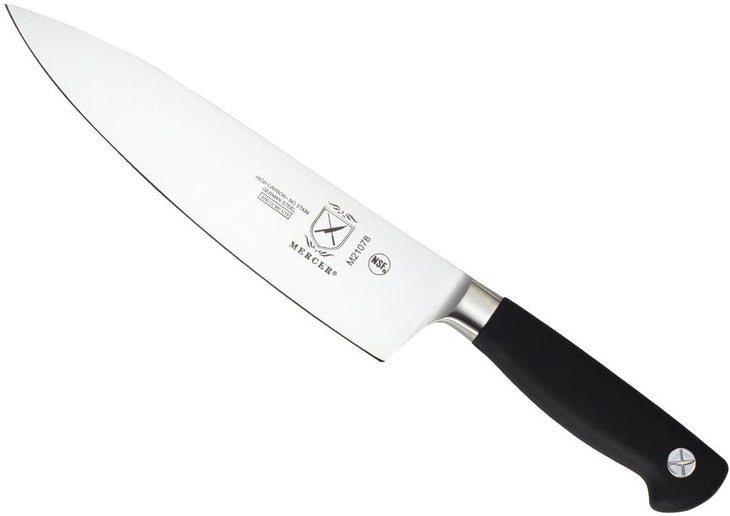 Stays in Hand. Having a knife slip around in your hand can be dangerous, robbing the joy out of meal prep. Mercer supplies a comfortable grip with their NSF certified santoprene handle that stands up to kitchen oils and both hot and cold water.
What We Liked
The Genesis is made of high carbon forged steel from Soligen, Germany. The full tang and bolster of this knife give it strength, durability, leverage, and balance. With a taper-ground edge, honing is easy. And the sharpness of the stain-resistant x50 Cr Mo V15 blade provides increased efficiency when cutting and chopping. Modern technology and classic craftsmanship deliver strength with just enough flex and balance. Buy it here.
Top Choice
TUO Fiery Series 7-inch Chef's Knife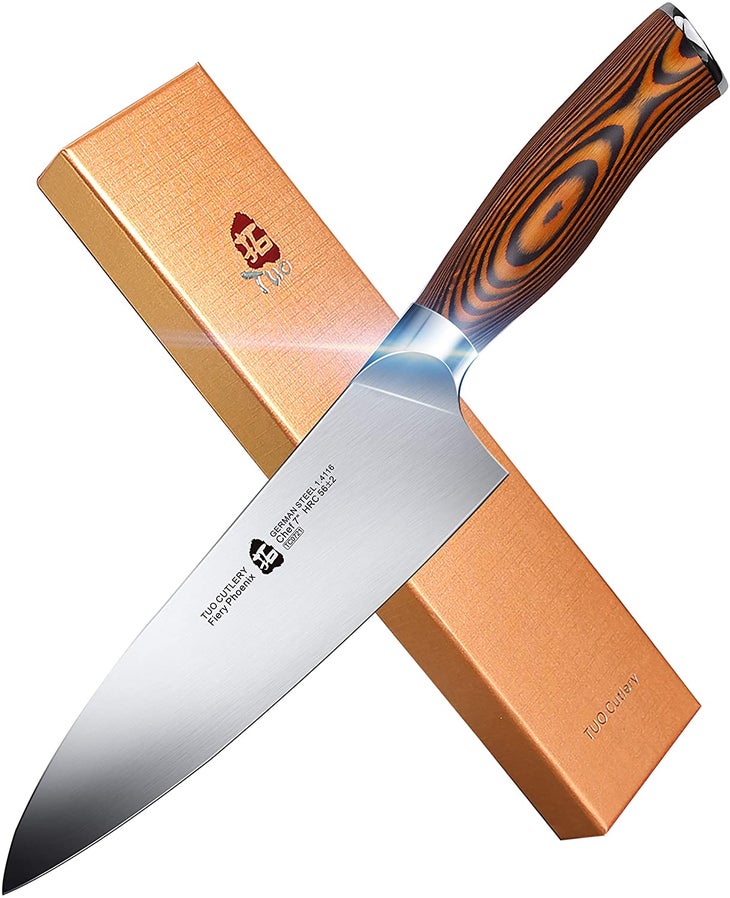 Elegantly Modern. Purposefully Functional. The Tuo satin-finished blade and pakkawood handle display true elegance. The tapered blade is sharp and flexible, while the large, rounded pakkawood handle brings the look and feel of wood. There's no worry of warping and splitting with this knife!
What We Liked
Chopping, slicing, dicing, and mincing are easier through modern innovations. To provide durability and improved grain structure, molybdenum and vanadium are added to the premium German stainless steel blade. The joy of nimble movement is created by enhancing the hardness to 56+/-2 HRC and supplying an 18-20 degree straight cutting edge. This knife is well-crafted for beauty and performance, providing elegance and function right at your fingertips. Get it here.