Top Griddles
Nice weather is for cookouts, and that's no fun without a great griddle! A griddle is your best buddy when it comes to the grill, the campfire, and the oven, and you know you need to get the best there is. When it comes to selecting a griddle, you need to look at what you're planning to cook, where you're planning to make it, how convenient it is to carry around, and of course, how well it heats up! From pre-seasoned cast-iron to stainless steel, the market is full of griddles for the avid griller, and with outdoor get-togethers in full swing, you've got to make that decision fast. Well, we've made it easier than ever! Read on for our pick of the best griddles that'll last through every season.
Heading out the door? Read this article on the new Outside+ app available now on iOS devices for members! Download the app.
Best Heat Conduction
Cuisinart Double Burner Griddle

Easy to Handle
With a core of pure aluminum and a brushed stainless steel exterior, this griddle is the non-stick cookware of your dreams. It's perfect for fajitas, omelets, pizzas, and more.
What We Liked
Cuisinart's premium Triple Ply design and Heat Surround technology come together to provide the most even heat distribution seen on any griddle yet! Solid stainless steel handles ensure that this tray is always cool to touch and easy to carry. Plus, it's dishwasher-safe, making for easy clean-up. Get it here.
Longest Lasting
Lodge Cast Iron Reversible Grill/Griddle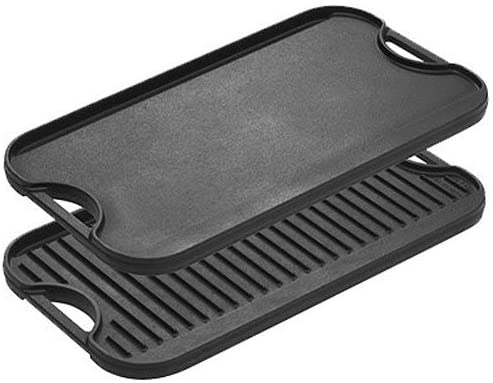 Pre-Seasoned
This cast iron monster comes with handles that make it easy to pick up, and it is pre-seasoned for maximum flavor. A killer griddle perfect for searing, grilling, and frying.
What We Liked
A premium American-made product, Lodge's cast iron griddle is unrivalled in heat retention and even heating. Used correctly, this grill can last for decades, making this a great investment not just for one season, but for a lifetime. Buy it now.
Most Convenient
Presto Cool-Touch Electric Griddle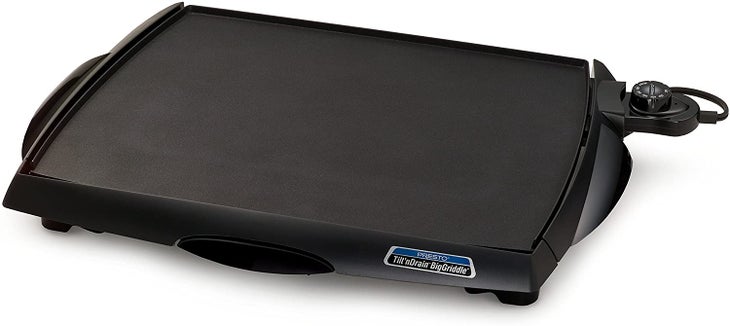 Perfect for Grilling Meat
This griddle has a heavy cast aluminum base with a non-stick surface for super-convenient handling and cleaning.
What We Liked
With Presto's trademark Tilt 'n Drain technology, this griddle can handle anything you throw at it! Fry up eggs by the dozen on the flat surface, then push the handles outward to drain meat perfectly on the slanted top. The master heat control function automatically sets the perfect temperature and ensures even cooking at all times. Buy it here.
The Safest Option
Sizzle-Q Stainless Steel Universal Griddle

Made for Beginner Grillers
This griddle is made of 100 percent, 14-gauge stainless steel, making it incredibly durable and safe to use. Cook up breakfast for the whole family on this beauty!
What We Liked
With multiple safety features, this griddle is the best beginner-friendly option on the market right now. The built-in grease well collects cooking oil to prevent accidental flare-ups, while the high sidewalls and ample griddle space ensure food stays where it's supposed to. With its patented, vented, cross-brace system, this griddle always has even heat and airflow. Get it now.