Top Knife Cases, Holders, and Protectors
Knife protectors keep your knives sharp and safe from damage. Knife bag rolls are an excellent solution for keeping your favorite knives safe when taking them with you. If you store your knives in drawers, a knife guard edge protector will help keep your best knives sharp and help you avoid accidentally cutting yourself when reaching into drawers. Here is our review of four different protectors so that you can find the right knife holder for you.
Heading out the door? Read this article on the new Outside+ app available now on iOS devices for members! Download the app.
Great Meat Cleaver Pouch
Chef's Knife Roll Bag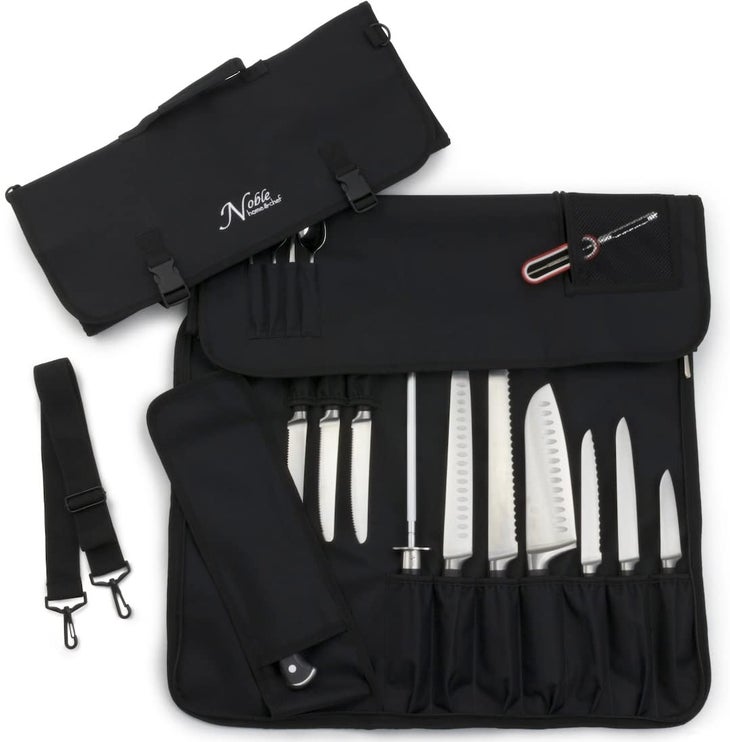 14 Slots Knife Bag
This durable 14 slot knife bag helps you safely and securely transport your knives, so the staysharp.
What We Liked
This knife roll bag holds up to 11 knives, including a meat cleaver pouch. It also has four slots for utensils or tasting spoons, and a zippered mesh pocket. You can store knives that are 18-inch or smaller. You can also place a sharpening steel in one of the slots if it isn't longer than 18.5-inches. The roll bag uses sturdy polyester canvas and includes a handle and removable shoulder strap for easy transport. The polyester flaps cover and secure your knives, and the strong metal zippers keep the contents secure. The bag has a slot for your name tag or business cards. Get it here.
Great Rubberized Interior for Secure Fit
Mercer Culinary Knife Guard

Fits Knives Snuggly
This knife guard and edge protector keep your knife sharp and safe when traveling, and the plastic exterior makes it easy to clean.
What We Liked
This knife guard comes in eight different sizes to accommodate various sized knives and works with most brands. The knife guard is shaped like a U or taco shell. This guard has a cushioned rubberized interior, so the knife blade fits snugly and doesn't slide off during travel or storage. The exterior of the guard is monogrammed with the Mercer crest and the plastic exterior is easy to clean. Buy it now.
Great Expandable Knife Pockets
Leather Knife Roll Storage Bag
Elastic and Stretchable Knife Pockets
Carry your knives securely with this quality leather knife roll that holds up to 10 knives in stretchable pockets and up to six small slots that are not expandable.
What We Liked
This knife roll is made with quality handcrafted leather that will last a long time. It has a handle, an adjustable carrying strap, and two antique buckles to keep the roll safely secured. It holds knives that are up to 18-inches in length. The roll stores up to 10 knives in expandable pockets to keep your knives secure. The six additional small slots and zippered pouch can be used to carry utensils, scissors, a steel, or other tools. This knife roll comes with a one-year warranty. Buy it here.
Great Sheath Style Protectors
EVERPRIDE Chef Knife Guard Set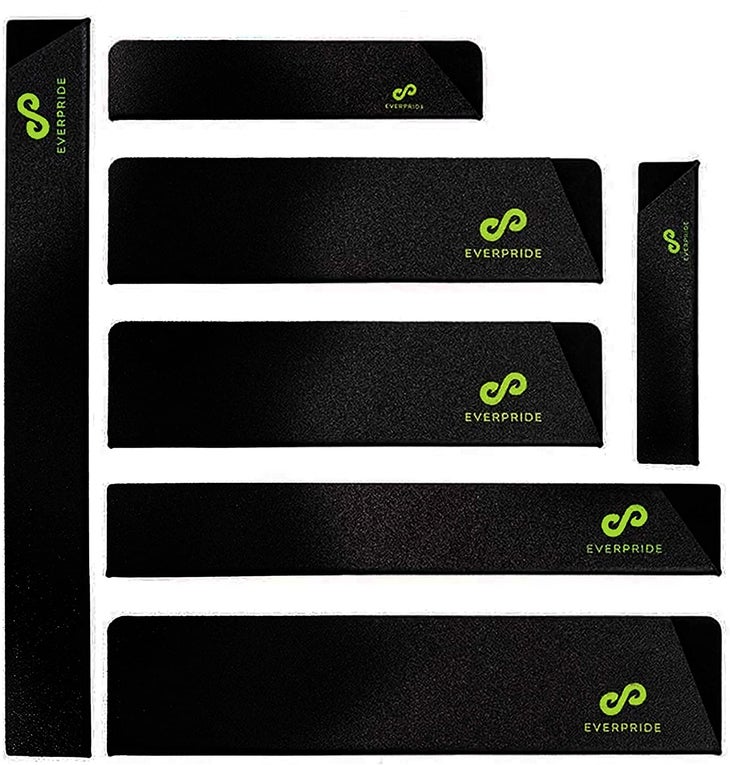 Sheath Style Seven Piece Knife Protectors
This chef knife guard set comes with everything you need to protect your favorite knives, including boning, serrated paring, chef's knives, and more.
What We Liked
These knife edge guards are made of BPA-free, heavy-duty ABS plastic, which is resistant to abrasions and will keep your knives safe and free of nicks that can dull the blades. These sheath style protectors are felt-lined to make it easy to slip the guards on and off without using force. These near-universal covers fit a variety of knife brands, styles, and sizes. This edge guard set includes seven knife sleeves that range from four inches to 12 inches. This knife guard set comes with a 30-day money-back guarantee. Get it now.