Top Napkin Rings
The best meals are all about the food, but all of the smaller touches matter just as much if you want the event to be truly memorable. That includes the dishes, candles or another lighting source, the silverware, napkins, and yes, the napkin rings. Napkin rings are something which signifies that the meal about to be served will be one of consequence. Cloth napkins speak of elegance, but napkin rings mean that what is taking place is an occasion, perhaps one that will become a part of family lore, to be spoken of for years to come. If you are serious about dinner parties, then you should own a set of napkin rings, if not more than one. They should be visually appealing, and constructed of high-quality materials. There are many different varieties available, so you should have no trouble finding some that suit you. Read on to see our favorites.
Heading out the door? Read this article on the new Outside+ app available now on iOS devices for members! Download the app.
Best Design
AW BRIDAL Napkin Rings Set of 12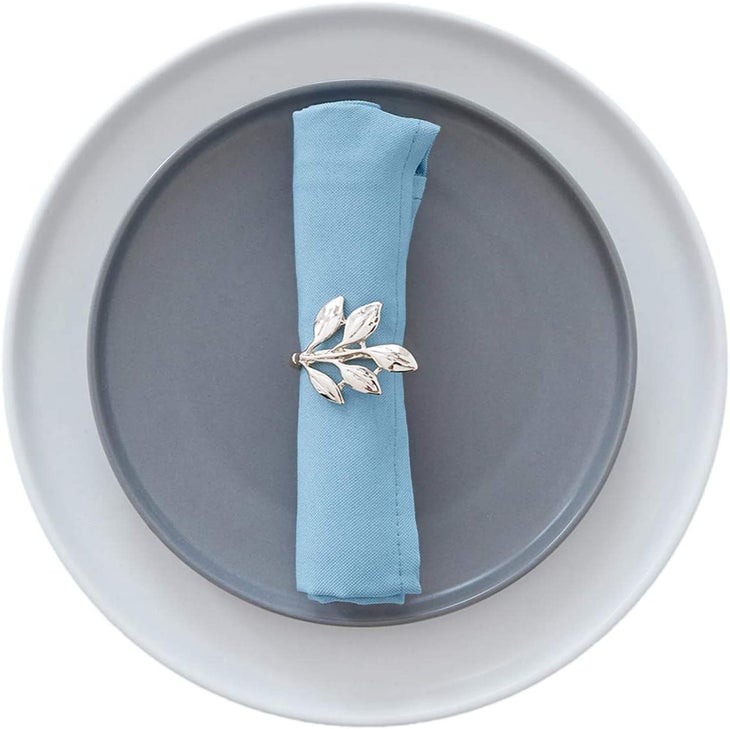 Beautiful Gift. This set of 12 napkin rings, by AW BRIDAL, is both simple and elegant – an understated way to impress your dinner guests.
What We Liked
AW BRIDAL brings you this set of 12 napkin rings, cast in silver-zinc alloy. They are in the shape of leaves, and would be a welcome addition to any seasonal table. They are of sturdy quality and feature exquisite crafting. The rounded edges both inside and out ensure that your guests will not damage their cloth napkins or hands as they slide these off. These napkin rings are truly multi-purpose. You can use them as part of a graduation celebration, a retirement party, a banquet event, family reunion, or for no other reason than to accentuate a dinner with friends or loved ones. Buy Here.
Most Artisanal
Shalinindia Handmade Wood Napkin Ring Set With 6 Napkin Rings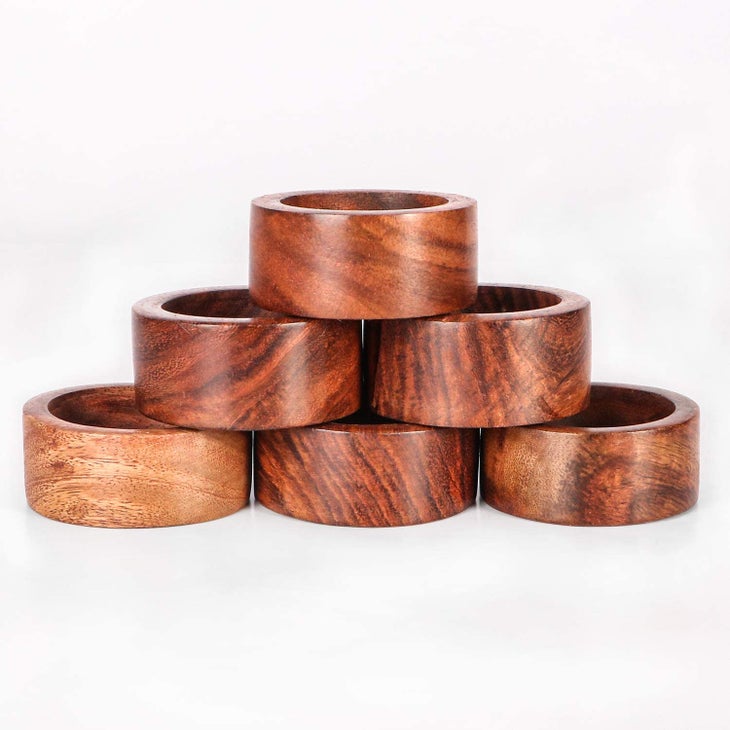 Handcrafted Set. This is a handsome set of six handcrafted napkin rings that have a minimalist modern design.
What We Liked
This set of half a dozen napkin rings is perfect for small formal gatherings. They are crafted from natural hardwood and left with a glossy finish that catches the light nicely. They are perfect cylinders, simple but stylish. These are napkin rings that should appeal to contemporary tastes. Each set is produced by hand by skilled artisans, and their effort comes shining through. These will go great with your table linens, and the natural brown-and-tan of the woodwork goes well with virtually any other colors. The diameter of each ring is such that they should hold any size of napkin. Order Online.
Most Elegant
ANPHSIN Set of 8 Napkin Rings Dinning Table Setting for Casual or Formal Occasions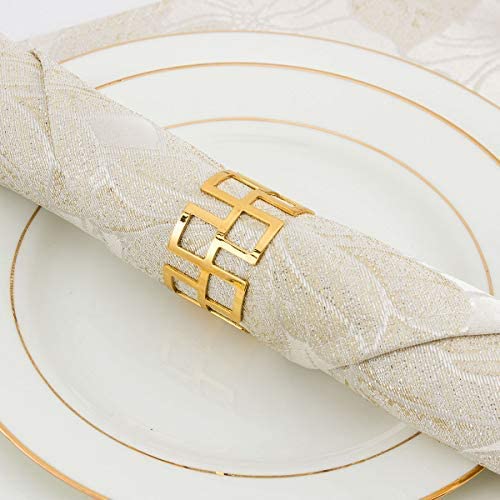 Exquisitely-Crafted. These napkin rings are eye-catching and elegant, making them an obvious choice for baby showers, weddings, or graduations.
What We Liked
This is a set of 8 napkin rings that would add flair to any holiday gathering, wedding, birthday party, or other formal event. They are cast in the mold of flowers, and the shiny metal is durable and easily wiped down to get rid of any smudges or fingerprints when the meal or party is over. These will make your table look extra-inviting, and there is an Old-World feel to them that your guests are sure to notice and appreciate. Each one looks like an ornamental brooch that you'd see during the height of the Roaring Twenties. They give the appearance of delicacy, but with a little care, there is no reason that you shouldn't be able to use these many times. Buy Yours Today.
Most Unusual
Joyindecor Crystal Starfish Napkin Rings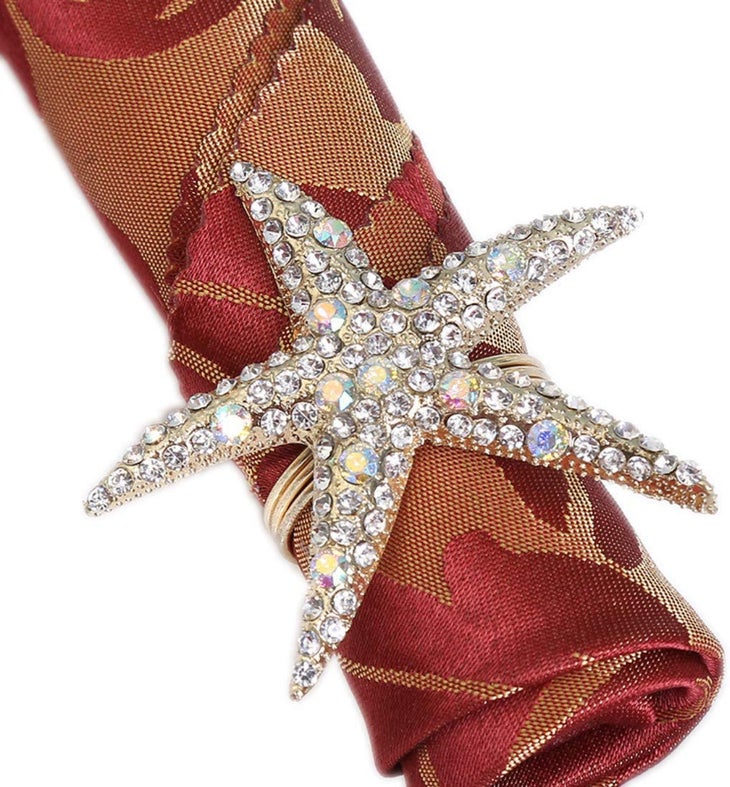 Unique and Memorable. This is a set of napkin rings in an unusual starfish design that beg to be used at a seaside party or nautical-themed event. They also look amazing and inviting in beachside condos or homes.
What We Liked
Your formal event will receive a nautical makeover with this set of 6 rhinestone oceanic napkin rings. These would be great if you're having a seaside wedding or formal get-together by the lake. Each ring is shaped like a starfish, and decorated with shimmering alloy metals. They would go well with many different napkin colors, such as a russet or navy blue. They can make appearances all year round, but making use of them during the summer months seems like a given. These wouldn't look out of place in a hotel kitchen, but they're a great addition to your home collection as well. Make your next bridal shower, tea party, or candlelit dinner with your significant other more special with these whimsical napkin rings. Get It Now.