Top Pie, Tart, and Quiche Pans
Whether you're baking a savory quiche or a fruity tart, you want your baked item to look professional and taste delicious. A fluted tart and quiche pan can get you the results you want. When selecting a pan specifically for tarts and quiches, look for ones with a removable bottom. This feature allows you to remove the pan's rim before sliding the item off the round pan bottom. The pans are also great for making pies. Here is our review of three different tart and quiche pans, so you find the one for you.
Heading out the door? Read this article on the new Outside+ app available now on iOS devices for members! Download the app.
Great for Even Baking
Fox Run 44513 Removable Bottom Non-Stick Tart and Quiche Pan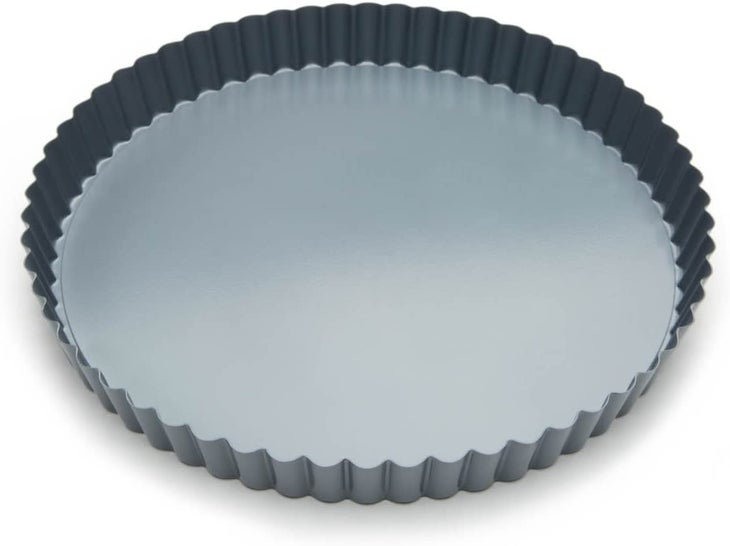 9-Inch Diameter Pan
This fluted pan cooks your tarts and quiches evenly, and the removable bottom makes it easy to cool and remove your baked goods while keeping the crusts intact.
What We Liked
This tart and quiche pan is made of heavy gauge steel for even heat distribution, so it warms up quickly. As a result, your baked goods cook evenly and with a nicely browned crust. The premium nonstick coating and removable bottom release your foods easily and with the crusts intact. The pan measures nine-inches diameter and one-inch high. The pan is dishwasher safe, although hand washing is recommended. It comes with a five-year satisfaction guarantee. Get it here.
Best Warranty
Wilton Excelle Elite Non-Stick Tart Pan and Quiche Pan with Removable Bottom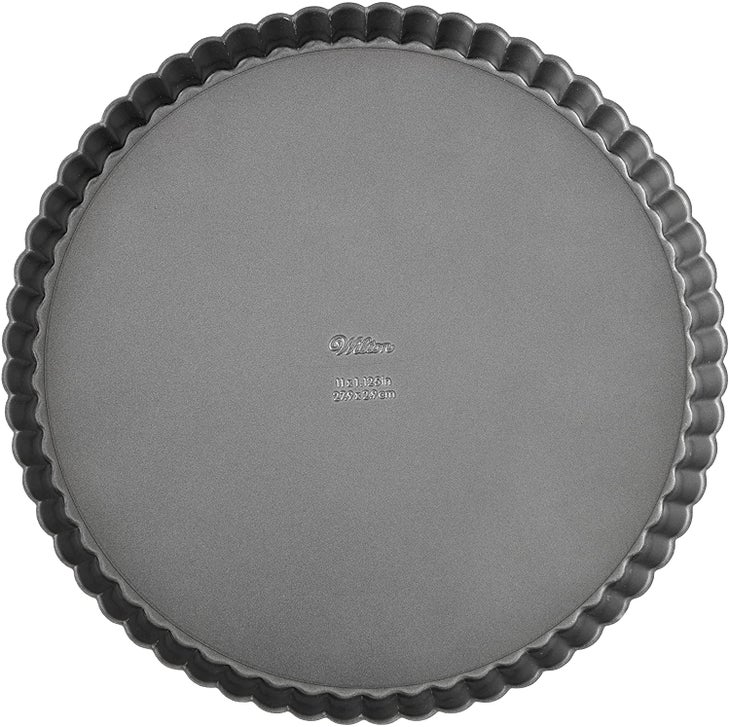 Quick Release Removable Base
This sturdy nonstick tart and quiche pan comes with a quick-release removable bottom to make it easy to remove the rim, so your crust stays intact.
What We Liked
This pan is perfect for tarts and quiches, and the removable bottom is easy to release. The fluted pan is 11-inches diameter and 1.125-inches high. The reinforced nonstick coating is durable, and the pan is dishwasher safe for easy cleanup. This pan resists warping due to the heavy-duty steel construction. This pan comes with a 10-year warranty. Buy it now.
Great Non-Toxic, PFOA-Free Materials
HOMOW Nonstick Heavy Duty Tart Pan with Removable Bottom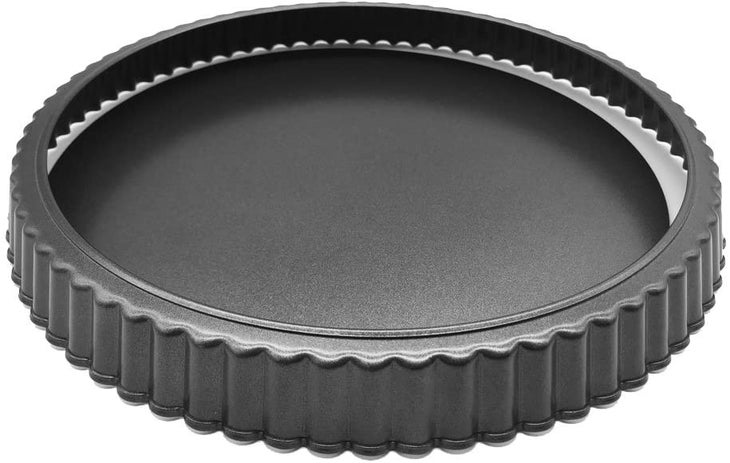 PFOA-Free, Healthy Nonstick Pan
This nonstick pan is made from heavy-duty high-carbon steel for a uniform, perfectly brown crust.
What We Liked
This 12-inch diameter by 1-inch high fluted tart pan has a removable bottom for easy unmolding of tarts, quiches, and pies. This heavy-duty nonstick pan is made from high-carbon steel and a healthy non-toxic, PFOA-free nonstick American Whittford Xylan coating. The pan is dishwasher safe and easy to clean. Buy it here.