Top Salt and Pepper Grinders
Manual salt and pepper mills provide you more control over seasoning, both while cooking and at the table, than shakers. Freshly ground spices often taste better and are more powerful than pre-ground spices. Salt and pepper grinders are easy to use and can be an elegant addition to your table. Here is our review of four salt and pepper grinder sets so you can find the right one for you.
Photo: Getty Images/iStockphoto
Heading out the door? Read this article on the new Outside+ app available now on iOS devices for members! Download the app.
Best Space Saver
Epare 2 in 1 Salt & Pepper Grinder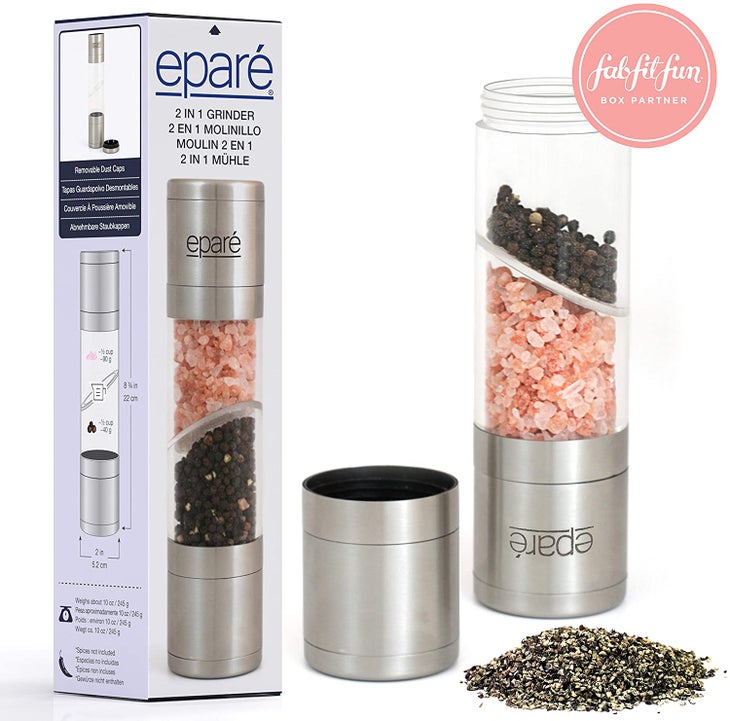 Two-in-One Grinder
This salt and pepper grinder has a unique space-saving design that makes it easy to grind two seasonings tableside with one device.
What We Liked
This sleek grinder has a ceramic burr mill at each end of the device so you can grind two different seasonings with the same tool. This ceramic grinder is strong enough to evenly grind even tough sea salts, peppercorns, spices, and more. You can easily select the grind setting that you prefer with multiple settings between coarse and fine. It also has removable dust caps, so your table or countertop stays clean when it's not in use. The clear acrylic containers have a wide mouth opening to make it easy to fill, and each container holds about half a cup of seasoning. It's also easy to monitor the amount of seasoning inside. The mill measures 2.5 inches in diameter and 8.75 inches tall. Plus, this grinder comes with a limited lifetime warranty. Get it here.
Most Stylish Design
Willow & Everett Stainless Steel Salt and Pepper Grinder Set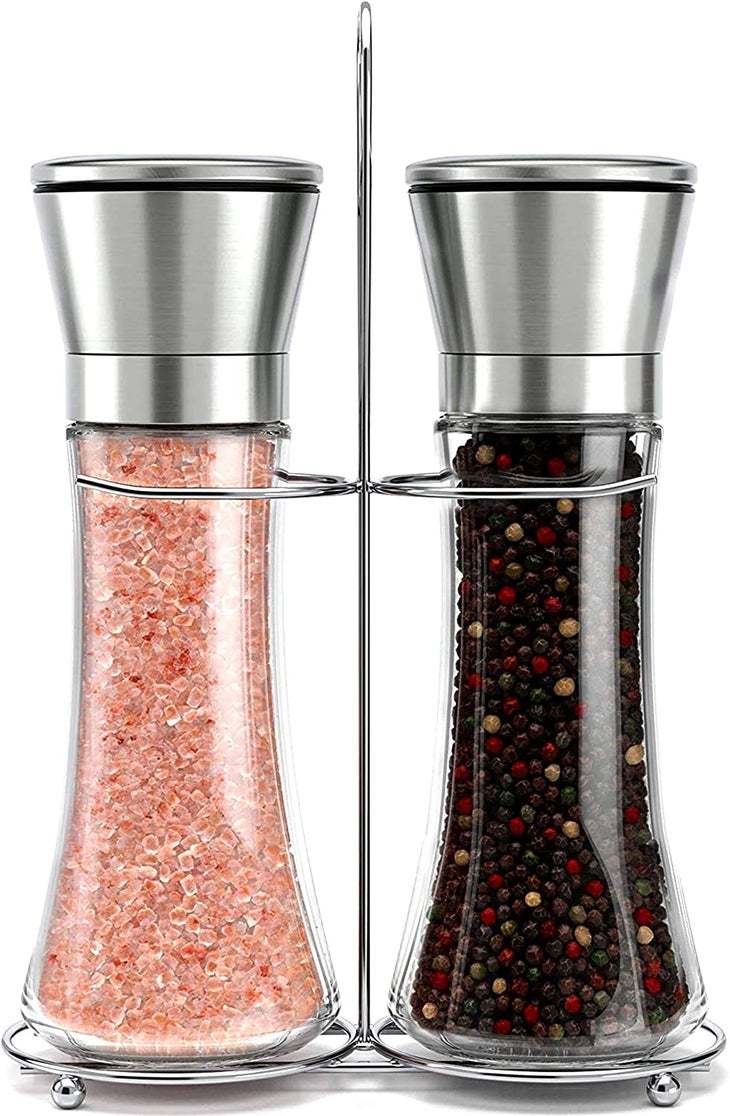 Perfect for Using Tableside
This elegant set of two ceramic grinders plus stainless steel stand is designed to fit comfortably in your hand and twist easily when used.
What We Liked
This set comes with two grinders and a stainless steel stand, making it easy to carry from kitchen to table or to store on your table. Each mill holds approximately 3/4 of a cup of seasoning. You twist the grinders to grind and release the spice. You can easily select the level of coarseness from coarse, medium, and fine. The containers are BPA-free, won't absorb flavors, and have a wide opening for easy filling. The ceramic grinder is non-corrosive and grinds salt, pepper, and other spices. Buy it now.
Best Sealing Lid
Salt and Pepper Shakers with Silicon Stand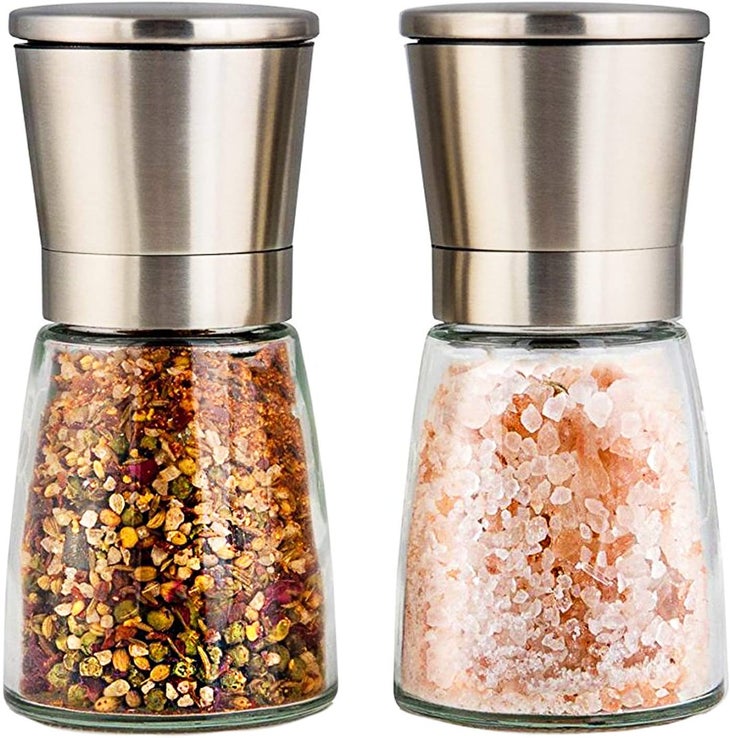 No Mess and Easy to Fill
This set of two grinders comes with a silicon stand for convenient storage and sealing lids, so spices stay fresh longer.
What We Liked
This set of salt and pepper grinders includes a silicon stand to make it easy to store items when not in use. These grinders have brushed stainless steel tops and a clear, sturdy glass reservoir that allows you to see how much spice is inside. Plus, it's easy to clean. The ceramic burr grinding mechanism is durable and long-lasting. This set also comes with a stainless steel lid that keeps spices fresh longer and prevents dust or moisture from entering. The mills have a wide opening to make it easy to refill. Each mill is 5.5 inches tall and 2.5 inches in diameter, and it can hold up to 3/4 cup of spices. Buy them here.
Most Grinding Options
Professional Salt and Pepper Grinder Set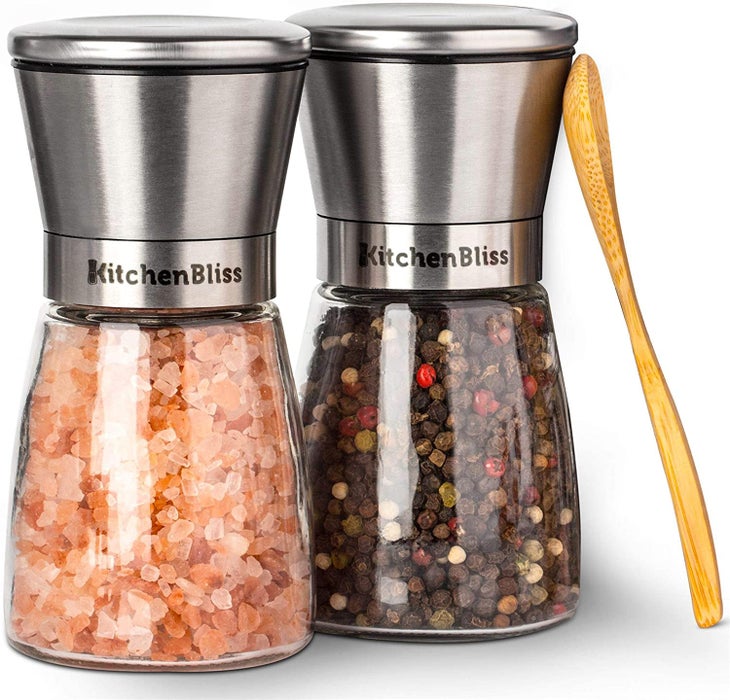 Easy to Hold
This set of salt and pepper grinders provides you with four different coarseness levels.
What We Liked
Season dishes effortlessly with this set of salt and pepper grinders. This set comes with two mills, a bamboo spoon, and a cleaning brush. The mills are made of stainless steel, BPA-free plastic, and glass. They are easy to hold and contain a large amount of spices, so you don't have to refill often. It's easy to adjust between four grinding levels, so you get the desired coarseness every time. The wide opening at the top makes them easy to refill. Plus, these grinders are easy to clean and come with a 100 percent money-back guarantee. Get them now.