7 Gorgeous Summer Salads
Patio weather is the perfect time to turn seasonal produce into a satisfying meal. These crisp salads are all deliciously hearty with loads of fiber and protein and can be made in 30 minutes or less.
Heading out the door? Read this article on the new Outside+ app available now on iOS devices for members! Download the app.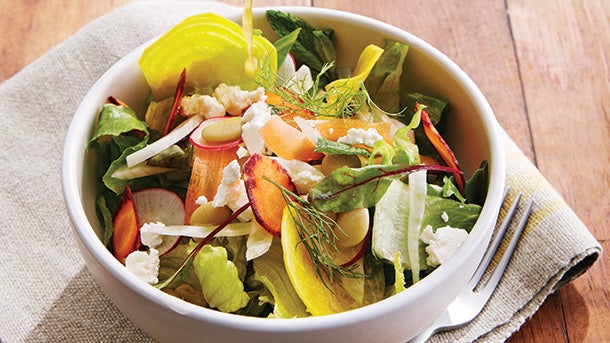 1. The Riviera Salad with Champagne Vinaigrette
Thinly sliced carrots, radish and fennel add flavor and crunch to this beautiful salad with fresh mint and tarragon.
Get the recipe.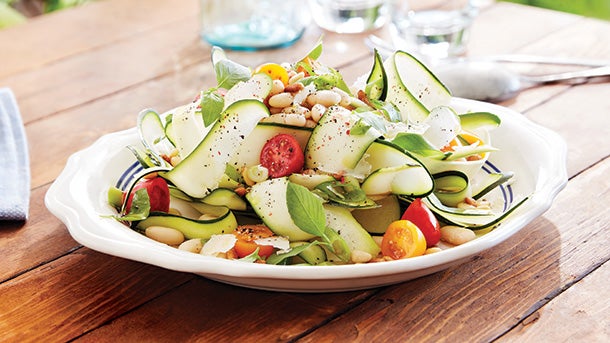 2. Zucchini Carpaccio with White Beans, Basil & Pine Nuts
Don't be fooled by the simple ingredients list in this salad – it has big flavor from crunchy pine nuts and fragrant fresh basil. A mandoline helps slice the zucchini as thin as possible, but you can also use a knife if you prefer. For added color, try adding cherry tomatoes if you have some on hand.
Get the recipe.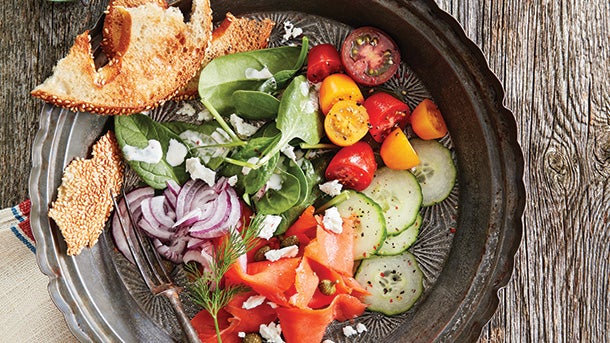 3. Deconstructed Bagel & Lox Salad
We've taken the classic flavors in a bagel & lox sandwich and packed them into a salad with wild smoked salmon, dill, red onion and even toasted bagel chips. To lend a delicious richness to this meal, try adding 3 to 4 oz of crumbled goat cheese.
Get the recipe.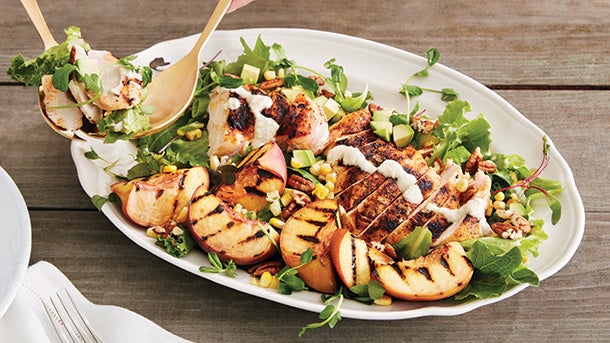 4.The Baja Grilled Peach Salad with Spicy Cashew Dressing
Sweet, juicy grilled peaches add a lovely warm-weather flair to this salad packed to the brim with beautiful vegetables. The true star of this meal, though, is the creamy cashew dressing spiked with just a touch of cayenne. If you have time, we suggest making the candied pecans as they add an addictive sweet-salty crunch.
Get the recipe.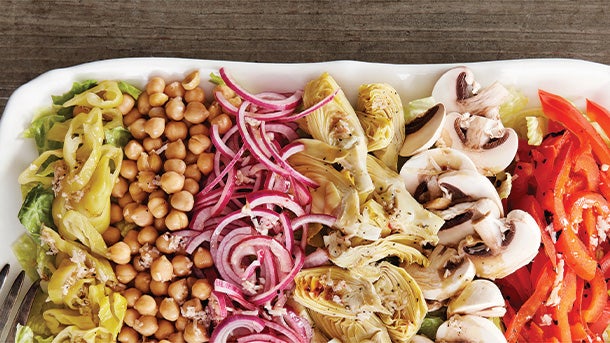 5. Tossed Antipasto with Pecorino-Romano Vinaigrette
Have you ever ordered an antipasto plate at your local Italian restaurant? Picture every delicious item from that platter – artichokes, roasted peppers and pepperoncini – all tossed together in a salad with a gorgeous oregano-cheese dressing. We promise, you've never had anything like this salad!
Get the recipe.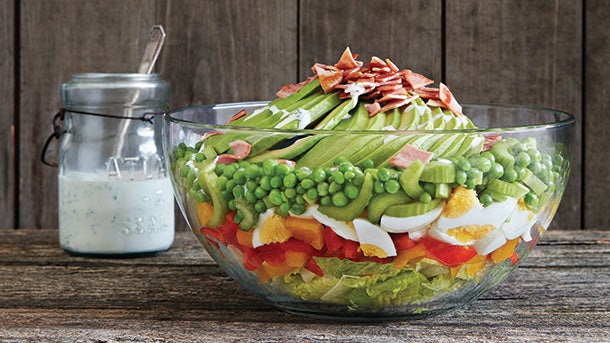 6. Seven-Layer Salad with Blue Cheese Dressing
This recipe yields a generous amount of dressing – either toss the desired amount of dressing to coat the salad lightly right before serving, or serve the dressing alongside so your guests can dress it themselves. Or, you can go the route that many traditionalists take in the Midwest – they pour on enough dressing to lightly coat the salad (we suggest using about half of the dressing) and set it in the fridge to allow the dressing to trickle down and coat the veggies.
Get the recipe.