6 Make-Ahead Meals That Are Ready When You Are
These 6 recipes will make for a delicious and produce-packed week. The best part? You only have to cook once!
Heading out the door? Read this article on the new Outside+ app available now on iOS devices for members! Download the app.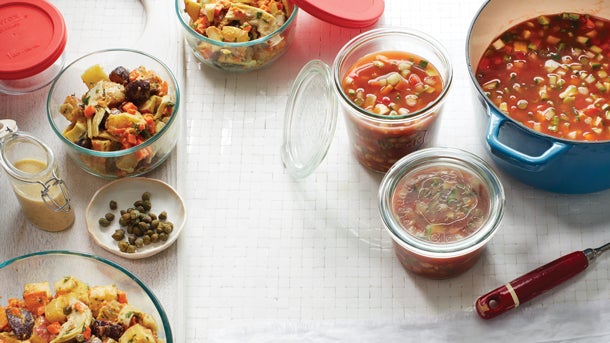 It's the most wonderful time of the year: produce season! Literally everything is ripe for the picking, which means that this is the optimal time to up your fruit and vegetable game. This perfectly coincides with our tendency to crave lighter and more refreshing fare during warmer weather without spending too much time in a hot and steamy kitchen. During the summer months, we tend to look for fresh, easy-to-prepare meals – after all, between work, outdoor activities, patio-hopping and vacationing with friends and family, there is not much time to spare for food preparation. So take advantage of the bountiful season with these make-ahead meal ideas that will have you loading up on nutrient-rich food while leaving you time to spare for that extra-long stroll on the beach.
Breakfast:
Lunch:
Leftovers:
Dinner:
Snack attacks:
Prep Sunday
Chocolate Chia Raspberry Cobblers –these will last until Friday
Chunky Cucumber Avocado Gazpacho – this will last until Thursday
Potato Caesar Salad – this will last until Thursday
Spicy Thai Noodle Salad – this will last until Friday
Tofu & Mushroom Bourguignon Skewers – these will last until Friday
Chive & Macadamia Nut Pesto – this will last until Wednesday
Download our free shopping list!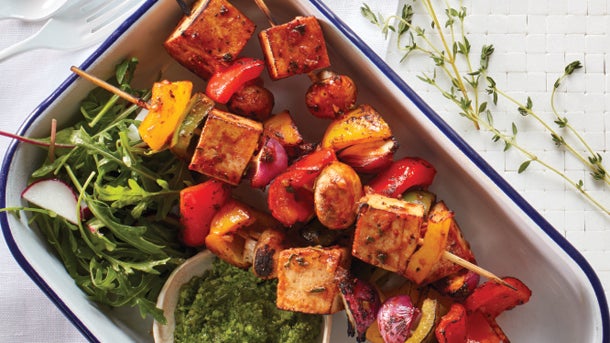 1. Marinated Veggie Skewers
What better way to utilize summer's bounty than with seasonal vegetables on the grill? Veggie skewers can be made and marinated in advance and stored in the fridge until ready to roast or barbecue. Try our tofu, mushroom, pearl onion and pepper skewers marinated in a classic Bourguignon sauce.
Get the recipe: Tofu & Mushroom Bourguignon Skewers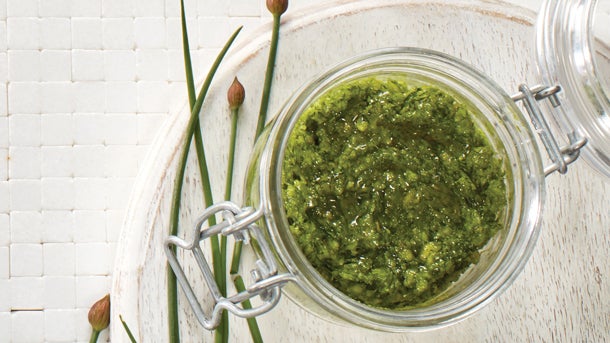 2. DIY Pesto
Pesto is not only great to have on hand for quick pastas, soups and sandwiches, but it's also delicious with scrambled eggs or tofu and whole-grain toast. Use it immediately, store in the fridge for up to 3 days, or freeze it for future enjoyment. It is a clever way to use up all your garden-fresh herbs that are in abundance right now.
Get the recipe: Chive & Macadamia Nut Pesto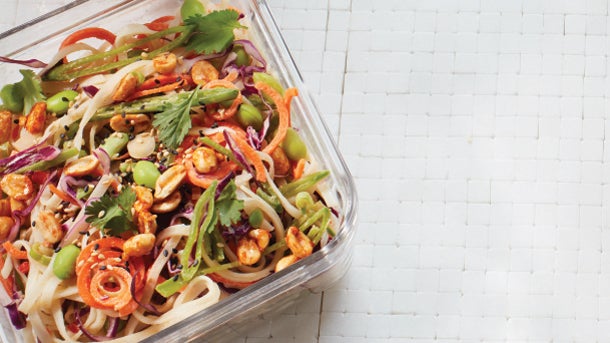 3. Cold Asian Noodle Salad
A cold Asian noodle salad is a happy and healthy stir-fry alternative that can be made in advance and served straight out of the fridge. Our favorite is this spicy Thai noodle salad topped with sriracha-roasted peanuts.
Get the recipe: Spicy Thai Noodle Salad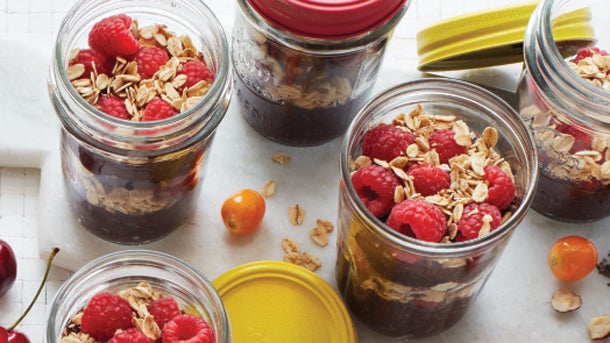 4. Mason Jar Fruit Cobblers
This is a combination of the ever-popular overnight oats and a classic fruit cobbler, but with more of a focus on the fruit and without all the baking! These make-ahead masterpieces are not only good for breakfast on the go but also as a nutrient-packed snack or dessert. Switch up the raspberries with any seasonal fruit of choice.
Get the recipe: Chocolate Chia Raspberry Cobblers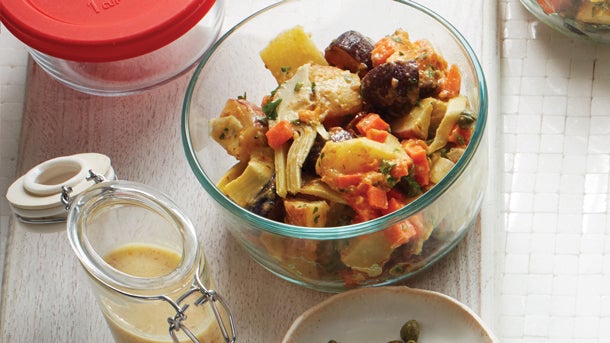 5. Potato Salad
Potato salad is the ultimate comfort food for summer shindigs. Take advantage of this and make a double batch to enjoy throughout the workweek as well. Feel free to prop up the humble potato with roasted sunchokes, beets and/or carrots, but make sure to leave that old-school creamy whipped dressing behind. Try our potato salad with artichokes, sun-dried tomatoes and capers paired with a homemade Caesar dressing.
Get the recipe: Potato Caesar Salad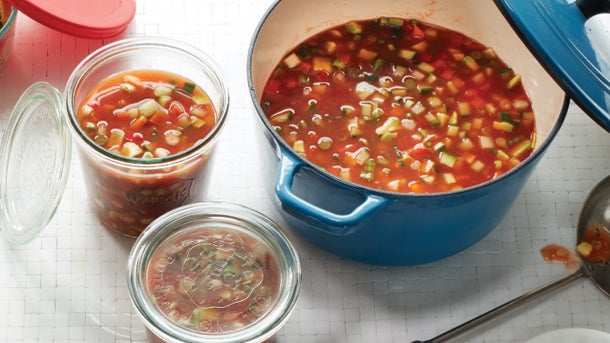 6. Chilled Soup
Cold soups are the perfect lunch or quick dinner during the blistering summer months as they satisfy your need to cool down. They can be made in large batches and stored for an easy lunch or a perfectly planned picnic.
Get the recipe: Chunky Cucumber Avocado Gazpacho