Phyllo Bites
Light as air and filled with our Greek-inspired blend, it's hard to believe that 4 of these flaky breakfast bites are only 214 calories!
Heading out the door? Read this article on the new Outside+ app available now on iOS devices for members! Download the app.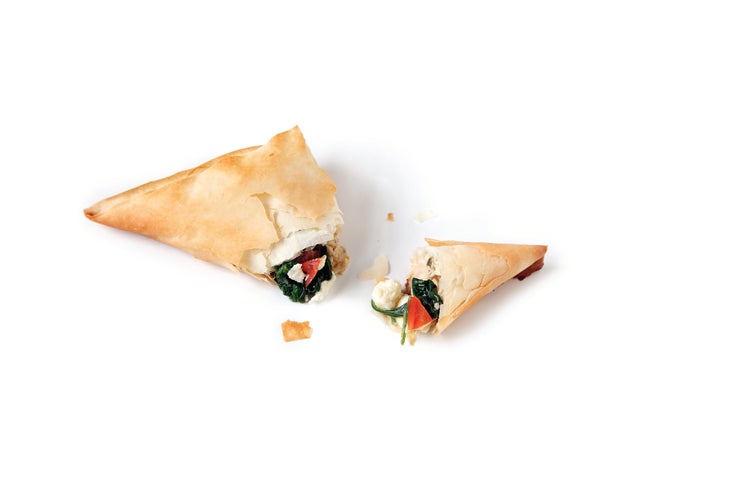 Serves: 4
Hands-on time: 20 minutes
Total time: 35 minutes
INGREDIENTS:
4 egg whites
1 whole egg
1 tsp dried oregano
1 tsp extra-virgin olive oil
12 cups spinach, roughly chopped
1 clove garlic, minced
1 medium tomato, finely diced
1/4 cup crumbled low-fat feta cheese
8 sheets whole-wheat phyllo dough
Olive oil cooking spray
INSTRUCTIONS:
Preheat oven to 400°F. Heat medium nonstick sauté pan over medium-high heat. In a bowl, whisk egg whites, egg and oregano. Pour egg mixture into pan, stirring gently until set, about 2 minutes. Place scrambled eggs on a plate to cool.
Wipe sauté pan clean, add oil and heat over medium heat. Gradually add spinach and garlic until spinach is wilted (you should be left with about 1 cup cooked spinach). Place spinach mixture in a bowl and set aside to cool, about 5 minutes.
In a medium bowl, gently toss together scrambled eggs, spinach mixture, tomato and feta; set aside.
Working quickly, roll out 1 sheet of phyllo onto a clean work surface. Mist with cooking spray. Place a second sheet on top and mist again with cooking spray. Cut phyllo lengthwise into 4 strips (each about 3 1/4-inch wide). Place 1/4 cup filling onto 1 end of 1 strip. Fold corner over filling to opposite side of strip, making a triangle. Fold triangle up to meet straight side, then across again. Continue folding over triangle until you reach end of phyllo strip. Mist with cooking spray. Repeat this procedure with remaining 3 strips and 6 phyllo sheets, assembling a total of 16 phyllo bites.
Transfer phyllo bites to baking sheet and bake in preheated oven for 10 to 11 minutes, until golden brown around edges.
Nutrients per 4 phyllo bites: Calories: 214, Total Fat: 6 g, Sat. Fat: 2 g, Monounsaturated Fat: 2.5 g Polyunsaturated Fat: 1 g, Carbs: 31 g, Fiber: 5 g, Sugars: 1 g, Protein: 12 g, Sodium: 495 mg, Cholesterol: 55 mg

FREEZE IT:
To freeze, place phyllo bites on a sheet pan in a single layer and place in freezer for 20 minutes, until solid. Then gently transfer them to a freezer bag and seal tightly, removing as much air as possible. Breakfast Phyllo Bites can be frozen for up to 6 months.