Purple Sweet Potato Latkes
Steam it, roast it, mash it, bake it. The purple sweet potato is a versatile root veggie, which Okinawans make into everything from tempura to ice cream and can be served sweet or savory.
Heading out the door? Read this article on the new Outside+ app available now on iOS devices for members! Download the app.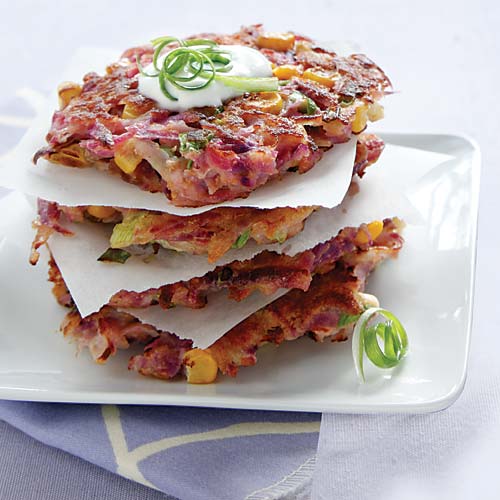 If you enjoyed this purple sweet potato recipe, try these sweet potato sides.
Serves: 4
INGREDIENTS:
1 large egg
1 egg white
1 tbsp whole-wheat flour
1/2 tsp sea salt
1/2 tsp ground black pepper
1/2 tsp ground red pepper flakes or ground red pepper spice
2 medium purple sweet potatoes, peeled and shredded (1 cup)
1/3 cup canned whole kernel corn (no sugar added), drained and rinsed
2 green onions, thinly sliced
Olive oil cooking spray
4 tbsp low-sodium salsa
4 tbsp Greek yogurt
INSTRUCTIONS:
In a large bowl, beat together egg, egg white, flour, salt, black pepper and red pepper. Mix in potatoes, corn and onions.
Mist a medium skillet with cooking spray and heat over medium. Add 1/4 cup potato mixture to pan and, using a spatula, gently press into a patty. Repeat with remaining batter. Cook 4 minutes on each side or until golden brown.
To serve, top each patty with 1 tbsp salsa and/or a dollop of yogurt and dig in.
Nutrients per purple sweet potato latke, (includes 1 tbsp salsa and 1 tbsp yogurt): Calories: 100, Total Fat: 1.5 g, Sat. Fat: 0 g, Carbs: 15 g, Fiber: 2 g, Sugars: 2 g, Protein: 6 g, Sodium: 310 mg, Cholesterol: 45 mg
Video: Cooking with Potatoes
Mashed potatoes, scalloped potatoes, sweet potatoes, even purple potatoes! Chef Jo offers some tips and tricks where potatoes are concerned, plus a guide to each.