Sustainable Travel: Indulge in Luxury at Terranea Resort in Los Angeles
Luxury meets sustainability at the spectacular Terranea resort in Rancho Palos Verdes, California.
Heading out the door? Read this article on the new Outside+ app available now on iOS devices for members! Download the app.
Perched on the rocky coast of Rancho Palos Verdes, California, Terranea destination hotel combines ultimate luxury with sustainability. A mere 30 miles south of Los Angeles, this 582-room, 102-acre eco-resort is a world away from the city's notorious traffic and urban sprawl, luring visitors with its endless ocean views, four heated pools, nine-hole golf course, 50,000-square-foot spa and fitness center, two miles of oceanfront trails and eight dining venues with a variety of farm-to-table dining options.
The fresh and local culinary philosophy begins with the 50 Meyer lemon trees encircling the property. "We never have to buy a lemon," says Executive Chef Bernard Ibarra. Meyer lemon cocktails, desserts and flavored sea salt are found on the resort's restaurant menus. Terranea employees harvest sea salt by hand in the on-site conservatory, and this mineral-rich salt is also used in the oceanfront spa for various treatments, like the signature sea salt exfoliation and massage.
Ibarra oversees the resort's farm, the breathtaking Catalina View Gardens, located just a few miles east of the resort. Ibarra, who was raised on a farm in the Basque Country of Spain, takes great pride in his rotating selection of vegetables. Asparagus, Swiss chard, kohlrabi, fennel, chile peppers and heirloom tomatoes bask in the year-round California sunshine, while groves of olive and avocado trees trail down the hillside towards the deep blue Pacific below. Although the 4,000-square-foot garden is far from sustaining all the produce requirements of the resort, Chef Ibarra plans to expand it to 10,000 square feet over the next year.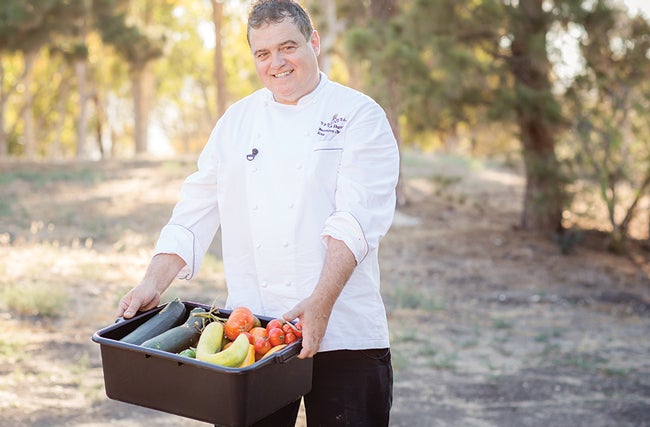 Ibarra is quick to praise all his staff, even the ones with six legs. He sources 160 pounds of honey a year from the four hives on the farm. "We have 150,000 more Terrenea employees," he says, speaking of the bees. "They don't have a name tag, but they work hard."
The fresh produce, sea salt and honey come together at Terranea's mar'sel restaurant, popular for its multi-course seasonal tasting menus and wine pairings. The restaurant also has its own herb garden on-site. Standout menu items have included fresh abalone pulled from the sea and caramelized Brussels sprouts dusted with sea salt. But it's the magnificent beauty of this seaside sanctuary that truly delights the senses. Terranea blends seamlessly with its surroundings, inviting you to relax. Lie back, inhale the salty air, and if you're lucky, watch a pod of dolphins joyfully swim by.