"Black-ish" Star Anthony Anderson Cleans Up His Diet
After being diagnosed with type 2 diabetes, television star Anthony Anderson made some big changes to his diet and lifestyle. But, Anderson aims for more than merely cooking healthy dishes at home – he wants to give you a "foodgasm."
Heading out the door? Read this article on the new Outside+ app available now on iOS devices for members! Download the app.
As a veteran actor, comedian and executive producer of several hit shows including Black-ish which airs on ABC, Anthony Anderson is a force to be reckoned with, both on and off the big screen. With such a dynamic schedule it seems almost impossible to sustain a healthy lifestyle, but this isn't the case for the A-list actor. After being diagnosed with type 2 diabetes more than a decade ago, he was determined to start changing his diet.
But it wasn't until 2008, after landing a role on the television drama Law & Order, when he made the conscious decision to establish strict eating habits and exercise regimens, He's since dropped 47 pounds.
We had a chance to chat with Anthony as he recently stepped out from in front of the camera to head to culinary school, in an exclusive "Chef for a Day" experience. During this time, not only did he learn how to sharpen his culinary skills in the kitchen but he also learned how to whip up summer flavors straight from the farmers' market from chefs of the prestigious Le Cordon Bleu in Los Angeles.
Why did you decide to participate in the "Chef for a Day" experience?
Cooking is a passion of mine. I have a show on the Food Network, which started from me being a judge on Iron Chef America for five years and competing on celebrity Chopped. Cooking is very therapeutic and I love preparing the meal and watching whomever I'm preparing it for enjoy it. I receive no greater amount of satisfaction than helping provide you with a foodgasm and that's what really excites me about cooking.
See also 5 Cooking Tips You'll Use Every day.
How would you describe your current skills in the kitchen?
I know my way around the kitchen and if it has a recipe I can make it! (Laughs) After I've made it from that recipe just once I can make it on my own and personalize it. That's another reason why I wanted to participate in being "Chef for a Day" at Le Cordon Bleu because there are some things I didn't know and some questions that I've never had answered, but I was able to ask the culinary chefs there. We got into a variety dishes such as root vegetable purees, port wine reductions and a little into brining foods.
Do you have a go-to secret spice/ingredient you just can't live without?
No, I don't necessarily have a secret spice but it's all about fresh herbs. This is another reason why I wanted to participate in the "Chef for a Day" experience because I wanted to learn how to switch things up a little bit. Not necessarily spices but a different flavor to traditional dishes that I normally make. We prepared everything from root vegetable purees such as an Okinawan potato – the potato is actually purple. All you have to do is boil it, then cut it up and eat it because it's sweeter than an actual sweet potato without adding any extra type of seasoning. We also made a butternut squash puree [see recipe below] which adds texture and flavor to the meals. My sole purpose was to have the ability to make basic foods with French refinement since this is where the culinary arts really start.
See also How to Create a Recipe and Menu like a Pro.
What would be your ideal menu and guest list for an intimate dinner party?
Well, first I have to figure out which family members I want there. (Laughs) My guest list would include, George Lopez, Cedric the Entertainer, Don Cheadle, Jeremy Sisto and a couple of family members.
The food I would cook would consist of: for the meat eaters a pan-seared prime strip steak braised with butter, olive oil, rosemary and thyme. We'd have a nice micro green salad with a light dessert. Oh, and of course to accompany the steak I'd sauté some Brussels sprouts and baby squash with a root vegetable puree. Most likely a butternut squash puree.
With such a hectic schedule, what are the biggest challenges and greatest rewards when trying to create and sustain a healthy lifestyle?
Wow, I would definitely have to say balance. Since I'm the lead actor and one of the executive producers on the show "Black-ish," I'm on stage about 14 hours a day. I have to make the time to find that balance between work and the balance between private time to keep my sanity and especially keep my health. I'm a gym rat now so I have to find time to be in the gym even if it's just to do cardio. I also have to find time, just to go into a quiet corner to keep calm and meditate.
Do you have a piece of cooking advice someone has shared with you or you would like to share with readers?
Something I've learned from my mother, my grandmother and anybody who cooks in the kitchen – cook with love. People can tell when you're cooking with love because you take your time with it.
What new projects are you working on?
Since we're on food, I have a show on the Food Network, Carnival Cravings, that's going to start airing in September. This is my second year with them, last year it was Eating America with Anthony Anderson, which will also begin airing again soon.
I'm in the movie Barbershop 3 and that should be coming out Martin Luther King weekend. I have a new game show on ABC as well called, To Tell the Truth. It's a reboot of a show from the 50's, 60's and 70's with a modern day twist that I get to host and my mother as the co-host/score keeper. I have Betty White, NeNe Leakes and Jalen Rose as my celebrity panel and Black-ish of course. I think that's all for now!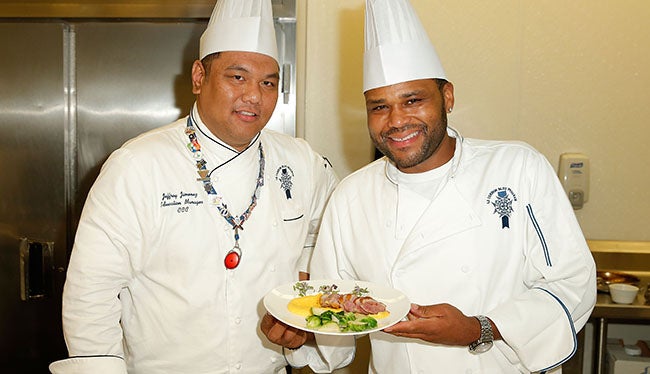 Pan Seared Steak with Port Wine Reduction Sauce
(Farmer's Market-inspired Dishes by Chef Jeffrey Jimenez of Le Cordon Bleu College)
Serves: 1
INGREDIENTS:
NY Steak (5-8oz) – 1 ea.
Shallots, fine dice – 1 oz.
Port wine – ¼ cup
Veal stock – ½ cup
Salt and pepper, to taste
Butter cut into 1-inch squares (ice cold) – 2 oz.
INSTRUCTIONS:
Add oil to sauté pan and heat up. Add salt and pepper seasonings to the steak and sear.
Place steak on wire rack and place in oven to cook to preferred doneness.
Defat pan, add shallots and deglaze with port wine.
Reduce to au sec (when the liquid has been reduced until it is nearly dry), add stock and reduce to nappe (lightly coating the food with the sauce).
Mount with butter.
Root Vegetable Puree
Serves: 1
INGREDIENTS:
Butternut squash and/or sweet potato – 8 oz.
Butter cut into 1-inch squares (ice cold) – 2 oz.
Heavy cream – 1-2 oz.
Salt and pepper, to taste
INSTRUCTIONS:
Blanch butternut or sweet potato in water until tender.
Strain and place root vegetable in blender. Add butter and heavy cream until smooth in consistency.
Adjust with seasoning.
—
Dontaira Terrell is a Florida A&M University graduate, communications specialist and freelance journalist, with a penchant for lifestyle content including but not limited to: fashion, pop culture and politics. Check out Dontaira's work here.