Growing Food in the South Pole
Joselyn Fenstermacher spends part of her year at the bottom of the earth - and still manages to grow a bevy of fruits and veggies!
Heading out the door? Read this article on the new Outside+ app available now on iOS devices for members! Download the app.
You may think that farmers' markets and "grow local, eat local" movements would be limited to places with an abundance of things like sunlight, soil and earthworms. But they're actually not necessary. In fact, we've been eating locally grown produce at the bottom of the world for years, even during the 24/7 darkness of the winter months. Wait, the bottom of the world? Yes.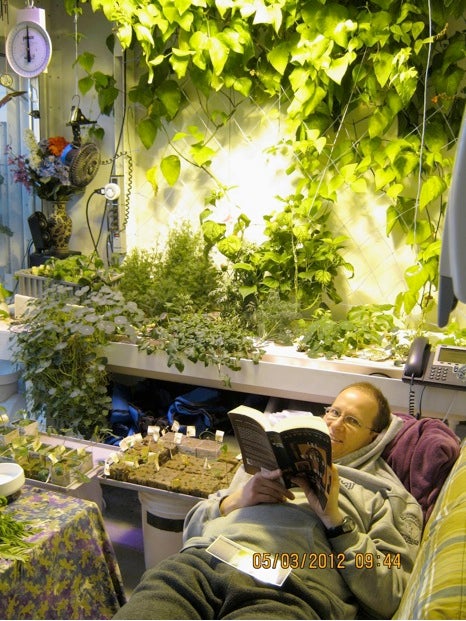 Robert Schwarz relaxing in the "Happy Room," where "winterovers" like Schwarz can catch a little R & R, practice gardening using a hydroponic system and experiment with growing their own crops.
The United States Antarctic Program, which is funded and directed by the National Science Foundation, operates a year-round science base at the geographic South Pole. As an integral part of the Amundsen-Scott South Pole Station, the fully enclosed 250-square-foot hydroponic growth chamber produces the only fresh food the Station's 50 winter staff will eat during their nine-month winter isolation. Between February and November, there are about five months of complete 24-hour darkness, and the temperature ranges from -50°F to -100°F, so the bright lights, humid air, plant smells and colors of all sorts are just some of the reasons the Station's "winterovers" are thankful for this escape from the hostile environment outside.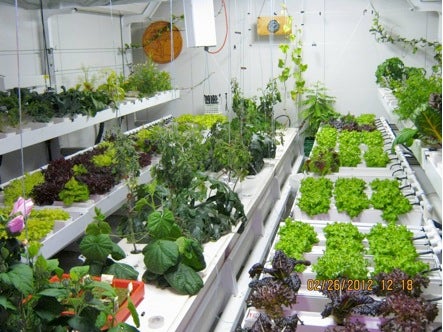 The growth chamber early in the season, February.
So what can we grow? An amazing variety of things, actually. At one point this past winter, I had over 100 varieties of plants growing! Many varieties of lettuce and salad/cooking greens are successful (including kale, chard, bok choy and amaranth) in addition to larger vegetables and fruits such as peppers, cucumbers, eggplant, radish, tomatoes, strawberries and melons. Herbs are important as well (basil, dill and cilantro are the strongest growers), plus edible ornamentals such as hibiscus, calendula, marigold and chamomile.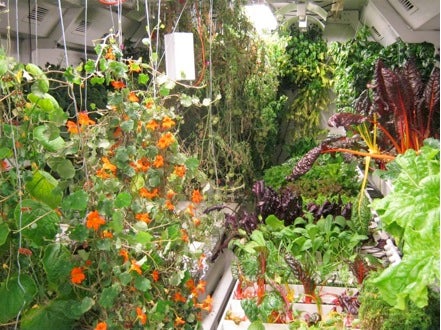 The growth chamber at the end of the season, October.
Last winter's monthly farmers' markets were a great way to show off the seasonal variety of greenhouse produce, with "star" offerings of crops that were ready at the right time, just like gardening back home. Fresh-sliced tomatoes and red peppers were always a hit, but the Red Pepper & Mango Salsa was time and time again the most requested dish (though sadly, we didn't grow the mango!).
Some garden-fresh South Pole eats: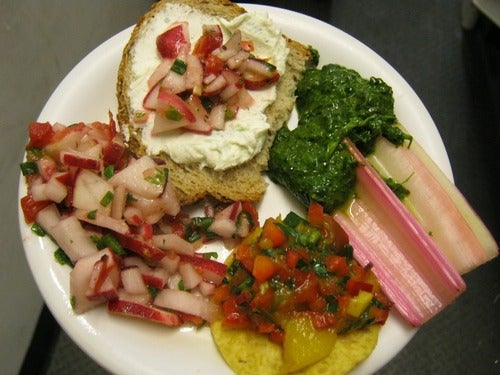 Check out the Red Pepper & Mango Salsa at the bottom!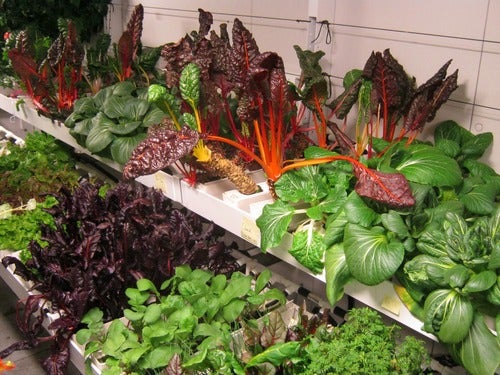 A closer look at the chamber system and crops!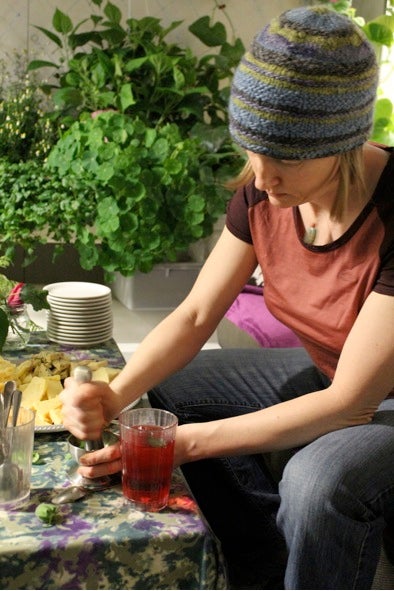 Joselyn Fenstermacher crushes fresh mint to add to a fresh hibiscus spritzer at the farmer's market.
Visit josfenster.blogspot.ca for more information on the program and to see pictures of the greenhouse.