Olympian Mikaela Shiffrin Shares her Love of Pasta
Carbs don't scare champion ski racer Michaela Shiffrin. Find out how she fuels for training and get a recipe for Spring Peas and Basil Pesto Spaghetti from her new cookbook.
Heading out the door? Read this article on the new Outside+ app available now on iOS devices for members! Download the app.
At only nineteen years old, U.S. ski racer Mikaela Shiffrin is the reigning Olympic, World Cup and world champion in slalom–the most technical discipline in skiing, where racers have to navigate a series of short, quick turns while speeding along at 40 mph. We had a chance to catch up with the candid and chatty young skier in February when she was competing in the World Ski Championships in Beaver Creek, Colorado. A world-class athlete who trains 12 months a year, Shiffrin has been sponsored by Barilla since joining the U.S. Ski Team in 2012. But, she recently teamed up with Chef Specialist at Barilla U.S.A. Yury Krasilovsky to write a cookbook called Winning Recipes from Mikaela Shiffrin. Mikaela talked to us about fueling for training, her love of pasta and shares a favorite recipe from her new book.
So, you're only 19, and you train all the time. How much do you worry about diet?
I feel like I have the metabolism of a pregnant woman! I have to watch what I eat. It's important. I go through phases where I write down everything I eat and I keep track of calories. For the most part, I have a pretty good gauge of the portions that I should have: carbs versus protein, versus vegetables. The easiest way for me to have energy is to have some carbs. I always have pasta after a race and after training to fuel me up and get me ready for tomorrow.
A lot of people are afraid of carbs…
Carbs aren't bad. Everything in moderation. I'm not afraid of carbs. I just try to keep it all balanced. I weigh myself everyday, just to make sure I'm not gaining weight or losing weight. Pasta gives me energy. It's like caffeine for me.
Do you cook?
Sometimes. I make a mean chicken parm. My mom and I cook together quite often. But, this cookbook is based on my favorite foods and the chef at Barilla put them together. My favorite vegetables are tomatoes, celery and peppers, so there's a lot of that in here. And I love Thai food, so there's a lot of that. There's something for everybody and it's all really simple.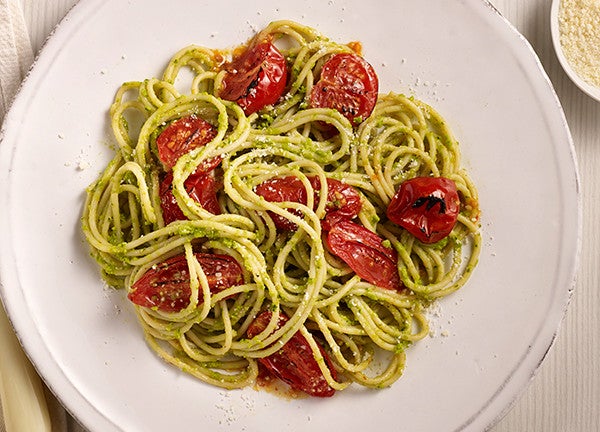 Spring Peas & Basil Pesto Spaghetti
Serves: 7
Hands-on Time: 15 minutes
Total Time: 25 minutes
INGREDIENTS:
1 box Barilla® Whole Grain Spaghetti
2 ice cubes 1 cup spring peas
10 basil leaves
1/2 cup Parmesan cheese, grated
5 tbsp extra virgin olive oil
1 pint cherry tomatoes, halved
Salt and pepper to taste
INSTRUCTIONS:
Bring a large pot of water to a boil and preheat oven to 425°F.
Meanwhile in a blender, make the pesto by combining the peas, basil, and half of the cheese with salt and pepper. Puree very well while slowly drizzling in 4 tbsp of olive oil and ice cubes – and set aside.
In a medium bowl, coat the cherry tomatoes with 1 tbsp of olive oil and season with salt and pepper. Place on a cookie sheet and roast in the oven for 10 minutes.
Cook the pasta according to the directions. Drain and add 1/2 cup of the cooking water to the pesto and mix thoroughly.
In a large bowl, combine the pasta with the pesto.
Top with the roasted cherry tomatoes and remaining cheese before serving.
Download Winning Recipes from Mikaela Shiffrin for free when you buy four boxes of Barilla pasta. Details here.