6 Holiday Dishes Inspired by Your Favorite TV Shows
If you've ever wanted to dine on the most memorable holiday recipes from classic TV shows' best seasonal episodes, we've got you covered.
Heading out the door? Read this article on the new Outside+ app available now on iOS devices for members! Download the app.
If you're wondering what to put on the holiday dinner menu this year, there are plenty of ways to get ideas. Cook books, online recipes, friends and family — the list goes on. While there are many real life sources of inspiration, you could also take note from your favorite television shows. Holiday episodes can spark both traditional or non-conventional ideas for what to include at the dinner table. 
Let pop culture help you craft your dinner menu based on some of these iconic holiday episodes. We've also shared some holiday recipes that can help you bring the food from TV shows' episodes to life. 
1. Trifle Dessert from Friends
A lot can go wrong when you're prepping a holiday feast, especially if you're not experienced in the kitchen. We see that in episode nine of season six in Friends when Rachel unknowingly adds beef sauteed with peas and onions into her homemade trifle dessert. While the dish turned out to be a disaster, her original vision could be a good addition to the dessert table this year.
Our Easy Berry Lemon Trifle recipe includes layers of pound cake, raspberry mixture and whipped cream. Luckily, trifles are a lot quicker and easier to make when you skip the beef. This sweet dessert can be whipped up in less than half an hour or prepared and refrigerated ahead of time.
2. Deep Fried Turkey from Gilmore Girls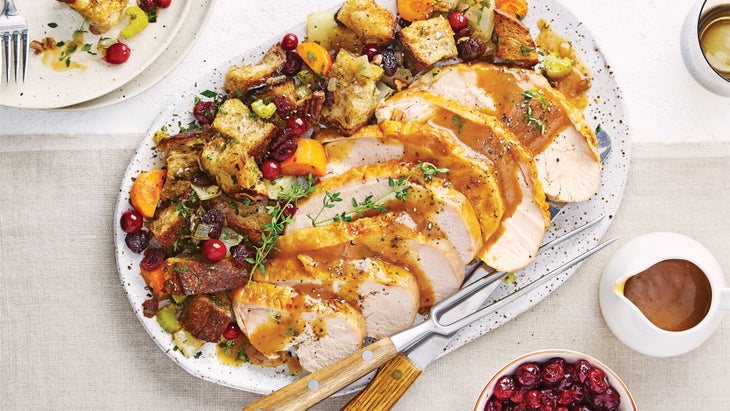 It might be time to rethink your traditional oven-cooked turkey this year. Thanksgiving and Christmas episodes on Gilmore Girls are some of the most comforting things to rewatch. In episode nine of season three, we see our favorite mother-daughter duo pay a visit to multiple dinners in Stars Hollow. One of which includes a deep fried turkey at Sookie and Jackson's house. 
If you'd prefer not to bring your holiday cooking outside and don't want all of the not-so-great side effects of deep frying, we have an excellent alternative. You can prepare a tender and richly flavored turkey breast by using something a lot less risky  — your pressure cooker! Our Instant Pot Turkey Dinner recipe guarantees you a juicy turkey that can be prepared and served in just 85 minutes. Prepare it along with the vegetable stuffing and herb gravy for a fusion of flavor. 
3. Tofu Turkey from Everybody Loves Raymond
There are two types of people in this world: those who are fine with having a healthy holiday dinner and those who are not. In Everybody Loves Raymond, it's clear that the men in the family would prefer a Thanksgiving dinner without worrying about diet. This is evident when Marie's tofu turkey isn't met with the happiest of reactions.
While tofu isn't everyone's cup of tea, there are some decadent recipes that just might get them to rethink their opinion. Take this Sweet & Smoky Tofu recipe, for instance. It's packed with a mix of spicy, tart and sweet flavors that'll have you convinced to pull a Marie and replace your turkey entirely with tofu next year.
4. Pumpkin Pie from Gossip Girl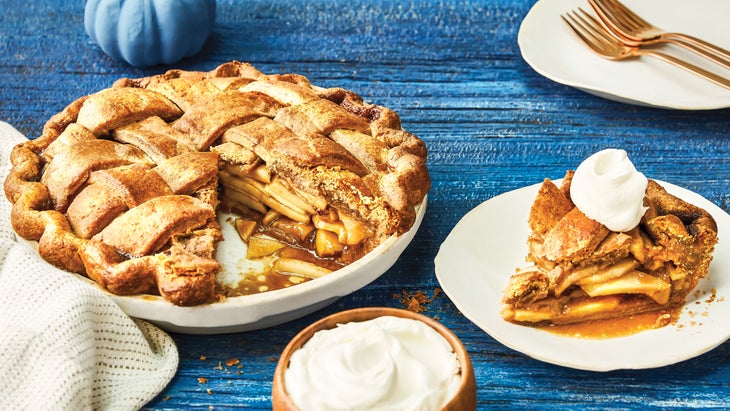 Somehow amidst the neverending drama that takes place on the Upper East Side, the Gossip Girl ensemble always makes time for celebrating the holidays. We see this in episode nine of season one when Blair insists on the importance of baking a pumpkin pie from scratch each Thanksgiving. Can you blame her? This classic dessert is a must-serve at any holiday get together.
Baking a homemade pie doesn't have to be intimidating, especially if you follow our Dreamy Salted Caramel Apple Pie recipe. It's a twist on an old favorite that uses coconut milk to make it extra creamy. Its flaky crust paired with the mouthwatering filling will have you skipping the pre-made pies for years to come.
5. Shrimp Dish from This Is Us
Family and food are two things that can be heavily intertwined, which is what we see on episode nine of season four of This Is Us. Viewers shed many tears watching Uncle Nicky share a five pound plate of shrimp with his brother Jack at Thanksgiving. He reminisces over this with the Pearson family and decides to make it a tradition. Considering all the sadness that happens on the show, this particular storyline is a breath of fresh air.
Like the Pearson family, you too can enjoy shrimp this holiday season — minus the drama and heartbreaks. This Lemon Shrimp recipe is a worthy contender. It uses just four ingredients and takes less than 10 minutes to cook using the grill. The lemon-tossed shrimp could even work as a delicious appetizer for your dinner menu.
6. Moroccan Meatballs from The Office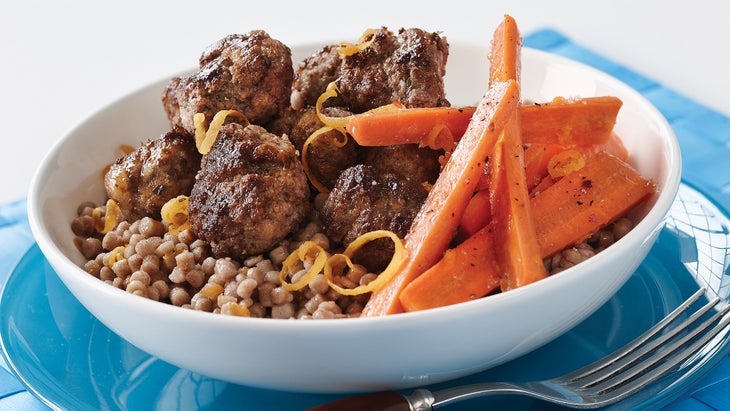 Of all the Christmas episodes from The Office, the Moroccan Christmas episode in season five is one of the most memorable. The show starts out strong when Jim pranks Dwight by wrapping all his belongings in decorative paper and ends with Phylis exposing Dwight and Angela's relationship. In between the chaos, there also happens to be a Moroccan themed Christmas party.
Take inspiration from the show's Party Planning Committee by bringing a Moroccan dish to the dinner table. Our Moroccan Meatballs recipe is sweet, savory and packed with mouthwatering flavors. They could work perfectly as an appetizer, potluck dish or side to the main course during your own holiday get-together!