Clean Instant Pot Meal Ideas
There are so many reasons to love your Instant Pot — like all these mouthwatering recipes that were made just for the all-in-one appliance.
Heading out the door? Read this article on the new Outside+ app available now on iOS devices for members! Download the app.
Figuring out what's for dinner night after night can be a challenge. That's why you need a handful of quick, easy dinner recipes. One of the best ways to do that is to use the Instant Pot. Because it can sear food as well as slow cook and pressure cook, most Instant Pot recipes are also one-pot recipes, which cuts down on cleanup. And because the high pressure cooks things much faster, you get dinners that taste like you've spent hours in the kitchen.
Meatballs in Vodka Sauce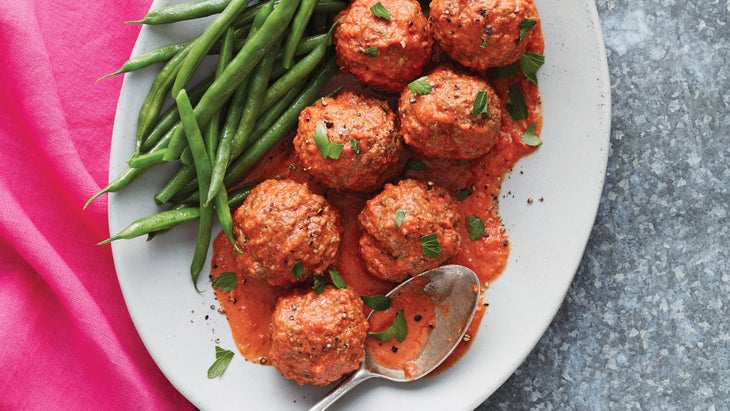 Bright tomato sauce with a splash of vodka gets simmered with juicy meatballs — and it can all be made in advance and ready to cook in the Instant Pot. We like to serve them with steamed green beans or broccoli, but you can also enjoy with crusty bread to soak up the sauce.
Get the recipe here.
Smoked Cheddar Mac & Cheese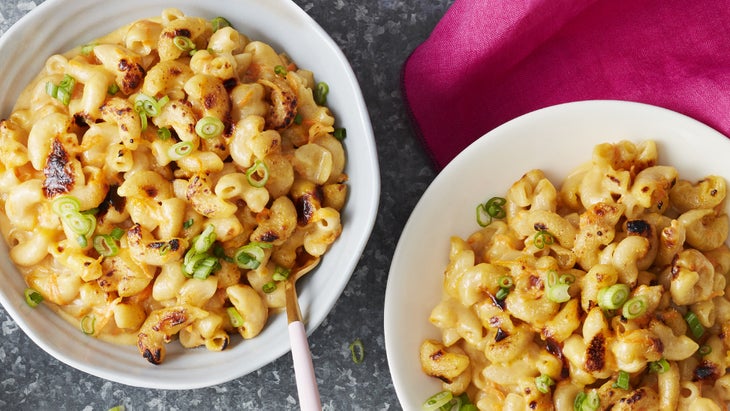 Three cheeses — smoked cheddar, sharp cheddar and Parmesan cheese — commingle in this make-ahead mac and cheese. Sprinkle with green onions if you have some on hand.
Get the recipe here.
Spicy Beef Chili with Buttermilk Jalapeño Corn Bread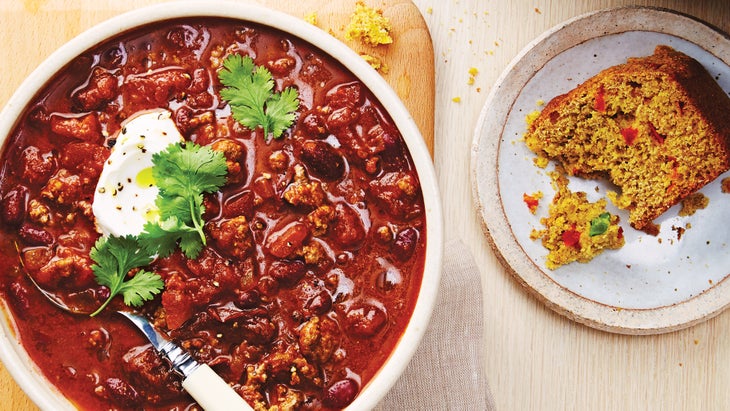 An electric pressure cooker makes great chili in a snap, and it can also bake up delicious corn bread at the same time. When cooked, the top of the corn bread will appear pale, but the bottom will be golden brown — just invert it onto a serving plate for the best presentation.
Get the recipe here.
Barbecue Meatloaf with Smashed Potatoes & Carrots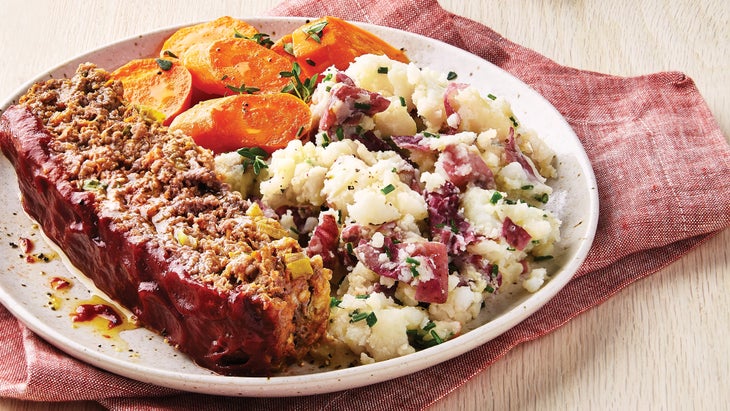 By stacking meatloaf and carrot coins over potatoes in the Instant Pot, this comforting meal is fully cooked in one go. Garnish with additional thyme.
Get the recipe here.
Pulled Barbecue Chicken with Sweet Potatoes & Broccoli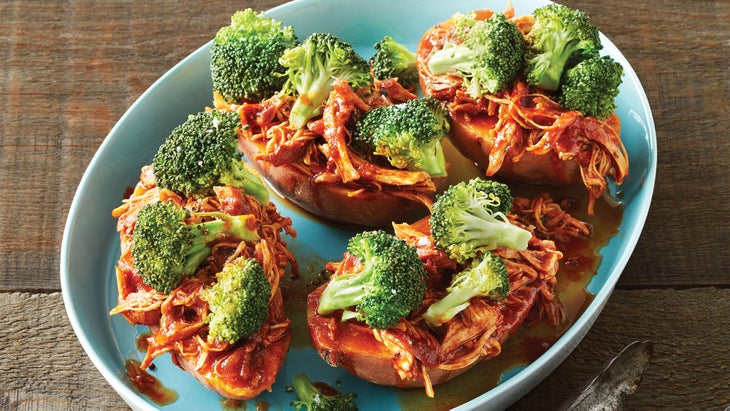 Want to do some easy batch cooking with your Instant Pot? Omit the sweet potatoes and broccoli and double the zesty chicken and barbecue sauce ingredients – the leftovers freeze beautifully.
Get the recipe here.
Moroccan Chicken Tagine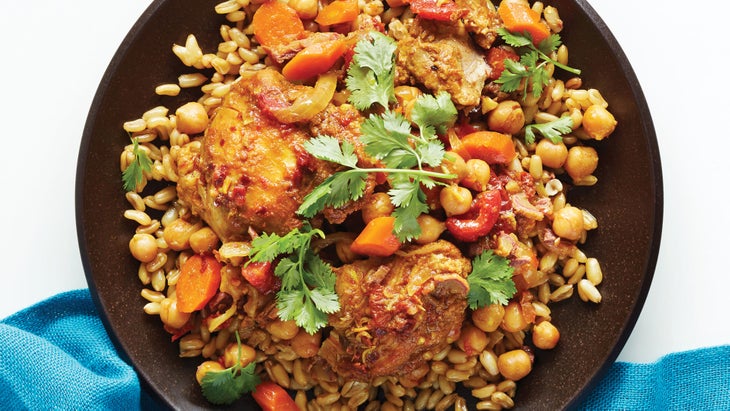 Serve this zesty North African stew made in the Instant Pot with kamut, a deliciously plump and chewy ancient wheat. It's an inexpensive staple you'll find in bulk and natural food stores.
Get the recipe here.
Cajun Shrimp, Red Beans & Sorghum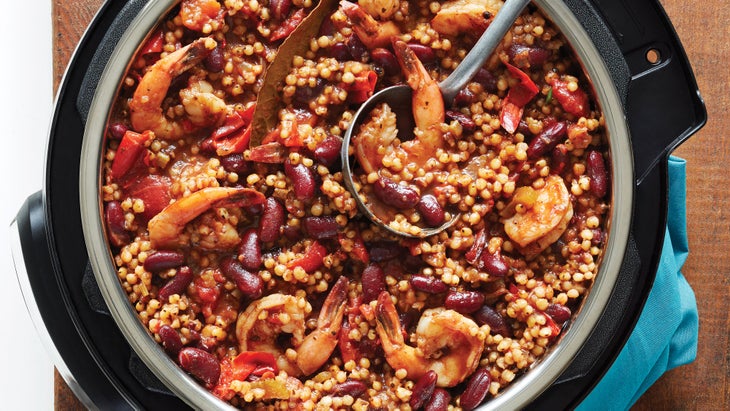 Sorghum is a gluten-free seed with a mild flavor and slightly chewy texture. When paired with red beans and shrimp for the Instant Pot, it puts a healthy spin on old-fashioned red beans and rice.
Get the recipe here.
Instant Pot Turkey Dinner with Vegetable Stuffing & Gravy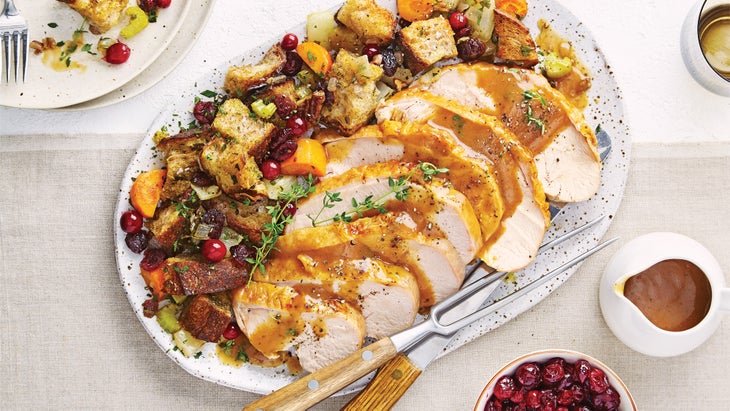 This recipe makes beautifully moist turkey with savory stuffing at the same time, and all those tasty turkey juices make up a quick herb gravy at the end. Broiling the stuffing briefly after it comes out of the pressure cooker makes it deliciously crisp on top, but this is entirely optional.
Get the recipe here.
Chickpea & Kale Curry with Brown Basmati Rice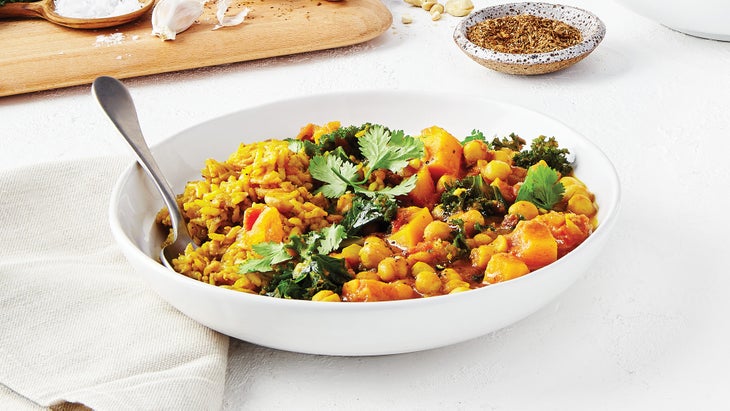 In this easy meal, a fragrant curry simmers while the rice steam-cooks over top. Garnish with cilantro.
Get the recipe here.
Vegetable– and Brown Rice–Stuffed Peppers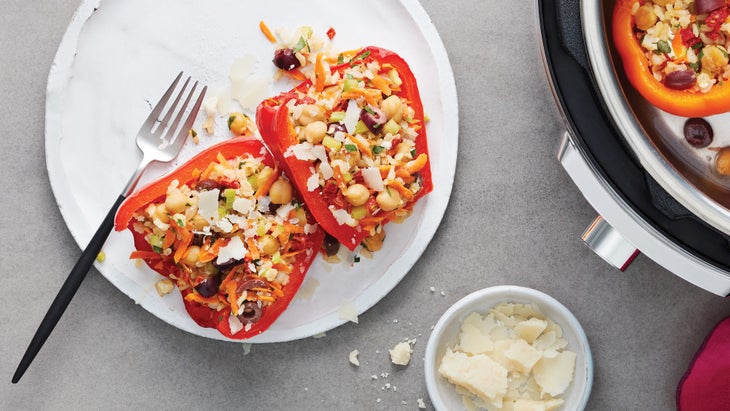 This dish is chock-full of veggies, herbs and hearty rice and chickpeas. You can fit four peppers at a time in the Instant Pot, so make two batches or save half for a future meal.
Get the recipe here.
Pork al Pastor Tacos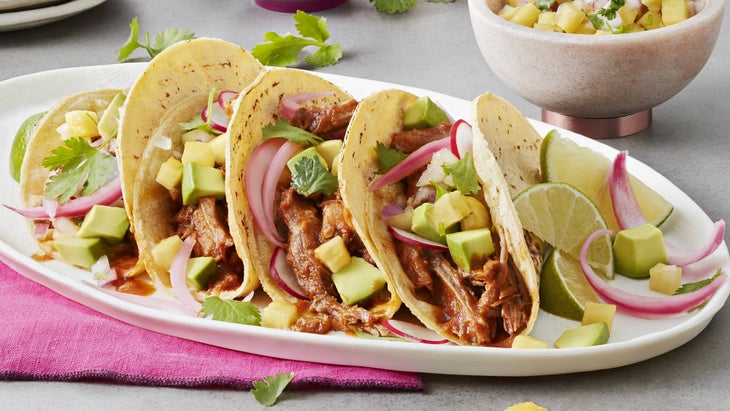 Have your filling prepped and ready in your freezer to pull out on taco night. When you're ready to eat, simply pop it into your Instant Pot while you prepare your toppings.
Get the recipe here.
Mushroom Barley Risotto with Roasted Portobello Steaks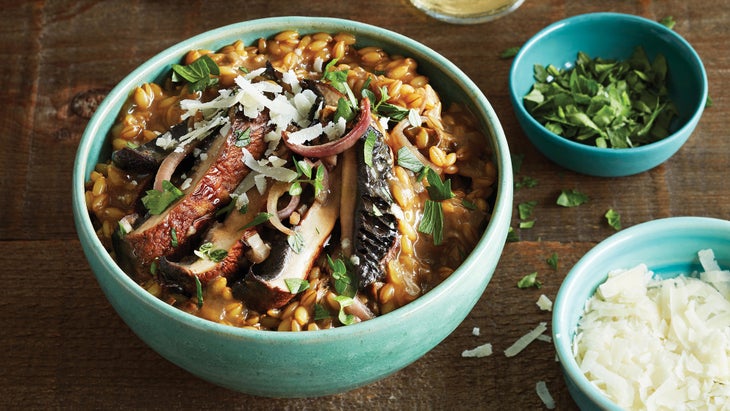 When you cook hulled barley – also called whole-grain barley – in a pressure cooker, you don't have to soak it beforehand, which cuts down on prep time. It also makes the barley tender and creamy without all the stirring you usually have to do to make risotto on the stove top.
Get the recipe here.