Easy + Delicious Foods to Pack for a Dreamy Picnic, According to a Nutritionist
No-fuss fare that's as easy to make as it is to transport.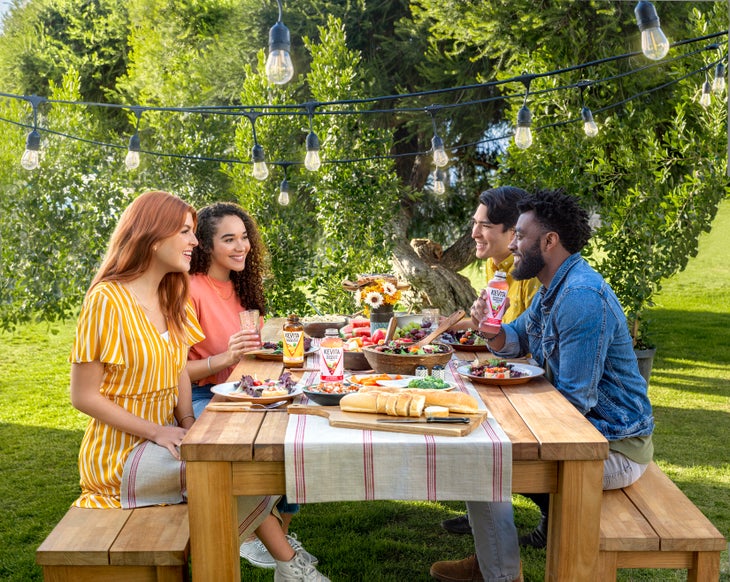 Summer may be in the rearview mirror, but that doesn't mean you have to head into hibernation. Maximizing outdoor time as long as possible is something we can all get behind, especially nowadays. Which is why a picnic is always a good idea. And, as the temps start to dip, the time is prime for alfresco eating. Assembling the essentials needn't require half a day prepping, either. These easy-to-whip-up ideas are low on effort and big on flavor. And, paired with KeVita's delicious probiotic drinks, they're a recipe for success. If you didn't know, probiotics are live micro-organisms that may work with your gut microbiota (the trillions of bacteria living in your intestine) to do things like break down non-digestible components of your diet, produce beneficial substances that can be converted to energy, or out-compete the "bad" bacteria.
Now, go gather a few friends and find the perfect place to park your blanket.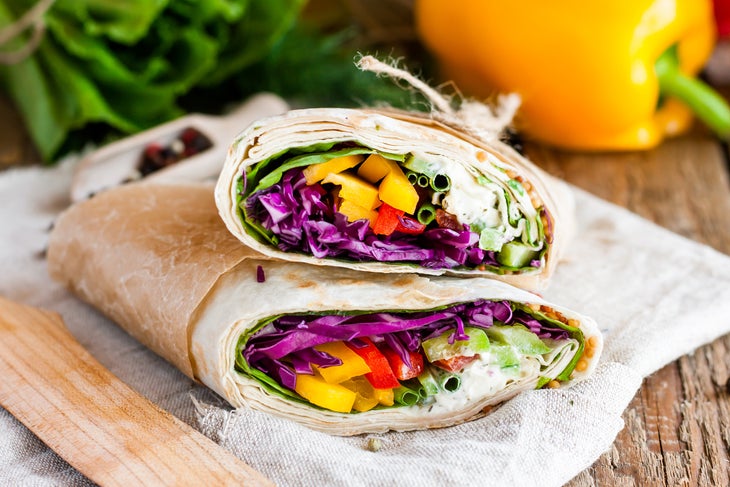 Wrap It Up
When it comes to grab and go, wraps are the ultimate portable meal. For an easy option, coat wraps with hummus, add sliced avocado and veggies such as tomato, cucumber, and sprouts and roll up into burritos. "These ingredients can help provide your body with essential nutrients," says Los Angeles-based nutritionist and holistic wellness expert Kimberly Snyder, author of Recipes for Your Perfectly Imperfect Life: Everyday Ways to Live and Eat for Health, Healing, and Happiness. "Sprouts are one of my favorite foods."
Pair your roll-up with KeVita Master Brew Kombucha. The smooth and invigorating bubbly brew is made by fermenting tea using a culture of bacteria and yeast and the finished product contains billions of live probiotics. It comes in more than a dozen bold blends, like Pineapple Peach, Tart Cherry, Raspberry Lemon, and Ginger, which infuse every meal with even more flavor.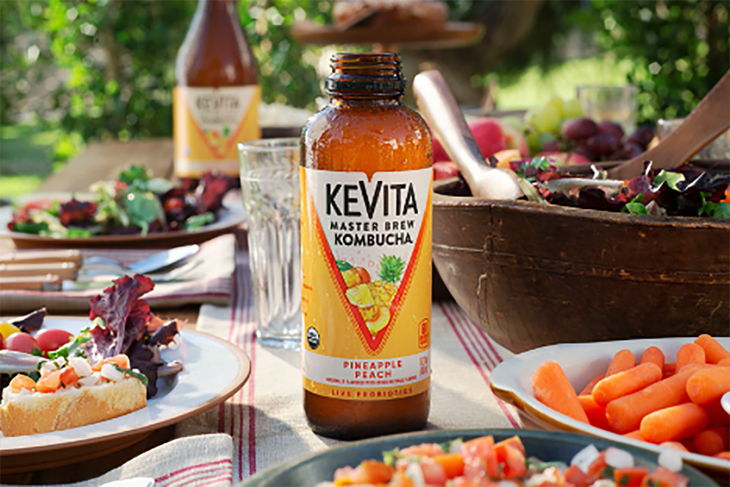 Toss Like a Boss
Salad is a) super easy to prepare b), can be made in a big batch, and c) can deliver great nutrition. Opt for a kale-based blend. "Unlike more delicate salad greens, kale won't wilt or get soggy hours later, so it's perfect to make ahead," Snyder says. "Kale contains phytochemicals, fiber, and chlorophyll, and you can add tomatoes, cucumbers, bell peppers, sprouts, Kalamata olives, and hemp seeds." If you have extra time, you can make your own zingy dressing. In a bowl, mash an avocado and add the juice of a lemon and sea salt to taste.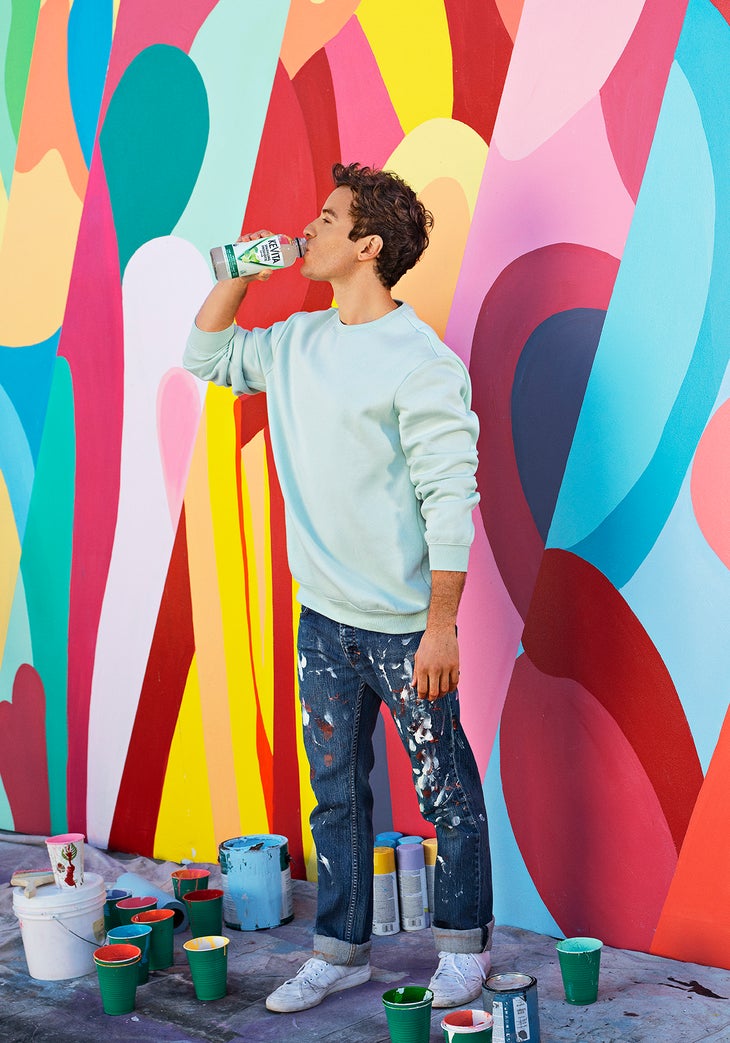 Dip and Sip
A tasty dip is all but a prerequisite for a picnic. Try a sweet corn salsa. In a bowl, combine corn, diced tomatoes, red onion, sweet bell pepper, ½ cup fresh cilantro, finely chopped, lime juice, and sea salt and black pepper to taste. If some like it hot, add one-to-two sliced jalapenos. Pair with chips. "It's a delicious way to get a variety of raw veggies into your diet," Snyder says, "and vitamin C can be denatured by high temperatures, so this salsa will provide your body with lots of fresh, raw goodness."
For your bev, pour a refreshing splash of KeVita Sparkling Probiotic Drink. It's light, fruit-forward and fermented with KeVita's water kefir culture, which contains billions of live probiotics. Choose from 9 delicious and upliftingly effervescent flavors, including Mojita Lime Mint Coconut, Lemon Cayenne, and Lemon Ginger.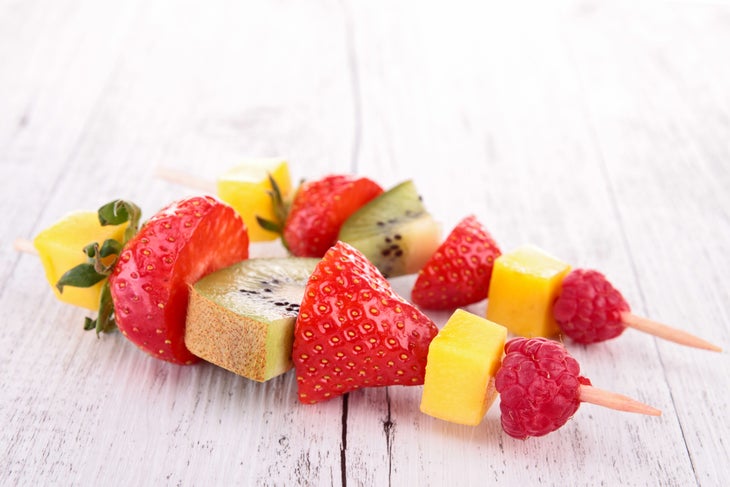 Have Kebabs, But Make Them Fruit
Instead of the obligatory fruit salad, try a tropical twist with banana mango skewers, which are also way more fun to eat. Slice 4 bananas. Using a vegetable peeler, slice a mango into 1-inch strips. Wrap mango strips around banana slices and top with a raspberry, securing with a toothpick. While this alone is a satisfying treat, you can make it even sweeter with a decadent coconut sauce. Combine ½ cup coconut yogurt, 1 orange, juiced, and 2 tbsp of coconut nectar. "Mango is one of my favorite fruits, not only because it's delicious, but because it's a good source of various vitamins and minerals," Snyder says. "Plus, a cup of mango is an excellent source of copper, which can help the body perform critical functions such as form red blood cells and develop collagen."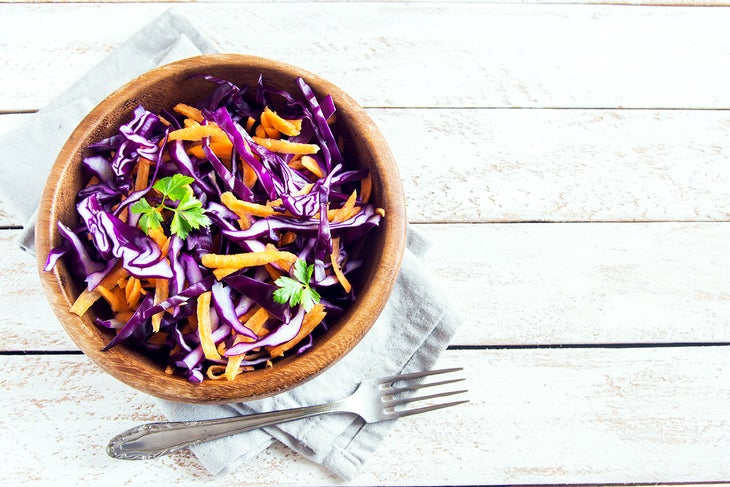 Don't Skip the Slaw
…but do ditch the mayo for this delicious homemade alternative. In a bowl, mix shredded kohlrabi, jicama, carrots, and cabbage. "If you're not familiar with kohlrabi, it's a cruciferous veggie in the cabbage family that can provide vitamin C " Snyder says. "Jicama can provide fiber." To make the dressing, combine 2 ½ tbsp apple cider vinegar, 1 ½ tbsp extra virgin olive oil, 1 ½ tbsp coconut nectar, ½ tbsp Dijon mustard, and ½ tsp celery seeds.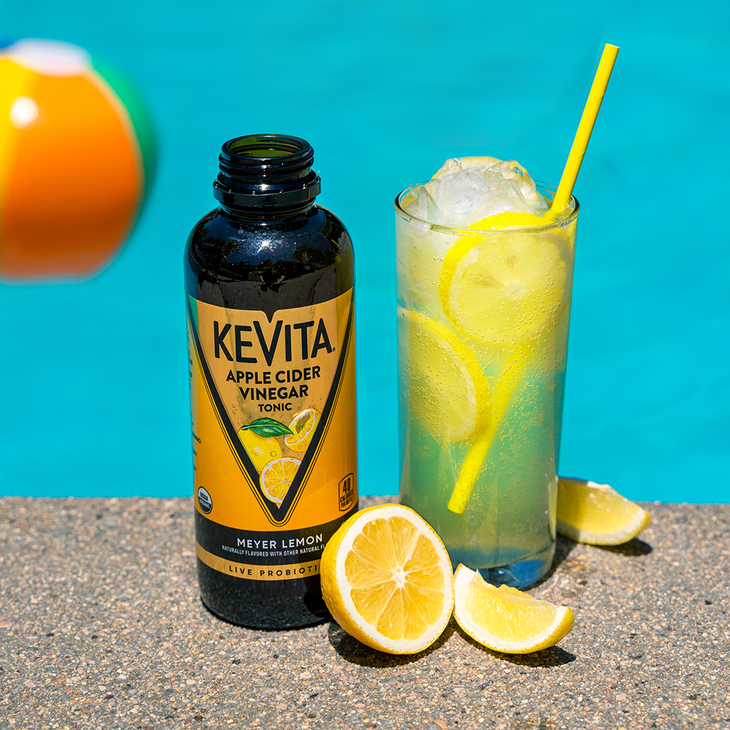 Savor a Sweet Finish
Really, what is a gathering without dessert? For a sweet ending, try this spicy chocolate (no-bake) truffle. Combine ¾ cup raw cacao powder, 1 cup ground raw almonds; ¼ tsp ancho chile powder (or to taste), a few grinds of black pepper, 1 teaspoon vanilla extract, ½ teaspoon of cinnamon, ⅓ cup coconut nectar, and 1 tbsp organic coconut oil. Mix together and form into balls. Roll in a bowl filled with coconut flakes and cacao nibs. Freeze overnight.
Along with these treats, sip a revitalizing KeVita Apple Cider Vinegar Tonic. The sweet and tangy, low-calorie beverage has billions of live probiotics. It's a water kefir-based brew made with two tablespoons of Apple Cider Vinegar. It comes in four delicious flavors, including Meyer Lemon and Turmeric Ginger. Cheers to that!
//contentdial.com/contentdial-snowplow.js?bciid=239