Hearty Main Dish Salad Recipes
Fresh greens, hearty meats, crunchy veggies and juicy fruits make these healthy salad recipes make for a healthy lunch or weeknight dinner.
Heading out the door? Read this article on the new Outside+ app available now on iOS devices for members! Download the app.
Farro, Radicchio & Fennel Salad with Grilled Chicken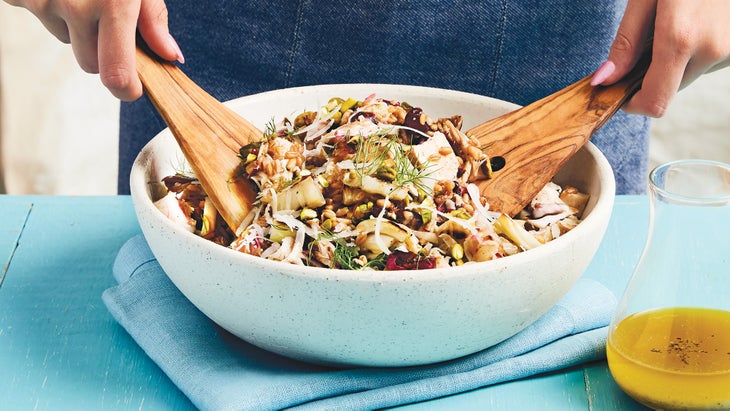 Sweet and salty, this salad leaves you satisfied thanks to fiber-rich farro. All the elements can be made in advance and tossed just before serving.
Get the recipe here.
Tuscan Kale & Roasted Pear Salad with Buttermilk Dressing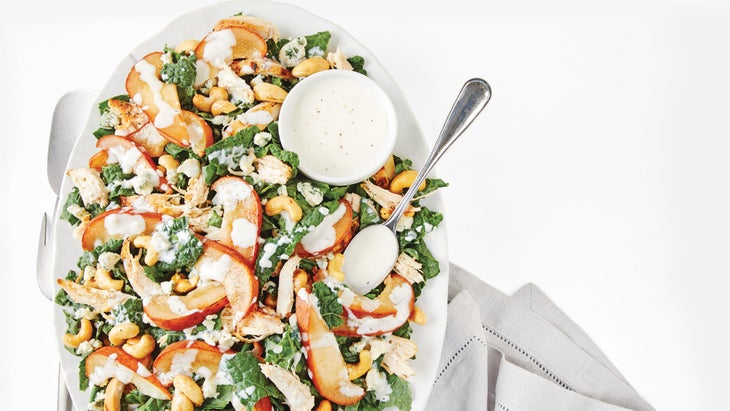 Maple-roasted pears and cashews adorn this hearty kale salad with chicken and a rich buttermilk dressing.
Get the recipe here.
Crispy Quinoa, Arugula & Salmon Salad with Tarragon Vinaigrette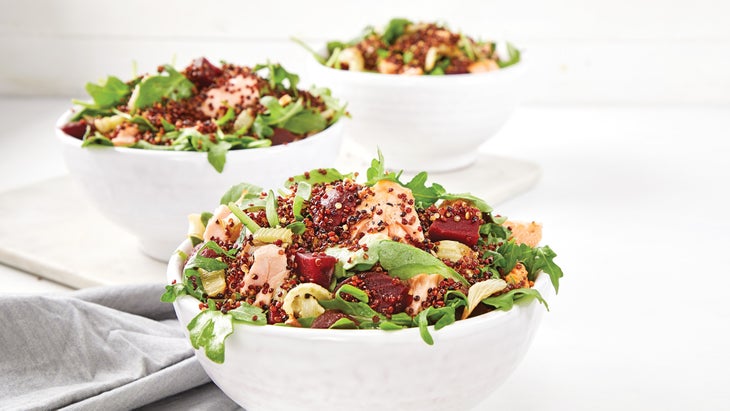 Quinoa doesn't have to be relegated to being a base, it can also be a topper! Here, it's broiled until crisp then sprinkled over the salad.
Get the recipe here.
Brussels Sprouts Salad with Chicken
Roasted Brussels sprouts and chicken get tossed with a zippy garlic-yogurt dressing for a hearty meal that you can eat throughout the week.
Get the recipe here.
Grilled Chicken & Peach Quinoa Salad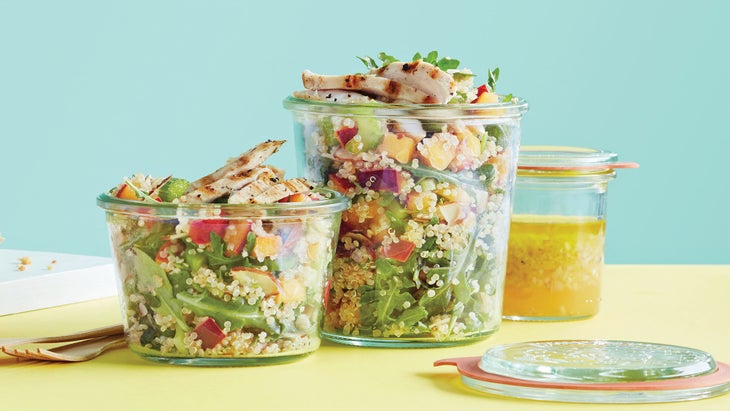 Bitter arugula's got bite, but late-summer peaches and a citrusy maple dressing hit the sweet notes to give this seasonal salad the perfect balance of flavors. If taking this salad to go, store the dressing in a separate container and toss with the salad when you're ready to eat.
Get the recipe here.
Cashew Chicken Salad with Creamy Cashew Dressing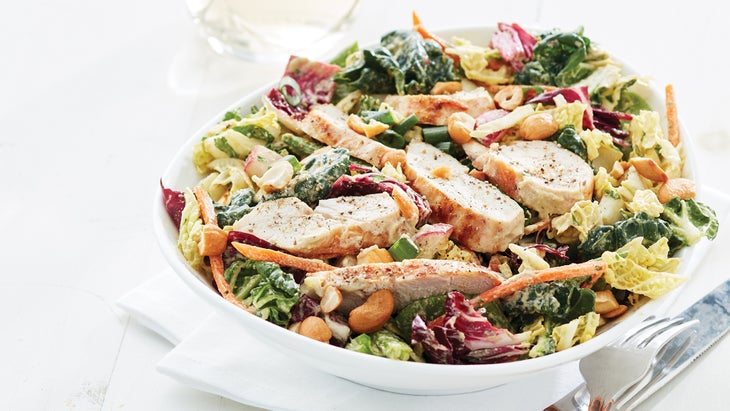 This creamy cashew dressing with ginger and lime is so delicious, you'll want to double the recipe to have some on hand for other salads or as a dip for vegetables.
Get the recipe here.
Shredded Carrot & Chicken Salad with Raisins, Jicama & Citrus Yogurt Dressing
Jicama is a crunchy, mild vegetable that's common in Mexican cuisine. It looks a little intimidating because of its size and odd shape, but once you peel it, the cool flesh is easy to slice and adds a crisp texture to salads.
Get the recipe here.
Sesame Tuna & Mango Salad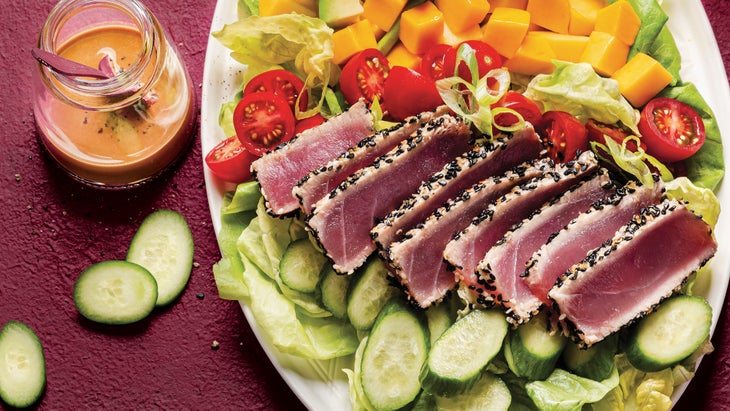 Tuna is an excellent source of both muscle-building protein and inflammation-fighting omega-3 fats.
Get the recipe here.
Asian Chicken Salad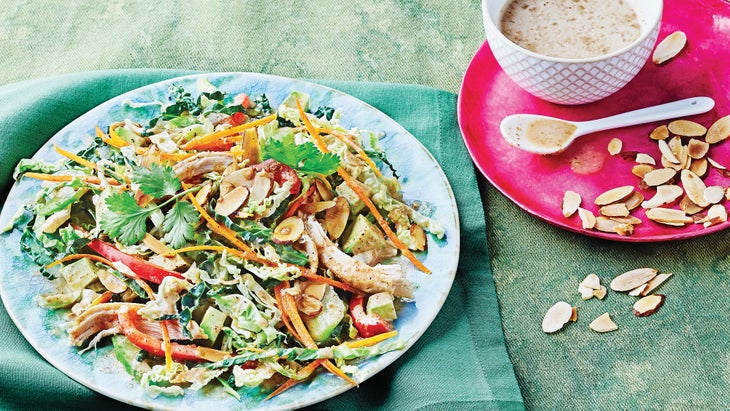 Eating both healthy fats and proteins helps you feel more satisfied, making it easier for you to avoid hunger-related snacking and overeating. This fresh salad boasts healthy fats from oils, nuts and avocado, as well as protein from chicken.
Get the recipe here.
Swiss Chard & Curried Chickpea Salad with Orange Vinaigrette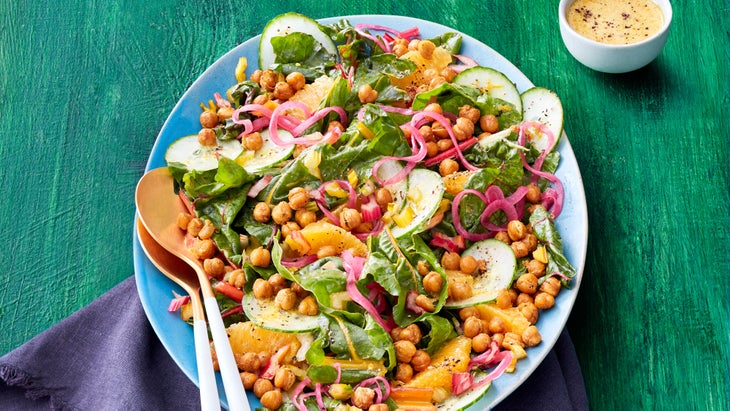 Roasted chickpeas seasoned lightly with curry powder make a crunchy topper for this orange-infused salad.
Get the recipe here
Mediterranean Farro Salad with Lemon Thyme Dressing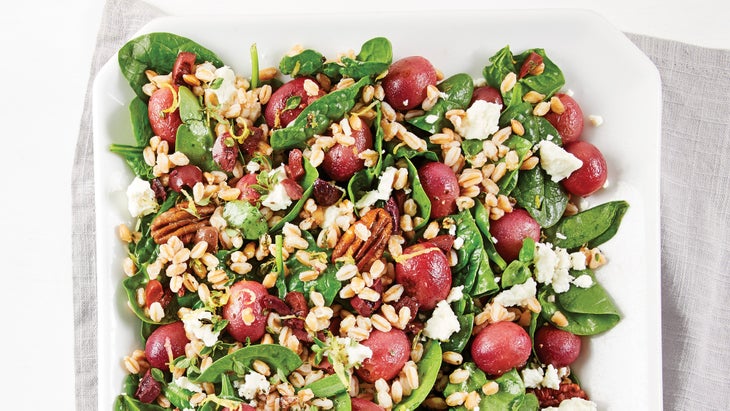 Chewy farro provides toothsome texture to this meatless salad topped with feta, olives and roasted grapes.
Get the recipe here.
Red & Green Slaw with Sweet Maple Sesame Dressing & Shrimp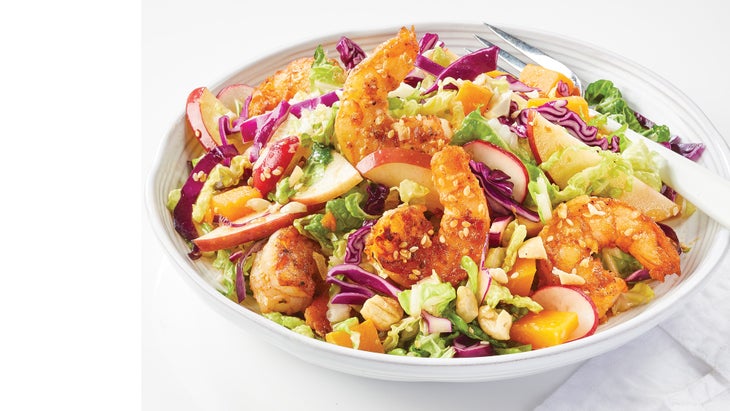 The textural appeal of this yummy salad — the crunch of the cabbage, the tender bite of the squash and the rich meatiness of the shrimp — makes it an amazing one-dish meal.
Get the recipe here.
Vietnamese Shrimp Salad with Mint Chile Dressing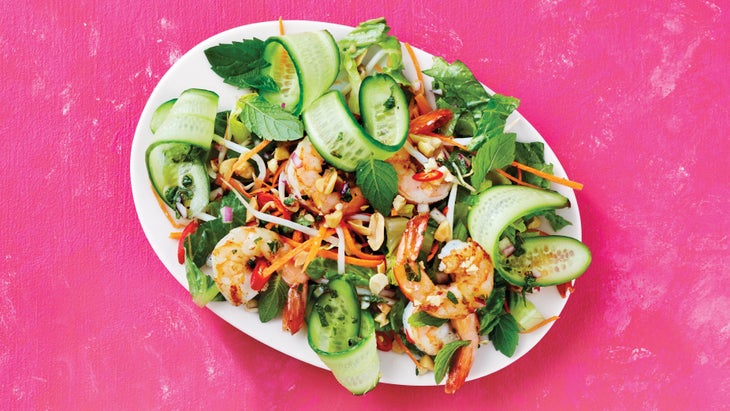 This salad has a nice bit of heat to it thanks to the fresh chile. For added flavor, you can add chopped fresh mint, cilantro or Thai basil to the salad.
Get the recipe here.
Vegetarian Taco Salad with Chunky Pico Dressing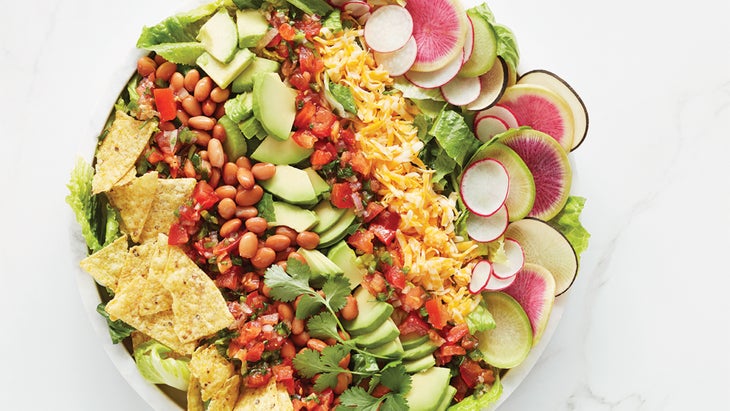 You definitely won't miss the chicken or beef in this substantial vegetarian version of a taco salad. We use pico de gallo in the dressing for a chunkier texture, but you can pulse it in the food processor if you prefer a smoother dressing.
Get the recipe here.
Middle Eastern Chicken & Rice Salad with Tahini Dill Dressing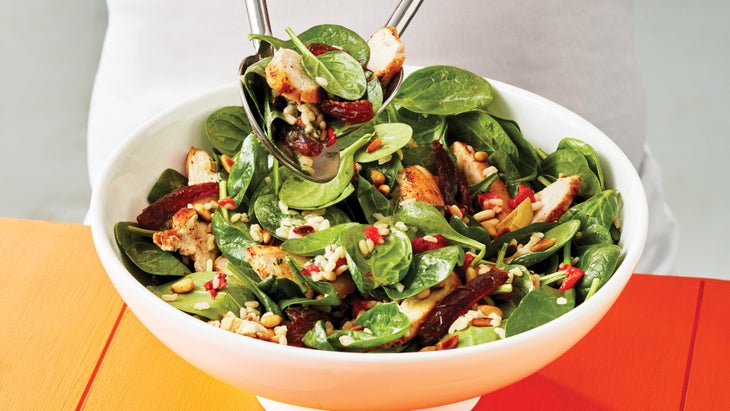 A key ingredient in many Middle Eastern salads, mint gives this recipe a wonderful freshness. Simply seasoned chicken bumps up the protein content, making this a filling main dish. Using leftover cooked rice speeds up dinner prep — just make extra the night before.
Get the recipe here.
Superfood Salad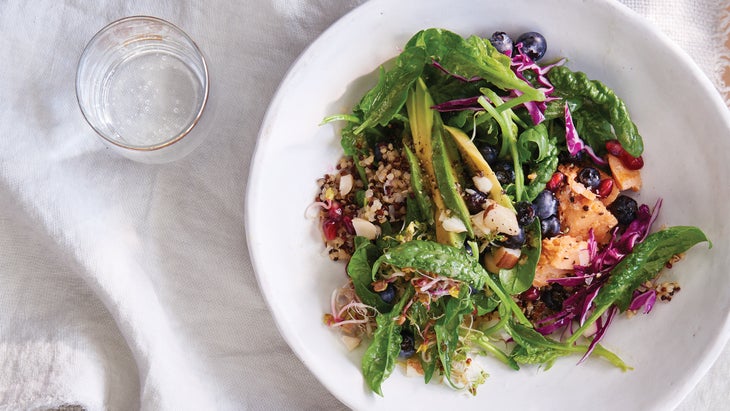 This gorgeous medley includes a combination of top superfoods—berries, Brazil nuts, spinach and more—for maximum flavor and nutrient value. To keep this salad plant-based, you can easily omit the salmon and replace it with beans or lentils.
Get the recipe here.
Wild Salmon Niçoise Salad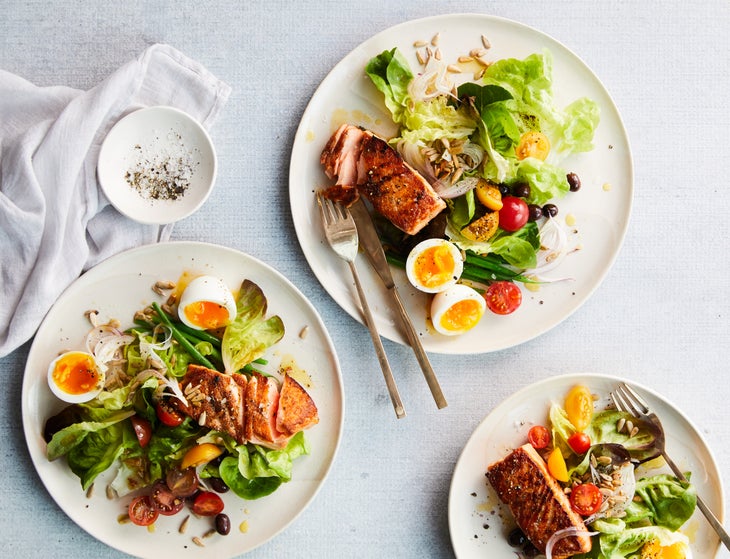 Salads can satisfy even the biggest of appetites, as proven by this eye-catching and protein-packed dish from "Food: What the Heck Should I Cook?", the latest from Dr. Mark Hyman.
Get the recipe here.
Saturday Chopped Salad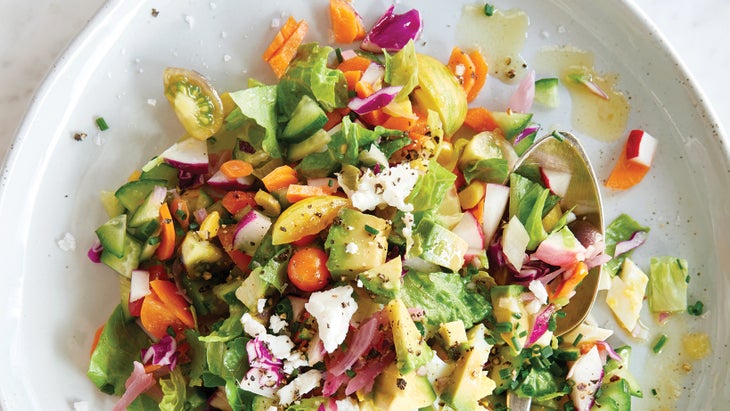 The key to this salad is to cut the veggies into extra-small pieces – about the size of a pea – so that you get a variety of flavors and textures in every bite. Salzman uses her Everyday Salad Dressing to dress this fresh salad.
Get the recipe here.
Late-Summer Kale Salad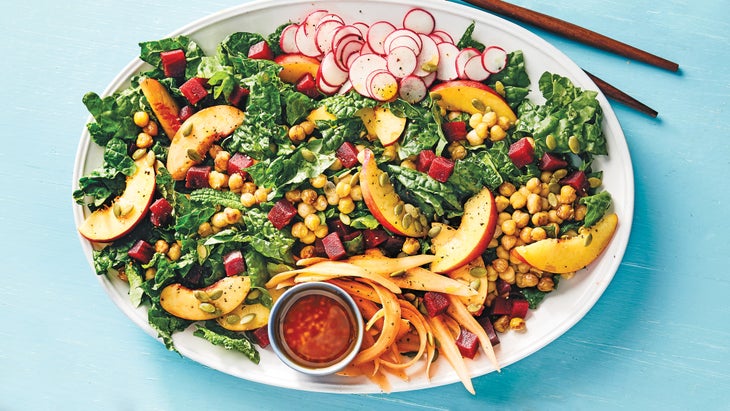 Beautiful beets and crispy chickpeas not only elevate this kale salad, they can be made in advance so you can quickly assemble it when ready.
Get the recipe here.
Smoked Salmon "Bagel" Salad with Lemon Chive Buttermilk Dressing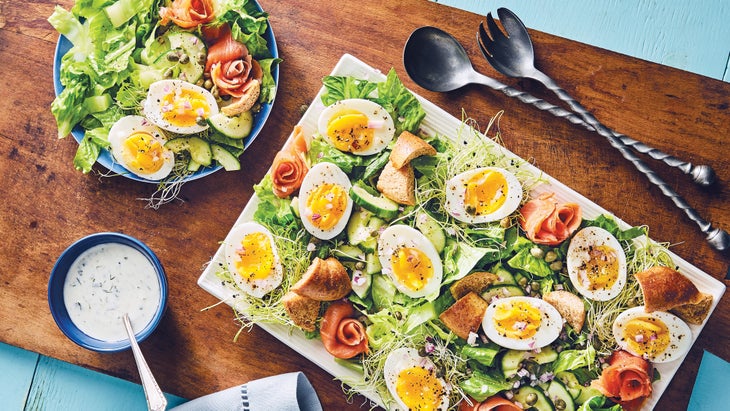 All the flavors of your favorite deli bagel — in salad form! With the dressing, croutons and eggs made in advance, this satisfying meal is ready in less time than a lunch run.
Get the recipe here.
Harvest Chicken Salad with Pomegranate Seeds & Feta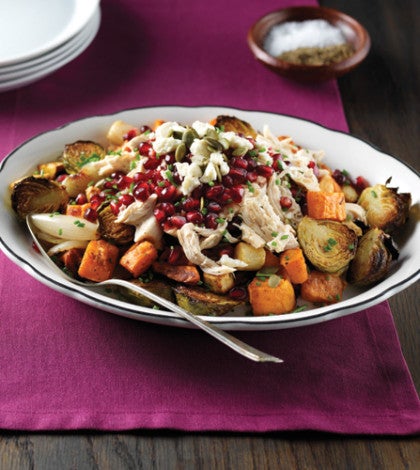 Chicken salad gets an upgrade in this recipe that combines slightly tart pomegranate seeds with creamy feta cheese and root vegetables.
Get the recipe here.
New-Fashioned Cobb Salad with Dijon Dressing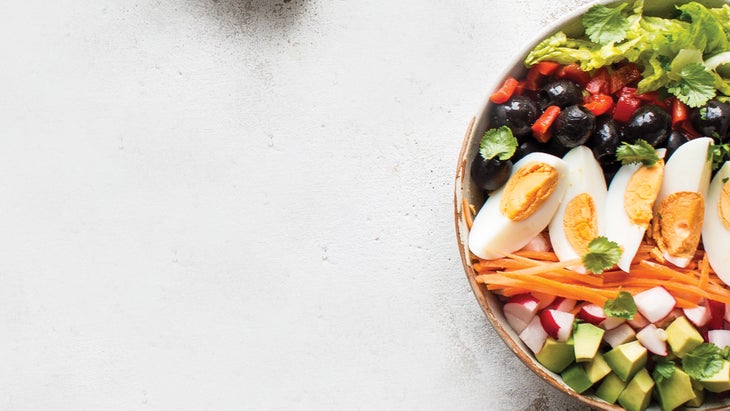 This updated Paleo cobb salad is packed with roasted red peppers, creamy avocado, fresh tomatoes and a tangy dijon dressing!
Get the recipe here.
Confetti Chickpea Grain Bowls with Lemon Herb Dressing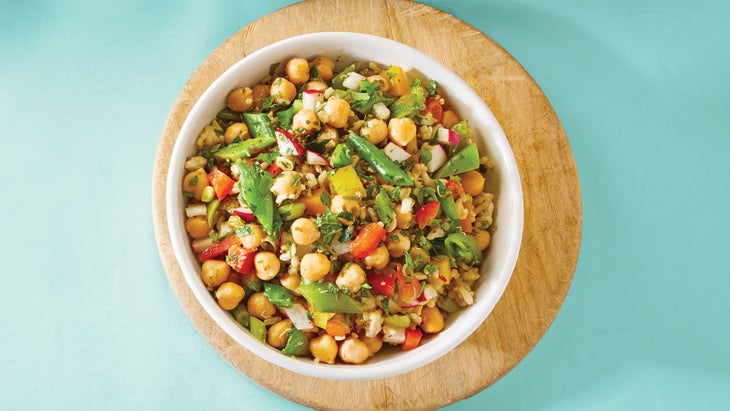 Chickpeas and an array of colorful veggies combine for a complete meal.
Get the recipe here.
Riced-Broccoli Buddha Bowl with Herbed Chicken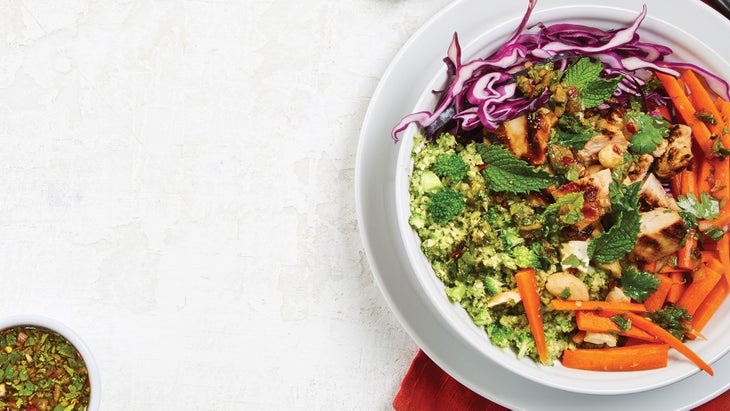 We've taken broccoli and turned it into a rice substitute in this flavorful chicken Buddha bowl.
Get the recipe here.