Conversation with a Food Blogger: The Roasted Root
In this column, we're interviewing the tastemakers, foodies and chefs that are dominating the web. This week: Julia Mueller of The Roasted Root.
Heading out the door? Read this article on the new Outside+ app available now on iOS devices for members! Download the app.
Recipe developer, photographer and cookbook author, Julia Mueller wears many hats as the creator of The Roasted Root. Her nutrient-rich recipes primarily feature vegetables and meat with an extensive collection of both paleo and vegan dishes. Her motto: maintain balance in all facets of life, and tailor your diet to your lifestyle. What originally started as a Paleo blog back in 2011 has evolved slightly since its inception as Julia came to realize that she no longer wanted to live without chocolate, cheese and wine. Based out of Lake Tahoe, Julia began her blog as a hobby and has since transformed her passion into a full blown career. With two published cookbooks and thousands of followers, Julia is passionate about nutrition and creates meals that are healthy, delicious and comforting at the same time.
If you could describe your blog in three words what would they be?
Practical, healthful and fun!
Why are you so passionate about eating a clean diet?
I find I have the most energy and feel at my best when I eat no or a low amount of allergens. While I don't have any food allergies, I have grown accustomed to a gluten-free, sugar-free, and mostly dairy-free diet. The foods I eat are nutrient-dense, which is
What is your favorite meal of the day?
Dinner! I love eating gobs of roasted vegetables with some sort of meat. I also enjoy homemade ethnic food and lamb curry is one of my all-time faves.
What's an ingredient that you just can't live without?
Sweet potatoes. I eat sweet potatoes almost every single day – I put them in my eggs or roast them and eat them with dinner.
This year I plan on eating more?
Nachos. Kidding, actually not kidding… Honestly, I would like to incorporate a wider scope of veggies into my diet because I find myself eating the same ones on a revolving basis. Veggies like jicama, bok choy, and chard.
If you were stranded on a deserted island what two spices would you want to have with you?
Ground cumin and chili powder. Both spices lend so much flavor to any dish!
Where is your favorite place to shop for ingredients?
I shop at Raley's for my everyday essentials, and if I need an ingredient that normal grocery stores don't carry, I go to Whole Foods.
What is your favorite kitchen gadget?
My Blendtec Blender. I use it for sauces, smoothies, soups, purees, and for grinding nuts and oats
You're a popular food blogger with thousands of followers. Is there a food blog that YOU follow?
Awww shucks, thanks! I read a ton of blogs, but some of my favorites are Making Thyme for Health, Hummusapien,Stephie Cooks, and The Frosted Vegan.
Who would you consider a culinary icon?
I would consider Ali Maffucci, author of the cookbook, Inspiralized, and creator of the blog, Inspiralized to be a culinary icon. She has taken one type of food preparation and showed her followers how to make a healthful lifestyle out of it. Her recipes are nutritious, simple, and approachable to anyone of all cooking levels.
As a health conscious food blogger, do you still treat yourself to guilty pleasures?
Aaaaabsolutely! I love dark chocolate and also enjoy baking gluten-free treats like brownies and cookies. Homemade coconut milk ice cream is always a winner, too!
What is your favorite late-night snack?
Almond butter for. the. win!
What are the biggest challenges and greatest rewards of being a food blogger?
One of the greatest challenges is not knowing exactly what your readership wants to see. I try to tailor my recipes around what is popular but also keep them original and interesting. The biggest reward is my blogging community. I've grown close to so many bloggers over the years and they have been amazing friends and sources for inspiration.
What's one piece of cooking advice you'd like to share with our readers?
If there's one piece of advice I can give anyone when it comes to preparing home-cooked meals, I would say cook with high quality meats and seasonal produce. Keeping your cooking clean simplifies meal prep and begets a healthy lifestyle. As long as your recipe inputs are quality and healthful, you're almost always guaranteed to end up with a delicious and healthful meal.
Do you have any recipes that stand out for being epic fails?
I tried baking a paleo gingerbread loaf four times before Christmas and it failed every time except for the last. But I was shy about the way the photos turned out so I didn't end up posting the recipe. I'm determined to get it up on my blog as soon as I'm in the mood for gingerbread again!
What's next in your career?
Continuing to work with brands for freelance recipes and photography. I would love to write a third cookbook one day!
Finally, can you share one of your favorite recipes?
One of my favorite breakfast recipes (also very popular on my blog) is my Raw Carrot Pasta with Ginger-Lime Peanut Sauce.I love vegetable noodles and this recipe is super unique and tasty!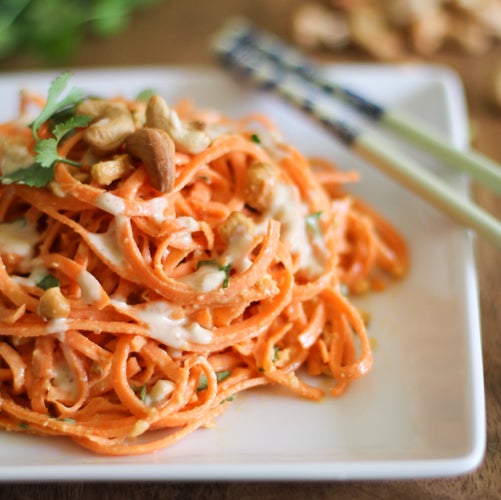 Raw Carrot Pasta with Ginger-Lime Peanut Sauce (Raw, Paleo, Grain Free, Gluten Free, Dairy Free)
Serves: 4-6
Hands-on Time: 15 minutes
Total Time: 15 minutes
INGREDIENTS:
Carrot Pasta
5 large carrots, peeled and spiraled into noodles
1/3 cup roasted cashews
2 tbsp. fresh cilantro, finely chopped
Ginger-Lime Peanut Sauce
2 tbsp. creamy peanut butter
4 tbsp. coconut milk
2 tbsp. liquid aminos
Pinch cayenne pepper
2 large cloves garlic, finely chopped
1 tbsp. fresh ginger, peeled and grated
1 tbsp. lime juice
Kosher salt to taste
INSTRUCTIONS:
Combine all ingredients in a small bowl for the dressing and mix together until smooth and creamy.
For the pasta wash carrots well, peel them, and pat them dry.
Using your spiral slicer, make noodles out of all of the carrots. It will be more difficult to make the noodles once there is only a few inches of carrot left, so you can grate what's left.
Place all carrot noodles into a large serving bowl. Pour the Ginger-Lime Peanut Sauce over the noodles and gently toss together (I use my hands for this part).
Serve with roasted cashews (or peanuts) and freshly chopped cilantro.
If you don't have a spiral slicer, you can simply grate the carrots with a box grater.
—
Alexis Nilsen has a blog called Cow Crumbs and is proving one recipe at a time that gluten-free and dairy free can be so much more than rice flour and tapioca starch.