Conversation with a Food Blogger: Lee From America
Lee Tilghman is a recipe developer and food blogger from L.A. who is taking Instagram by storm with her creative takes on smoothie bowls, matcha and many other eye-catching healthy recipes. We spoke with Tilghman about how her diagnosis of Polycystic Ovary Syndrome (PCOS) spurred her to change her lifestyle, including a journey from being a vegetarian to conscientious meat eater.
Heading out the door? Read this article on the new Outside+ app available now on iOS devices for members! Download the app.
What inspired to you start creating these amazing healthy recipes?

I was inspired by living in New York and living in that fast-paced lifestyle. I was working in the hospitality industry and helping to open up restaurants. So, I always loved working with food—I was working in PR and social media—but I always loved recipe developing. I would have very early mornings and very late nights in this job, and I started to realize as I was getting older that the drinking and the fried food doesn't sit with you as well.

And what inspired you to create Lee From America?
I guess I got inspired to start my blog because I was posting some of my recipes on Instagram, and people kept saying, 'Lee, you should start a blog!' I had a blog in college, and I know how much work they are and how much time it takes to build it, so I was like 'No way, i'm not doing a blog. It takes so long to build an audience.' But people were like, 'You need to host these recipes somewhere.' And I knew my recipes were doing well because whenever I posted food, it would get three times the amount of likes compared to when i'd post anything else…I would wake up really early in the morning, go for a run and spend two hours making a photograph of my breakfast before heading to my job. And that's how Lee from America was born.

Where did you get the name from?
It's not a cool story or anything like that. I saw Lee From America and wondered if it was taken. It's such a general, weirdly specific name and it wasn't taken, so I took it. It's nice because my blog and Instagram are about food, but it's also about so much more than food. And I like how it doesn't confine me and doesn't have a food name in it because it doesn't have to be food. Healthy living is so much more than just eating. If everyone were healthy just by eating, we'd be healthy, but it's way more complex than that.
See also Conversation with a Food Blogger: The Spunky Coconut
You suffer from PCOS, how does that change how you eat?
It changed everything. I was basically eating sugary [fruit-packed] smoothie bowls every day for a year. I thought I was eating the ultimate healthy meal plan. And that works for some people. I felt great for the first three months. But, I noticed that my skin was breaking out, I lost my period, I was fatigued and would have to take a nap at 3 p.m. I also had really bad bloating and all those issues. My dermatologist told me that my hormones were off and to go see a endocrinologist. All those symptoms really sparked me to go, and then they told me I had PCOS. And I did some research and I realized that PCOS can be managed by diet and the most important thing is managing your blood sugar. And that means never letting yourself get too hungry–never going more than three hours without eating and having a well-balanced meal. So, if you're eating a lot of sugar in one sitting, that's not the best for anyone but especially those for PCOS. So if I start my day with a low-sugar breakfast, i'm setting myself up for the day—the right way. And I now know how to treat my body and now I know how good I can feel. My bloat is gone, my acne is gone, my skin has cleared up, my period is back.

What's your best tip for someone trying to eat clean?
I feel like "clean" can be misconstrued and that other foods are "dirty" and bad, and I don't like using those terms. I like eating really healthy, but I also really like ice cream. And I could never imagine a life without ice cream. So I find ways to incorporate that.

Also, pick out whole-food ingredients that are not in packaged food—even if that's organic packaged snacks. Look at the ingredients and really do some research on them and figure out what you're putting into your body. You can make your own hummus instead of buying the store-bought hummus, without all the additives and fillers in it. You're doing yourself a favor. By eating whole foods, you're more satisfied, you feel better, you learn to cook, learn a new skill and save money—it only helps you. Really researching and becoming an educated consumer is an important thing when you're starting out on the clean eating path.
See also Conversation with a Food Blogger: Deliciously Ella
If there's one food to avoid, which is that?
It totally works for each body. But personally, I try not to eat any high fructose corn syrup. I couldn't get myself to eat anything like that.

What's your go-to snack when you're looking for an energy boost?
I make these coconut fat balls that are on my blog. They are loaded with healthy fats and protein. They're so easy to make and freakin' delicious.

You've been doing at-home light therapy. Have you seen any improvements in your health since starting?
I've definitely noticed changes in my hair and skins and nails. It also helps me with my knee pain, sunburns, digestive issues and improves my elimination, and helped me with my energy. I sit under the lights for at least 20 minutes a day. Someone reached out to me after reading my PCOS post and said her sister uses light therapy as a non-invasive, non-toxic way of healing. She came over and did a 60-minute session and immediately I felt amazing. And three days later all my followers on Instagram asked what I did to my face because it looked so clean and clear.

You've been dubbed the "Smoothie Bowl Queen." How do you feel about this title?
I like it! It's what i'm known for, and I love smoothies. But, I've also expanded into other types of bowls and foods too. (Get her signature Cauliflower Blueberry Smoothie recipe, pictured below, here.)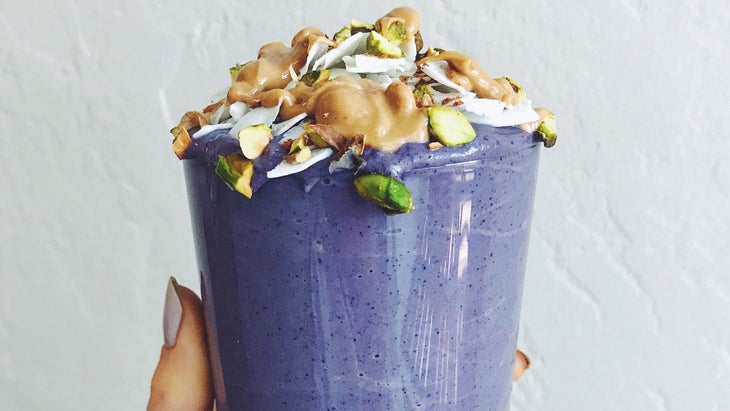 What are your tips on cleanses and how to do it safely?
I like the elimination diet. It's definitely safe and some people are turned off by it because it sounds really intense, but people have been doing the elimination diet for years, and it's one of the only ways to figure out if you're intolerant or allergic to something. It's also a great way to reset your system and give yourself a break. The elimination diet brought my period back, and I can confidently say that. It's taught me so much about myself and my habits.

You choose to transition from a vegetarian diet to introducing meat back into your diet. Why?
I wanted to get my period back, and I started the elimination diet, and I was hungry and needed to be satisfied. I realized when I was vegetarian for a year that I was never truly satisfied. I realized I didn't need to eat as much food when I had meat and that was amazing for me. My body was asking for it. But, go to a butcher and try and get it from a farmer's market. Factory farms are not right, and we have to support farmers or a local butcher—which might mean that we get it less, but we're doing it the right way.
See also Conversation with a Food Blogger: Tasty Yummies
What tips would you give to someone who wants to eat clean, but on a budget?
Buy your ingredients in bulk, buy seasonally and buy locally. All those things really help.