9 Ways to Eat More Sustainably
As you chart your path for a cleaner, greener self in 2018, check out these tasty, eco-friendly trends that will help you live and eat better.
Heading out the door? Read this article on the new Outside+ app available now on iOS devices for members! Download the app.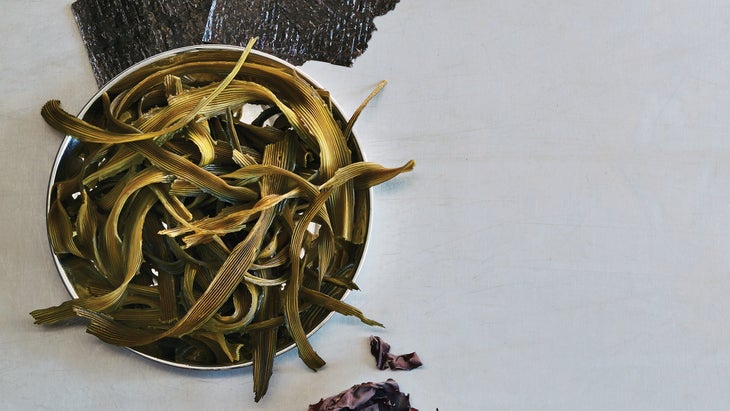 1. Edible sea greens
Will kelp be the next kale? Edible sea greens (an umbrella term for different varieties of algae such as kelp and dulse) are earning top marks for sustainability. Not only are they versatile in the kitchen and nutrient-rich, but they also help preserve marine-based economies while bypassing traditional fossil-fuel inputs like fertilizers, feed and fresh water needed for a variety of other foods. (TIP: For the highest quality control, look for North Atlantic–grown organic options.)
TRY THE TREND: Maine Coast Sea Vegetables offers a wide variety of sea vegetables from kelp granules (a natural alternative to salt) to dried dulse and untoasted sushi nori sheets to get you started.
Check out our 5 superfood sea vegetable recipes here.
2. Say hello to hemp
In the US, hemp food sales surged 44% in 2016, according to the Hemp Business Journal and Vote Hemp. From protein powder to shelled hempseeds (aka hemp hearts) to CBD oil, this super seed is going mainstream, offering a bioavailable source of omega-3 fatty acids and gamma linolenic acid (GLA), a beneficial omega-6 fatty acid. Both GLA and omega-3s act as natural anti-inflammatories in the body to help prevent chronic conditions such as heart disease.
TRY THE TREND: PlusCBD Oil Softgels ($50 per 30 softgels).  Manitoba Harvest Hemp Hearts ($15 per 1 lb).
3. The regenerative-meat revolution
Choose ethically raised and eco-friendly meats produced in ways that restore soil quality and enhance overall farm resilience. Companies like EPIC are charting the "regenerative meat" revolution by partnering with ranchers and farmers committed to raising bison and other meats in an environmentally sustainable and socially conscious manner. Look for 100% grass-fed, organic and biodynamic options, which have been shown to help remove carbon from the atmosphere, infuse soil with healthy microbes, protect grasslands and watersheds and boost farm biodiversity.
TRY THE TREND: EPIC supports ranchers using holistic land-management practices such as rotational grazing.
4. Traceable fish
A new generation of fish visionaries are making it easier than ever to eat seafood that's traceable, low in mercury and/or certified sustainable by a third party.
TRY THE TREND: Love the Wild. Love the Wild frozen meal kits help you flawlessly cook fish caught from traceable, sustainable sources, including salmon and barramundi. Safe Catch Tuna. This brand tests every single fish (caught from traceable, sustainable stocks) for its mercury content, with limits that are three to 10 times stricter than the FDA mercury action limits. 
5. The verified brand
For greater transparency, third-party certification brings assurances that no level of feel-good marketing can. "Smart brands earn consumer trust by telling the story of their purpose and demonstrating that they use safe, fair and environmentally friendly practices," says registered dietitian Janet Helm, chief food and nutrition strategist at Weber Shandwick and author of the blog Nutrition Unplugged. Certifications such as Palm Done Right (which certifies organic, environmentally sustainable harvesting of palm oil that respects local farmers) and Certified CLEAN (which stands for Conscious, Live, Ethical, Acting and Nourishing) help consumers understand more about ingredient integrity and even food safety.
TRY THE TREND: Laird Superfood Turmeric Creamer ($9, lairdsuperfood.com). It contains palm oil that is sustainably grown and harvested in partnership with Natural Habitats and Palm Done Right. 
6. Hyper-local produce
With an estimated 70% of the population predicted to live in urban areas by 2050, entrepreneurs have set their sights on growing produce closer to where it's eaten. Aquaponic or hydroponic farms use significantly less water and are free of pesticides and herbicides. Staying local also cuts food miles. "Once harvested, produce reaches store shelves about 12 days faster than traditional produce," says Kipp Stroden of Local Root Farms, a vertical-farming company that produces food using hydroponic technology. This also helps to preserve nutrients such as vitamin C while locking in freshness.
TRY THE TREND: Ask your grocery store if they are partnering with a local produce provider such as Local Roots or plenty. 
7. Plant-based noodles
Pastas featuring a variety of nut, lentil and bean flours, or ones crafted from seaweed or vegetables such as cauliflower or beets, are helping turn this ho-hum staple into a versatile meal base that supports your journey to a cleaner, greener you.
TRY THE TREND: CYBELE'S FREE TO Eat Superfood Rotini ($4.50).
8. There's an app for that
Can't remember the greenest choices? Update your apps so you can find the most up-to-date product ratings, certifications and local food purveyors.
TRY THE TREND: eat well guide searches over 25,000 restaurants, farms, CSAs and markets to suggest local and sustainably produced food.
9. Buy one, give one
Food entrepreneurs are increasingly taking inspiration from the business model popularized by TOMS shoes, which fosters connections between purchases and a greater mission. The promise? Good food that does more than just nourish you – it helps others reach their highest potential, too.
TRY THE TREND: For every serving sold, The Soulfull Project donates a serving of their 4 Grain Blend to a food bank in the region purchased.