Dinner to Doorstep
The premise of meal kits is a tantalizing one: an inspiring rotation of fresh, local and seasonal ingredients delivered right to your door. But with so many options out there for time-crunched eaters, how can you find out which ones are the most sustainable?
Heading out the door? Read this article on the new Outside+ app available now on iOS devices for members! Download the app.
Picture a nonstop stream of easy, step-by-step recipes that help you unleash your inner kitchen superhero – all without setting foot in a grocery store. That's the magic of meal kits. What began as a cult-like following of bloggers and millennials has moved mainstream: According to The Hartman Group, 45% of consumers are interested in meal delivery services. Grocery stores, including some Whole Foods Market and Kroger locations, are experimenting with their own versions in hopes of luring people back to the supermarket. Here's my handy guide on three things to consider when looking for a sustainable service, plus my primer on the top meal kits.
1. Choose USDA-certified organic meat and poultry and certified sustainable seafood. For cost reasons, it's a bit more challenging to find larger companies that provide certified organic beef, pork or poultry (but we found one – see our list in "Choose, Cook & Savor"). Some regional meal kit companies near cities have innovative partnerships with local farms, so check to see if that's an option in your area. USDA-certified organic meat and poultry means you're buying meat that's free of added hormones and antibiotics, and that the meat is sourced from animals that were fed organic food. Look for seafood that's certified by the Marine Stewardship Council (MSC) or one indicated as a "Best Choice" or "Good Alternative" from the Monterey Bay Aquarium's Seafood Watch program.
2. A pathway for better packaging. If you've tried meal kits before, you may agree with me when I say the packaging feels like a lot. Think: Cardboard boxes filled with dozens of ingredients, each individually wrapped in plastic or paper, along with pockets of pre-portioned spices, shots of cooking sauces and goopy ice packs. This can result in mounds of packaging that needs to be disposed of. An increasing number of companies are working hard to provide earth-friendly packaging when possible, and they've gotten much better at offering clear guidance on what to recycle, compost or toss. But a few issues still linger. For example, the liner that insulates the inside of the box poses its own conundrum. Meal delivery websites often suggest you thaw it, dispose of the liquid in your garbage, and then compost or recycle the liner (with a similar approach for gel packs). But what if you don't have municipal composting in your area? Even if you do, that seems like a lot of steps for the average eater, and isn't saving time the whole point of these services? Smaller, regional meal kit services are more likely to have reusable container programs – and the major players continue to try and make strides in this area. So ask questions, and become familiar with the green-disposal options available in your area.
3. Look for seasonal, pure and wholesome ingredients. While finding healthy options is a given when it comes to boxes of vegetables or fruits, it can get trickier with speciality items or desserts. Look for clearly defined partnerships with local or regional farmers near where the kits are assembled (this can help cut down on transportation emissions), plus transparent information on where vegetables, fruits, cooking oils and other ingredients are sourced. With dessert items, find out whether the sweeteners used are Clean Eating–approved (such as raw honey, pure maple syrup or coconut sugar). One other benefit? Services that use zealously pre-portioned ingredients may help cut back on food waste.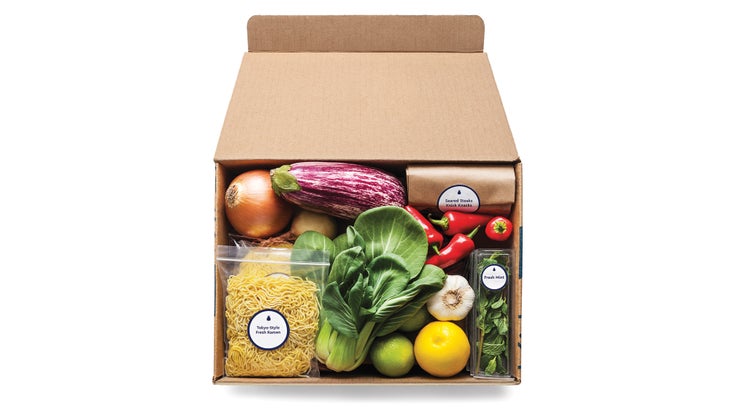 Choose, Cook & Savor 
To get the most out of your meal kit experience, it's important to find a service that fits your palate, lifestyle, price point and sustainability goals. Here are four we love.
1. HelloFresh (hellofresh.com) Simplicity rules: HelloFresh's sweet spot is busy consumers who are looking for weeknight dinners that are well-balanced, fresh and tasty. Transparency comes through a listing of specific sourcing partners, as well as sustainable seafood commitments through their partnership with the Monterey Bay Aquarium's Seafood Watch program. When it comes to packaging, HelloFresh strives toward providing fully curbside recyclable materials. In 2017, they also switched from boxes to 100% recycled kit-bags, reducing the box size by an average of 20%.
2. Blue Apron (blueapron.com) To meet the unique cooking needs and preferences of their customers, Blue Apron focuses on simple, fuss-free recipes labeled with terms like "Customer Favorite," "Easy Cleanup" and "Mediterranean Diet." The company uses sustainable seafood certified by Monterey Bay Aquarium's Seafood Watch program and meat with no added hormones or antibiotics. Plus, they provide a recycling locator tool to find the best options in your community if curbside pickup is unavailable. In the past year, Blue Apron also reduced the size of their boxes, reduced the number of gel packs in each box and reduced the amount of lining that insulates each box.
3. Purple Carrot (purplecarrot.com) Purple Carrot offers 100% plant-based meals that are better for both your health and the planet. Not only are plant-based diets linked to longevity, but they have also been shown to have a significantly smaller environmental footprint. Their meals include produce, beans, whole grains, legumes and, on occasion, items such as tofu and tempeh. Recipes sometimes feature branded products sourced from third-party, local and plant-based companies, such as Wildwood Organic Foods, to support and empower other plant-based establishments. Purple Carrot is also focusing on introducing as much automatic portioning and packaging as possible to reduce packaging and waste for each box. The service is a great option if you need a nudge towards a more plant-based lifestyle or crave more creative ideas for whipping up nutrient-dense plant foods.
4. Green Chef (greenchef.com) Among the meal kit community, Green Chef has the highest commitment to USDA-certified organic, striving for at least 90% USDA-certified organic ingredients across meal kits. Food is delivered in eco-friendly packaging that includes recyclable cardboard boxes, paper bags and reusable or recyclable ice packs. Green Chef balances 100% of their carbon emissions produced by company operations with carbon offset partnership programs. For instance, Green Chef works with social enterprise TerraPass on projects devoted to renewable energy projects and emissions reductions, such as saving trees in the City of Arcata Community Forest.