Detox Your Beauty Cabinet
Clean Eating sat down with Romain Gaillard, founder of The Detox Market, to get the scoop on green beauty trends and tips for transitioning to a cleaner beauty routine.
Heading out the door? Read this article on the new Outside+ app available now on iOS devices for members! Download the app.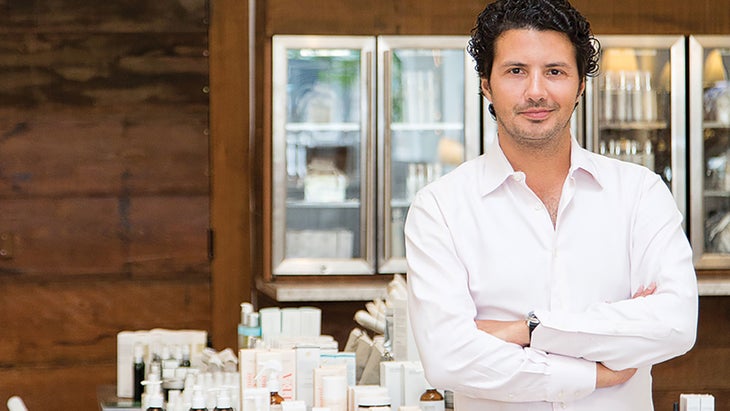 CE: What are some up-and-coming trends in the green beauty space?
RG: One trend I am seeing a lot of is food ingredients. For example, the Odacité Green Ceremony Cleanser contains premium-grade matcha and spirulina. Matcha has some of the highest concentrations of antioxidants you'll find. I think cannabidiol (CBD) is one ingredient that you will see a lot more of. We're seeing it in everything from moisturizer to lip balm. With more-relaxed laws in California, we're going to get a lot of new research to see exactly what its benefits are for skin.
CE: To what extent do diet and green beauty work together?

RG: One of the ideas behind The Detox Market was to bring health and wellness together with beauty, and to educate people about the fact that what you eat is equally – if not more important – for your skin than what you put on it. If you want to improve your skin, then you need to look at your diet, too.
CE: What are the top ingredients to avoid when making the switch from conventional to natural beauty products?

RG: We list all of them on our website, thedetoxmarket.com. The main ones are preservatives, glycols and parabens. Synthetic fragrances are not something we allow, phthalates in particular. It's a stabilizer for fragrance to make it last longer. It's so bad, even bigger companies are starting to think about removing it.
CE: What product innovations do you expect to see in the next few years?

RG: Preservation is going to be key. It's the biggest hurdle. I've been seeing natural preservatives like vitamin E or rosemary extract, but they don't last long. I know everybody is working on extending shelf life. It might be done through an ingredient, but I have a feeling it might be done through packaging. Tata Harper uses glass airless pumps for some of its products, and a lot of natural-beauty brands are using Miron glass (a dark violet glass) to extend shelf life.
As a leading retailer in green beauty and wellness, The Detox Market offers a selection of eco-friendly, nontoxic and cruelty-free brands. It has five locations across North America, including its newest store, which opened at Toronto's Union Station earlier this year.