How to Live a Zero-Waste Life
If it sounds impossible to live a zero-waste life, just ask 24-year-old environmental studies graduate Lauren Singer how she does it.
Heading out the door? Read this article on the new Outside+ app available now on iOS devices for members! Download the app.
Every Earth Day (April 22), we're reminded of ways to reduce our ecological footprint and live less wastefully. But these values shouldn't be relegated to a single day – every day should be Earth Day! At Clean Eating, we believe in doing our part by composting food scraps, using eco-friendly shopping bags, bringing reusable cutlery and glass containers to work and recycling waste materials. But what if you were able to take it even further and live almost entirely waste-free? Or fit three years' worth of your garbage into one single Mason jar? If it sounds impossible, just ask 24-year-old environmental studies graduate Lauren Singer how she does it. After quitting her job with the New York City Department of Environmental Protection in 2014, Singer founded the sustainable-cleaning company The Simply Co. and became an advocate for living waste-free through her blog, trashisfortossers.com. Speaking with us over the phone from her home in Brooklyn, New York, Singer shared her top tips on how to implement her zero-waste principles into grocery shopping, eating out and even your personal-care routine.
How long have you been living waste-free and how full is your Mason jar to date?
It's been over three years. That Mason jar is all of my trash for the past three years. I mean there is space, but not that much – it's getting pretty full.
Learn how to waste less food too! See It's Not Food Waste, It's Wasted Food.
What type of trash ends up in your Mason jar?
The only trash that ends up going into my jar is what I like to call circumstantial trash – trash that just finds its way into my life. I kind of set up a well-oiled machine for myself, but sometimes things happen. I'll order a drink and say "no straw," but sometimes putting a straw in a cocktail is just second nature for a bartender. One thing I can't avoid even though I shop second-hand is that even second-hand clothing has a price tag that is connected to the garment by a little plastic thing. And those become trash.
For readers who are thinking of transitioning to a zero-waste life, where should they start?
Start by evaluating the trash that you're producing. Unless you have a place to start, it's kind of like diving into a pool without knowing how to swim. When I was in the beginning stages of going zero-waste, I saw that I was throwing out a lot of food, and so I learned how to compost. I also think a really easy step is making your own beauty products. I have replaced what I was using before with four really simple products. One is a zero-waste toothpaste – it's just baking soda, coconut oil and essential oils, and it's all organic. Then I have a body moisturizer made with coconut butter, shea butter, coconut oil and almond oil. And I make my own deodorant, which is just baking soda, arrowroot powder, shea butter and coconut oil, and I make a bar soap that I use for my face, my body and my hair.
Related: DIY Citrus Dish Soap
What are the top five things we should all be doing to cut back on the waste we produce?
It varies for everyone depending on what your lifestyle is and where you live. But there are certain things that everyone can easily do to reduce their waste. Bring a reusable bag everywhere, use a reusable water bottle and say no to single-use cutlery and bring your own reusable cutlery. Say no to single-use coffee cups and bring your own Mason jar or reusable coffee cup. I think a big one for me is buying second-hand clothing instead of new clothing because the fast-fashion garment industry creates so much waste. Other easy ones are composting and shopping at the farmers' market. That's a great way to reduce waste because you don't have things that are packaged in plastic and you can bring your reusable bag.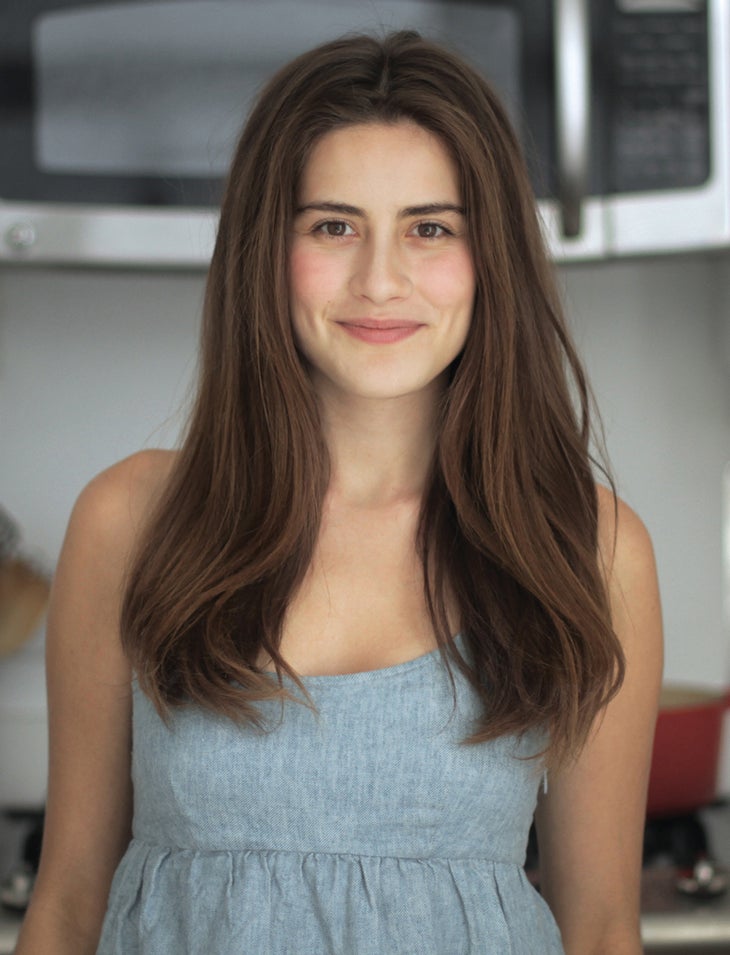 When you go food shopping, do you buy any foods in packages or cans that are recyclable? If it's not fresh, how do you buy other foods?
For the most part, anything that comes in a package or can probably isn't that great for you. I tend to eat things like bulk rice and bulk dry beans. I recycle and I compost, but I recycle really minimally. The only thing that I really have to recycle are things that just aren't available package-free in my area. Living in New York City, I've been really lucky that I have access to a ton of different bulk products, but some of the things that I can't find are package-free coconut oil and package-free apple cider vinegar, which I buy in glass containers. If I do have to buy something in packaging, I opt for glass or a rigid container like cardboard, which can be composted or recycled. I eat hyper seasonally and really locally. There's a farmers' market that's a 20-minute walk from my house, so I walk there and I bring my compost from the past week and I compost it there. In winter, it is impossible to find fruit at the farmers' market, so I'll supplement a few things, but I get all of my vegetables at the farmers' market.
Do you eat meat?
I am a vegetarian – but it is possible to live zero-waste and still eat meat. You can go to a butcher counter or any market and bring your own glass container. All they do is deduct the weight of the container and then they'll put the meat in it instead of using plastic. I think it all really comes down to having relationships with the people you are buying your food from.
How do you reduce waste while you're eating out at a restaurant?
I always choose restaurants that align with my ethos – restaurants that source sustainable produce, restaurants that compost, restaurants that won't have plastic straws. I think that always saying "no" to straws in your drinks is a big one. Use a reusable napkin and reusable serveware. And bring your own containers for leftovers – I love airtight stainless steel containers.
What products does The Simply Co. offer, and are you planning to expand into beauty?
Currently, we are only doing laundry detergent – that's just baking soda, washing soda and organic vegan soap. Probably midyear we will start rolling out other products, but we really wanted to focus on just the one for right now.
Related: How to Make Your Own Mouthwash
What do you hope to ultimately accomplish with your zero-waste philosophy?
I started living this lifestyle 100% for myself and no one else, and I started living it because I have always cared about the environment. Going zero-waste isn't just about the trash you are producing. It is about becoming more connected to day-to-day things and really having a good understanding of where things come from and what happens to them afterwards. I love having a platform to spread awareness about the fact that we don't have to make so much trash, and we have a choice to use products that are better for us, to actually save money and say "no" to what consumer culture tells us we need.
To enable screen reader support, press ⌘+Option+Z To learn about keyboard shortcuts, press ⌘slash