The Best Pancake Mixes For Every Diet, According to a Dietitian
Gluten-free, we've got you! High protein, we're on it! Here's what to look for when choosing a pancake mix that's right for you, plus this dietitian's top picks.
Heading out the door? Read this article on the new Outside+ app available now on iOS devices for members! Download the app.
Whether you're pro-pancake or team waffle, there's room for both at this breakfast table. Contrary to what you've heard, breakfast carbohydrates like pancakes and waffles can certainly fit into a balanced diet. In fact, some even provide more bang for your nutritional buck than a bowl of oats.
Whatever your health goals or lifestyle preferences, we've got you covered with a breakfast baking mix that'll meet your needs. Open that online cart or get your grocery list out, because you're going to want to add one (or more) of these pancake mixes to your menu this week! 
What to look for when choosing a pancake mix
First things first: When choosing a pancake mix, you're going to want to keep a few key nutrients in mind. While cost is certainly important so you stick within your budget, consider flipping the nutrition facts panel over to give the nutrients a look.
Here's what you should keep an eye out for:
Sodium
Sodium will naturally be higher in pancake and other baking mixes because common leavening agents, such as baking powder, contain sodium. Aim for a brand that has no more than 25% of the daily value (around 600 mg), but less is even better! 
Sugars
There are a variety of different types of sweeteners on the market, many of which you'll see highlighted below depending on the particular lifestyle the pancake mix is trying to market to. With that said, you should choose a brand that's low in added sugars, like cane sugar, brown sugar, brown rice syrup, etc. 
While non-nutritive sweeteners like monk fruit, stevia and erythritol are commonly used in products that are labeled "sugar-free," these sugar replacements aren't for everyone. A little old school sugar won't make or break you, but as with everything, consume it as part of a balanced diet! 
And if your chosen baking mix has a higher sugar content, consider swapping traditional maple syrup topping with a nut or seed butter to add a healthy fat and protein source to balance out the meal. 
Dietary fiber
Fiber helps keep you fuller for longer, meaning a higher-fiber pancake mix will keep you fueled and focused until your next eating occasion. Consider a brand made with whole grains, like oats or whole wheat flour, that naturally has a higher fiber content. 
While some brands use fortified ingredients that increase the fiber content, it's best to tread lightly when introducing these, as they may result in some uncomfortable stomach distress if consumed in excess. 
Protein
Having a pancake mix that packs protein, whether whey, pea, soy or another alternative, helps keep you fuller for longer. But protein also provides key amino acids that help with muscle recovery and repair after a workout. Consider choosing a brand that includes at least 14 grams of protein if you're finding yourself hungrier after a pancake breakfast. This also serves as a great post-workout snack to quickly offer carbohydrates and protein to replenish those stores! 
The best pancake mixes on the market
Gluten-free pancake mixes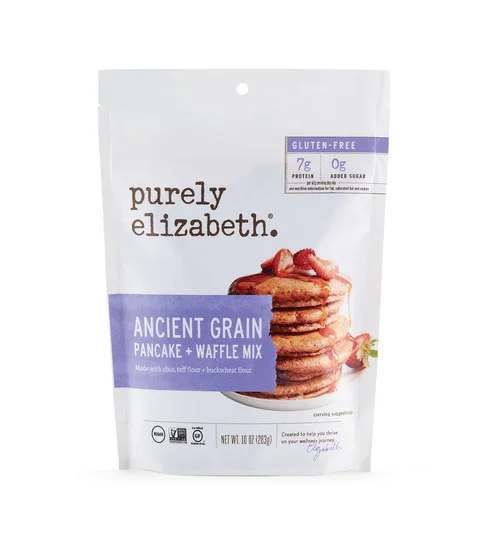 Made with wholesome whole grains and without added sugars, Purely Elizabeth's line of pancake and waffle mixes is something special! As a mom of two littles, I appreciate how this line is free of added sugars and some of the naturally derived non-nutritive sweeteners, like stevia and monk fruit, that don't always bode well with little tummies. Plus, it's filled with plant-based ingredients, which makes the mix naturally vegan, gluten-free and dairy-free; it's a product most lifestyles can enjoy. 
Each ½ cup of dry mix boasts 5 grams of filling fiber and 7 grams of protein, making it a hearty and filling way to kick off your weekend adventures.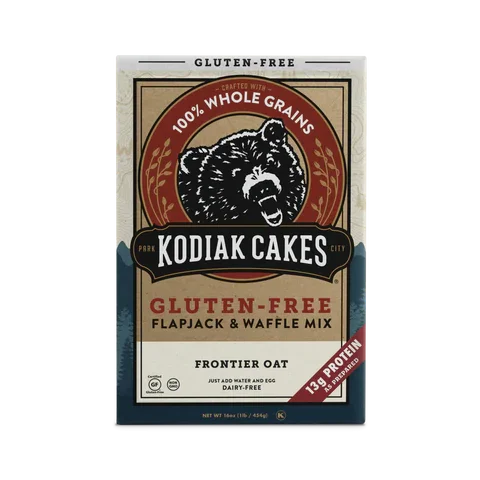 I jumped on the Kodiak train when I tried their mix at Costco one month, and I was thrilled to see their Gluten-Free Frontier Oat available now too! Packed with 4 grams of filling fiber and 6 grams of protein (or more, depending on the milk or milk alternative you use), it's a hearty mix that can be paired with other nutrient-rich foods. One of the best benefits for me is the 10% daily value of iron it provides! 
If you feel like you haven't found a gluten-free pancake mix on the market that you LOVE yet, I highly recommend giving this one a try. It's filled with simple ingredients and minimal added sugars. Slather a nut or seed butter on top and garnish with fresh fruit for a low-sugar way to kick off your day. 
High-protein pancake mixes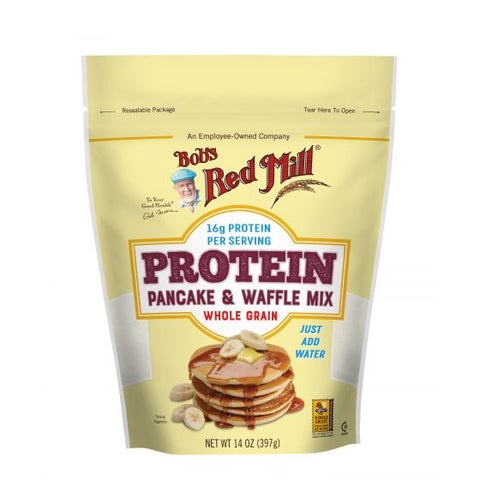 If you like Bob's Red Mill products, then you're going to want to try the brand's high-protein pancake and waffle mix. Filled with simple, wholesome ingredients, each ⅓ cup serving packs 16 grams of quality protein, 4 grams of dietary fiber, and just 1 gram of added sugars. 
Breakfast pancake mixes can really add up in sodium, with some common brands packing 550 to 600 milligrams plus per serving. However, you can rest easy knowing Bob's protein variety has just 350 milligrams. While not entirely considered low sodium, it's a lower sodium option in comparison to many others. 
I love this mix personally because it makes a great swap for cookies, adding a little more protein and fiber into a simple but nourishing breakfast on the go!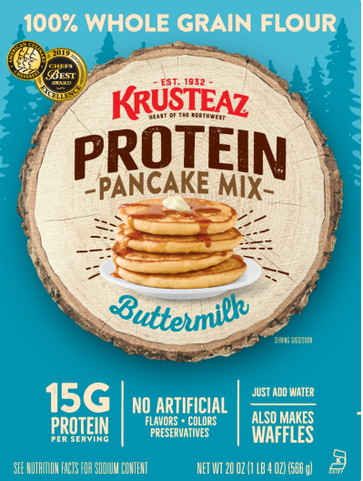 If you've been looking for a kitchen-staple mix that's easy to find at most markets, then pick up Krusteaz Protein Pancake Mix. With 15 grams of protein and 4 grams of dietary fiber, it's hard not to love this Buttermilk Protein Pancake Mix! From making a quick stack of pancakes for breakfast to batch cooking a dozen for your freezer stash, the simple ingredients and cooking instructions offer a no-fuss way to put a high-protein breakfast on the table in no time. 
Plus, for pancake purists who are used to Krusteaz's main Buttermilk line, it'll be an easier sell to try this cousin in their portfolio that offers a little more in the way of nutritional benefits! 
Keto-friendly pancake mixes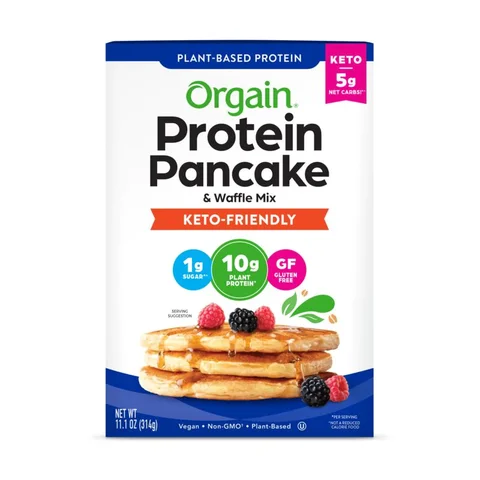 If you've tried Orgain's protein powders, you're going to want to add their newest kitchen staple to your cart: protein and waffle mixes! The brand's latest keto-friendly addition is selling fast, so you know it's got to be good. The entire line is made with simple ingredients and powered up with pea protein, offering a little more bang for your nutritional buck. An added bonus, it's completely plant-based, making it a wonderful option for those with dairy allergies or intolerances, or those who follow a vegan lifestyle. 
Each ⅓ cup of dry mix packs 10 grams of protein and 4 grams of filling fiber.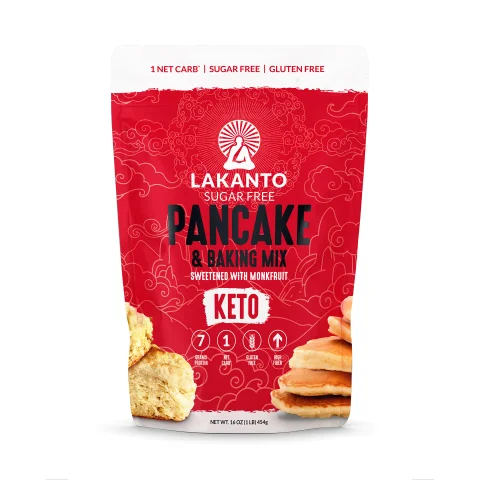 While I'll admit I'm not a keto follower, I do love the Lakanto line of products for a lower-sugar alternative when baking. I was thrilled to see the brand has a line of pancake mixes now too! The Sugar-Free Pancake Mix meets the keto lifestyle thanks to the almond flour base, which is lightly sweetened with monk fruit and erythritol. Mixes like this aren't for everyone, but they can be a good option for those looking for a lower-added-sugar alternative. Plus, it packs 7 grams of protein and 12 grams of dietary fiber too. 
Just be cautious and use the mix in smaller portions until you get used to making such a high fiber jump in your breakfast pancakes! 
Need more delicious and nutritious breakfast ideas? Keep reading:
Featured recipe: Lemon Blueberry Ricotta Pancakes