Meal Plan Express: 1 Week of Speedy Recipes That Take 30 Minutes or Less
This is your ultimate busy-week meal plan with 7 days of nutritious meals planned out for you (shopping list included) and every recipe ready in 30 minutes or less.
Heading out the door? Read this article on the new Outside+ app available now on iOS devices for members! Download the app.
Recipes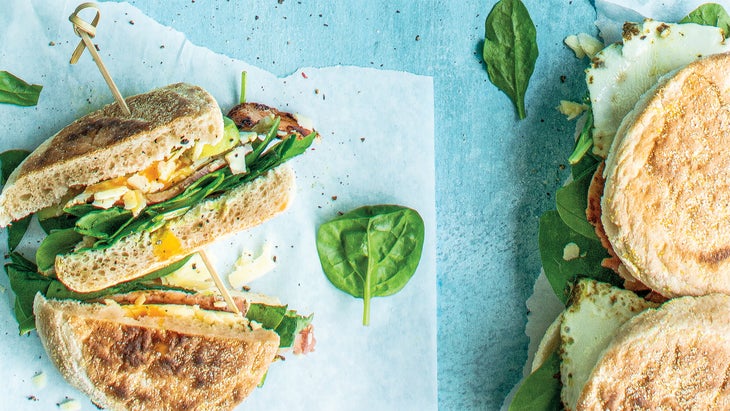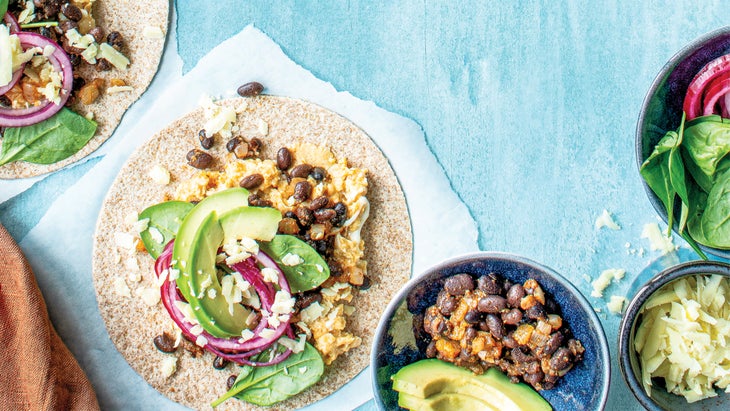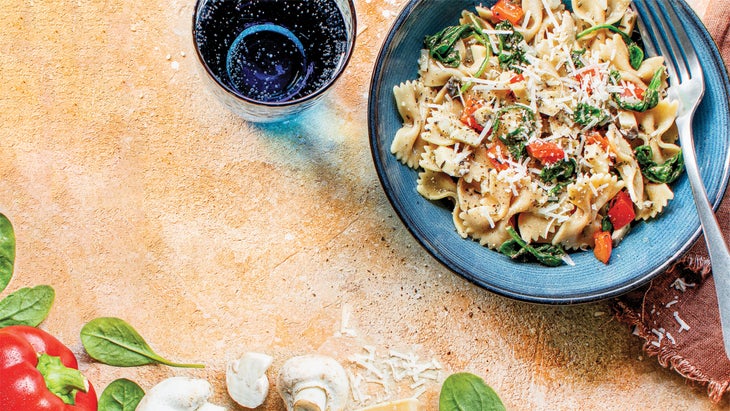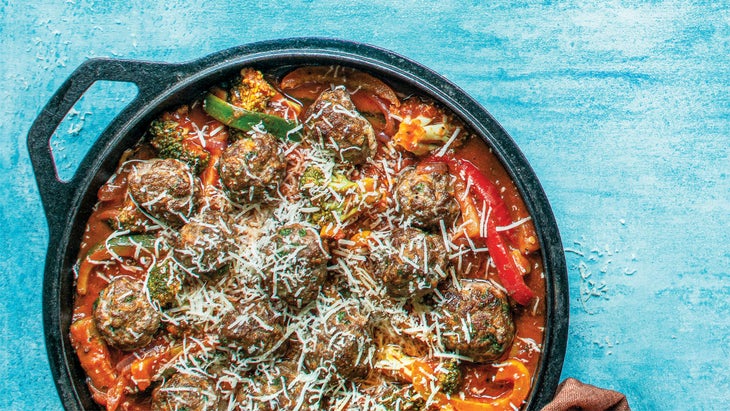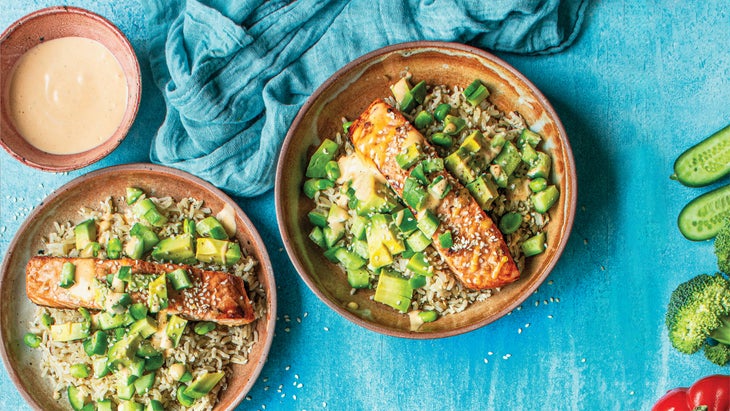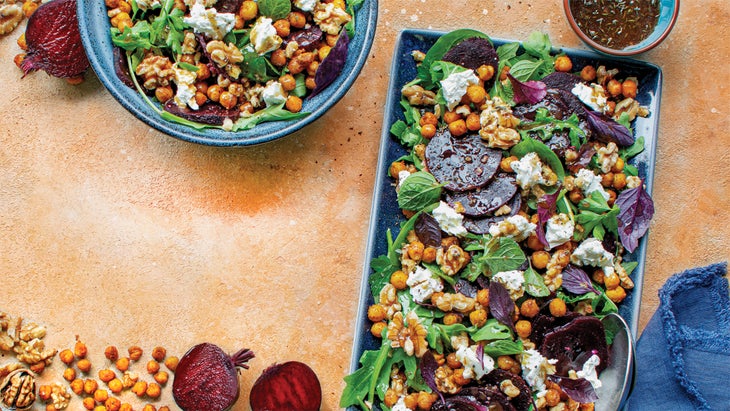 Meal Plan
| | | | | | | | |
| --- | --- | --- | --- | --- | --- | --- | --- |
| | MONDAY | TUESDAY | WEDNESDAY | THURSDAY | FRIDAY | SATURDAY | SUNDAY |
| BREAKFAST | Pesto Egg Breakfast Sandwich | Buttery Oat & Dried Fruit Granola Bars (save leftovers) | Pesto Egg Breakfast Sandwich | Buttery Oat & Dried Fruit Granola Bars (leftovers) | Sunrise Tacos (save leftovers) | Buttery Oat & Dried Fruit Granola Bars (leftovers) | Sunrise Tacos (leftovers) |
| LUNCH | Beet & Crispy Chickpea Salad (save leftovers) | Spicy Salmon Power Bowl (leftovers) | Beet & Crispy Chickpea Salad (leftovers) | One-Pot White Wine Pasta (leftovers) | Parmesan Meatballs over Vegetable Ragu (leftovers) | One-Pot White Wine Pasta (leftovers) | Parmesan Meatballs over Vegetable Ragu (leftovers) |
| DINNER | Spicy Salmon Power Bowl (save leftovers) | Beet & Crispy Chickpea Salad (leftovers) | One-Pot White Wine Pasta (save leftovers) | Parmesan Meatballs over Vegetable Ragu (save leftovers) | Beet & Crispy Chickpea Salad (leftovers) | Parmesan Meatballs over Vegetable Ragu (leftovers) | One-Pot White Wine Pasta (leftovers) |
| Nutrients | Calories: 1,616, Fat: 105g, Sat. Fat: 24.5g, Carbs: 95g, Fiber: 20g, Sugars: 29g, Protein: 74g, Sodium: 2,545mg, Cholesterol: 365mg | Calories: 1,645, Fat: 102g, Sat. Fat: 24g, Carbs: 131g, Fiber: 21g, Sugars: 62g, Protein: 57g, Sodium: 1,589mg, Cholesterol: 151mg | Calories: 1,363, Fat: 74g, Sat. Fat: 24g, Carbs: 121g, Fiber: 23g, Sugars: 30g, Protein: 56g, Sodium: 2,483mg, Cholesterol: 291mg | Calories: 1,299, Fat: 63g, Sat. Fat: 25g, Carbs: 135g, Fiber: 17g, Sugars: 54g, Protein: 54g, Sodium: 1,618mg, Cholesterol: 193mg | Calories: 1,614, Fat: 79g, Sat. Fat: 20g, Carbs: 154g, Fiber: 37g, Sugars: 37g, Protein: 76g, Sodium: 2,427mg, Cholesterol: 502mg | Calories: 1,299, Fat: 63g, Sat. Fat: 24.5g, Carbs: 135g, Fiber: 17g, Sugars: 54g, Protein: 54g, Sodium: 1,618mg, Cholesterol: 193mg | Calories: 1,480, Fat: 60g, Sat. Fat: 19.5g, Carbs: 158g, Fiber: 33g, Sugars: 25g, Protein: 80g, Sodium: 2,493mg, Cholesterol: 532mg |