Best Box Lunches
Whether you're meal prepping for the week or packing your kid's lunch the night before school, having the right containers for storage and transport is just as important as the meal itself. Sure, you might have a hodgepodge mix of leftover takeout containers to use–but those are hardly as sturdy or compact as you need them to be. Ideally, a good box lunch container should be suitable for both wet and dry foods, contain compartments to separate mains from sides, be microwave safe, sturdy enough to withstand the commute to the communal office fridge or kid's locker, and compact enough to fit into a standard lunchbox or cooler bag. While we can't all live in an ideal world, there are a few happy mediums. So we put a few box lunch containers to the test and found a few of the best available. Check them out below.
Heading out the door? Read this article on the new Outside+ app available now on iOS devices for members! Download the app.
Best Overall
Bentgo Salad BPA-Free Lunch Container with Large 54-oz Bowl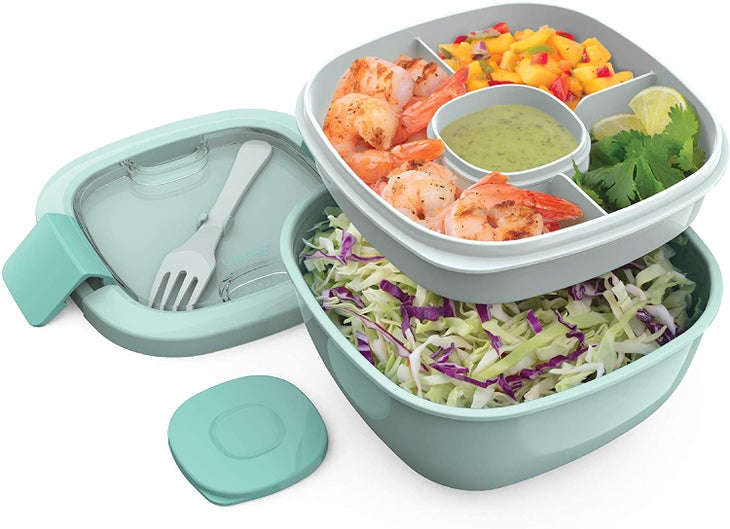 Space & Compartments Galore.
The perfect combination of spaciousness and separation comes in the form of this 54-ounce bowl topped with a four compartment tray, 3-ounce sauce container, airtight lid, salad fork and utensil cover all in one.
What We Liked
This Bentgo Lunch Container offers endless possibilities when it comes to packing lunch for you, your spouse, and your kids. Thanks to its enormous 54-ounce bottom bowl, four compartment middle tray with 3-ounce sauce container in the middle, and included salad fork, you can pack loaded salads, virtually any leftovers, and mix and match snacks of any variety. The entire set nestles neatly together to provide spill-free transport, help separate and manage portions, and seal in freshness–whether it's a fresh mixed salad or leftover spaghetti. The Bentgo box comes in a variety of color options–each with a reusable fork that clips into the lid and gets covered with its own clear utensil cover. Order Online.
Most Functional
Sistema To Go Collection Bento Box Cube Plastic Lunch and Food Storage Container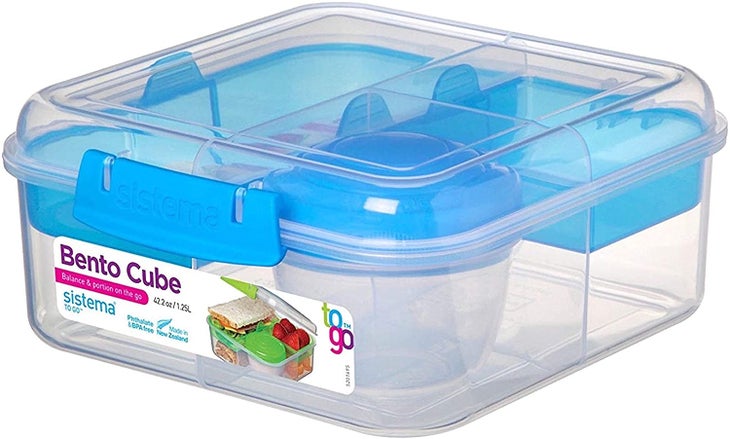 Stack 'Em & Pack 'Em
With its 3 compartments, two removable trays, and 5-oz screw-top container, the Sistema To Go Bento Box Cube provides convenience and versatility when packing lunch and saves you from having to use several different non-matching containers.
What We Liked
Whether it's school lunch for the kids, office leftover lunch, or going on a picnic or hike, this Sistema bento box has the room and customization you need to fit and keep all your goodies fresh. This 5.3-cup box, also available in 6.9 and 7.4 cup options, has plenty of room–and convenient separation–for sandwiches, salads, fruit, yogurt, dressing, and much more. The box comes integrated with three separate compartments–two of which can be topped with the included removable trays to separate wet ingredients from dry, or as a means of portion control. The third container neatly nestles the included 5-oz yogurt container, which can either be omitted altogether to free up the space, or filled with the liquid ingredient of your choosing. The lid shuts securely with easy locking clips and the entire box is BPA-free, dishwasher safe, freezer safe, and microwave safe. Purchase Yours Today.
Most Versatile
Prep Naturals Glass Meal Prep Containers 3 Compartment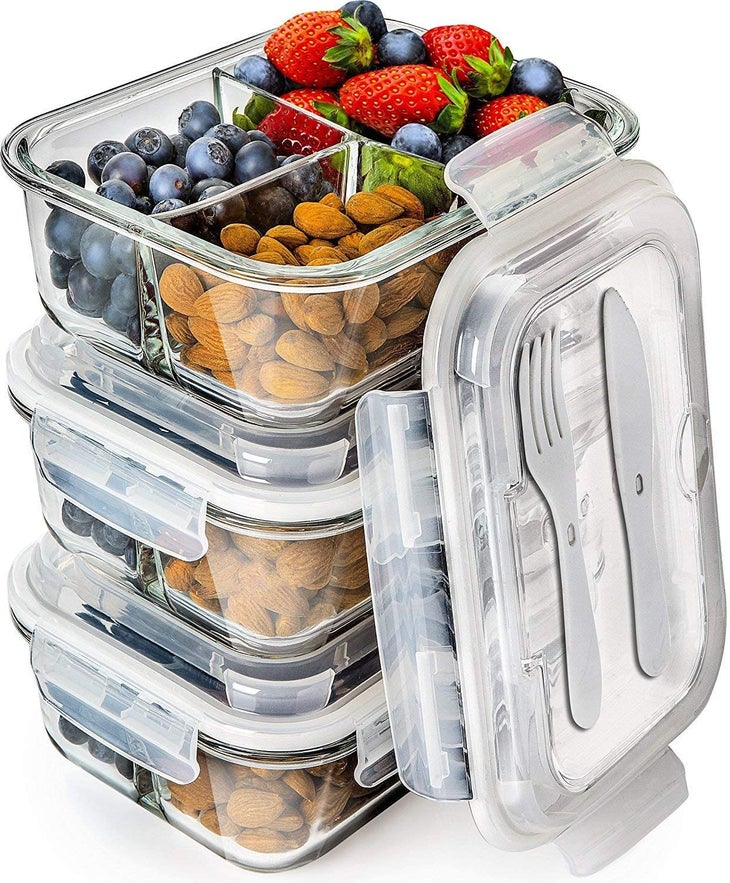 Durable Glass & Leak-proof Lid
Available in 3, 4, and 5-packs, these Prep Naturals Glass Meal Prep Containers are made of sturdy borosilicate glass that's oven and microwave safe.
What We Liked
These 34-ounce containers make portion control easier with their larger main compartment and two perfectly portioned side dish sections. The larger compartment is perfect for a chicken breast, piece of salmon, or perfect portion of pasta, while the smaller sections are great for rice, veggies, and fruit. The lids use sturdy clips on all four sides to form a leak-proof seal that locks in freshness, and the containers stack neatly on top of each other in the fridge, freezer, or on the go. The containers also come with reusable, BPA-free plastic utensils and a utensil cover that conveniently snaps onto the top lid. Get It Here.
Most Convenient
Enther Meal Prep Containers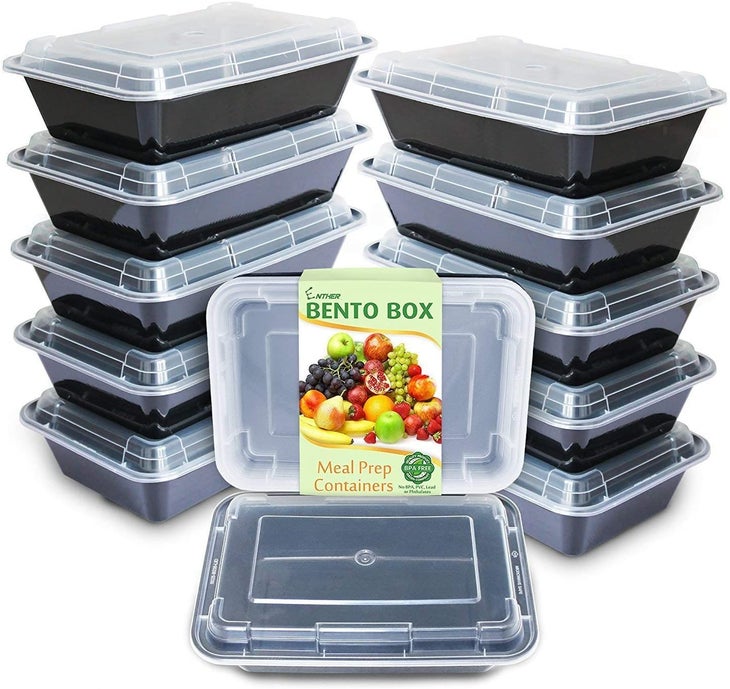 Simple & Reusable Meal Prep Boxes
Designed for convenient meal prep and leftover storage, these 28-ounce BPA-free plastic containers are freezer safe, dishwasher safe, microwave safe.
What We Liked
These simple plastic containers resemble the kind you'd receive from your neighborhood takeout joint. But don't let the appearance deceive you–these aren't your average leftover containers. You get 12 single compartment boxes in the set, all of which are dishwasher safe, freezer safe, and microwave safe and designed with BPA-free plastic that won't stain or leave lingering food odors. Whether you're meal prepping for two for an entire week or portioning out leftovers to send home with friends, these boxes are the perfect solution. Buy Now.