Best Brew Pots and Kettles
Pots are often thought of as basic kitchenware, but when brewing, the right brew pot makes a world of difference in the quality of your resulting batch of product. From heat conduction to durability to size and weight, there's a lot that goes into choosing the right kettles or brew pots for your needs. Our coverage of brew pots and kettles features an entry for outdoor use, two excellent brew pots for the home brewery, and a kettle perfect for coffee lovers. Check out the list below to see our favorites on the market right now!
Heading out the door? Read this article on the new Outside+ app available now on iOS devices for members! Download the app.
Best for Camping
Stanley Adventure Camp Cook Set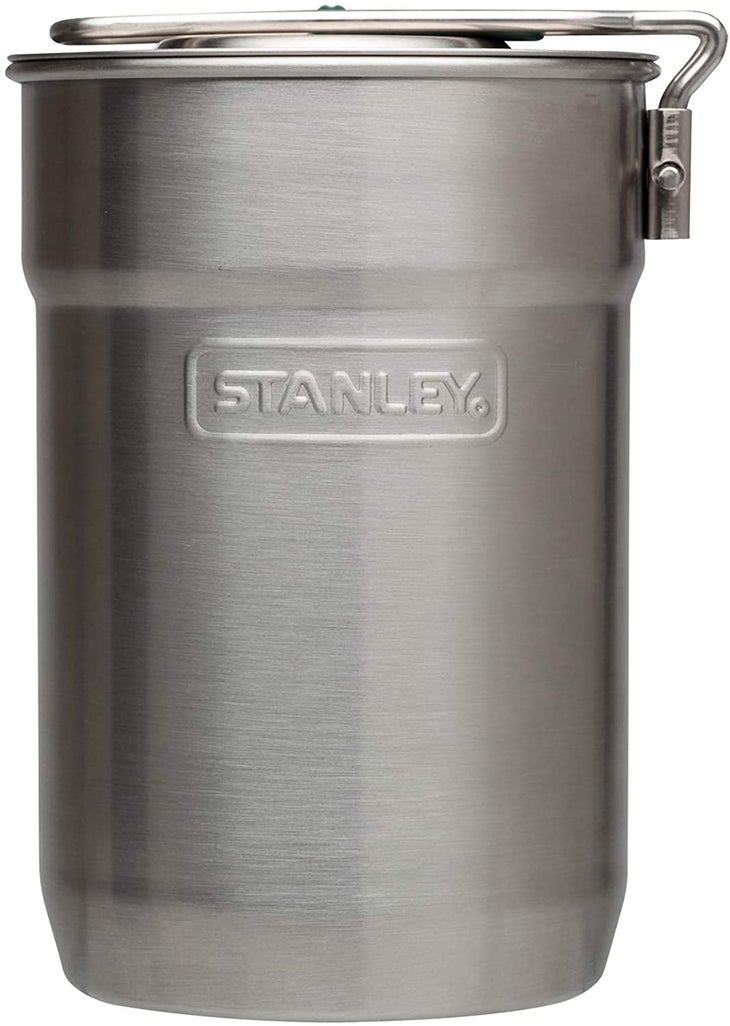 Ready for the Outdoors
A lightweight cooking set that's sturdy and ready to hit the trails. It's custom-made for use with a camping stove.
What We Liked
This Stanley Adventure set features a vented lid for cooking on grills or camp stoves, along with a retracting handle which locks in place and folds back in when not in use (to save space in a backpack). It boasts integrated measurements and two 10-ounce insulated cups which fit inside. This is the set you want to use for tailgating, camping, barbecuing, or any cooking setting where you're outside or on the move. It has no spigot like the others on this list, so we wouldn't recommend this for regular home use or brewing, but it works well for cooking in the great outdoors. Order Online.
Best for Home Use
GasOne 10 Gallon Stainless Steel Home Brew Kettle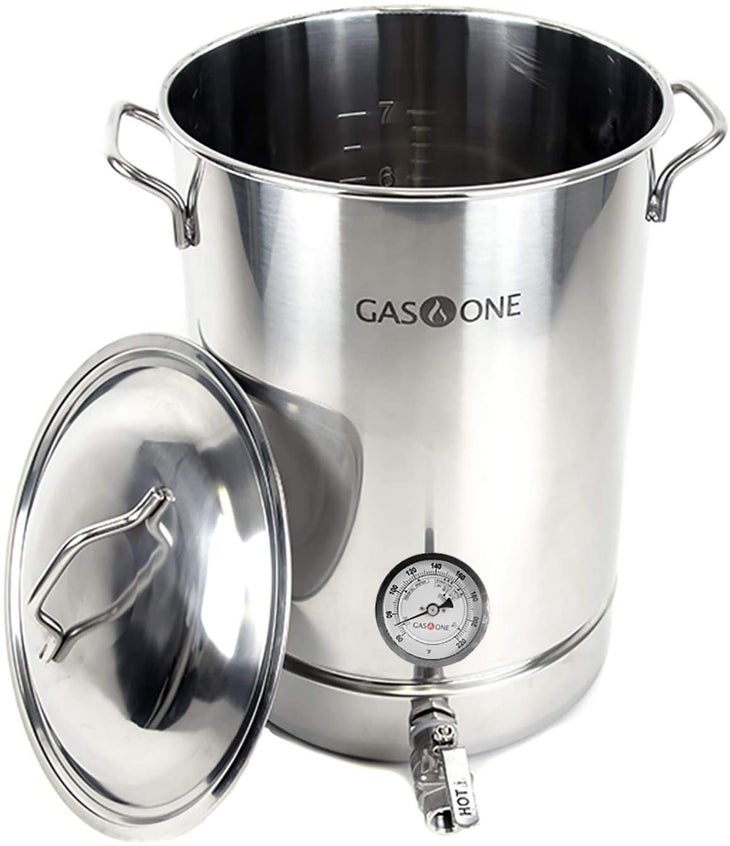 Everything You Need to Brew
This set has all the features you need in a quality home brew pot.
What We Liked
The ergonomic handles on this pot make it easy to pick up, and it offers fast and even heat distribution thanks to its Tri-Ply aluminum. Measurements are etched into the sides, and it comes in 10-gallon and 16-gallon sizes. A ball valve and spigot make pours easy. This is a great all-around brew pot for smaller batches. Purchase Yours Today.
Best for Commercial Use
CONCORD Stainless Steel Home Brew Kettle Stock Pot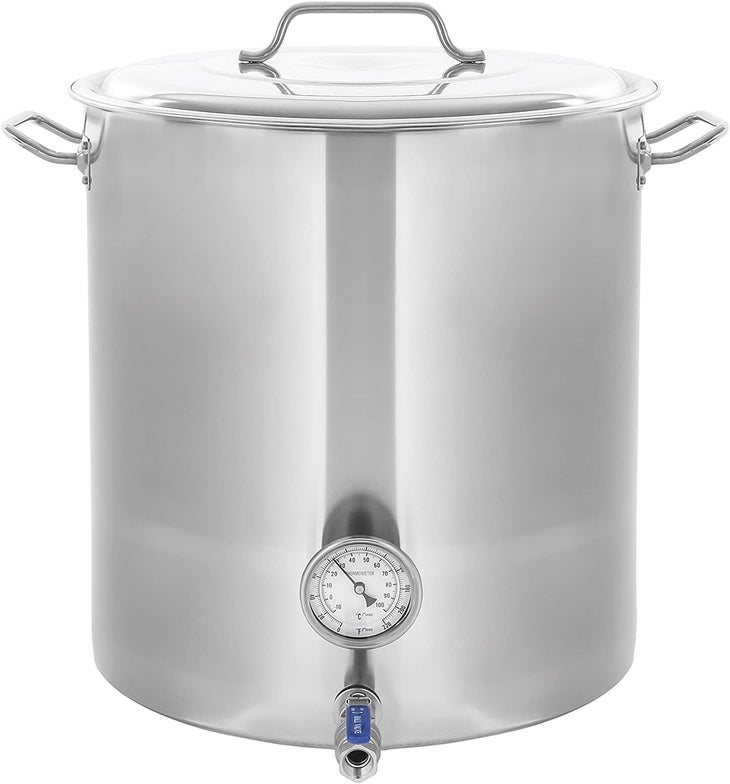 Sizable and Durable
With sizes up to 45 gallons, this pot is perfect for commercial use or brewing large batches.
What We Liked
If you're brewing large batches, whether at home or commercially, this is a great brew pot to use. It also comes in smaller sizes (down to a 5-gallon pot), so you really can't go wrong here. The pre-drilled kettle comes unassembled, so be prepared for a little setup. The lid can be hung on the side – an added bonus – and its complete weld-less design means it can easily be taken apart and cleaned. Get It Here.
Best for Coffee
Gooseneck Kettle – Coffee Gator Pour Over Kettle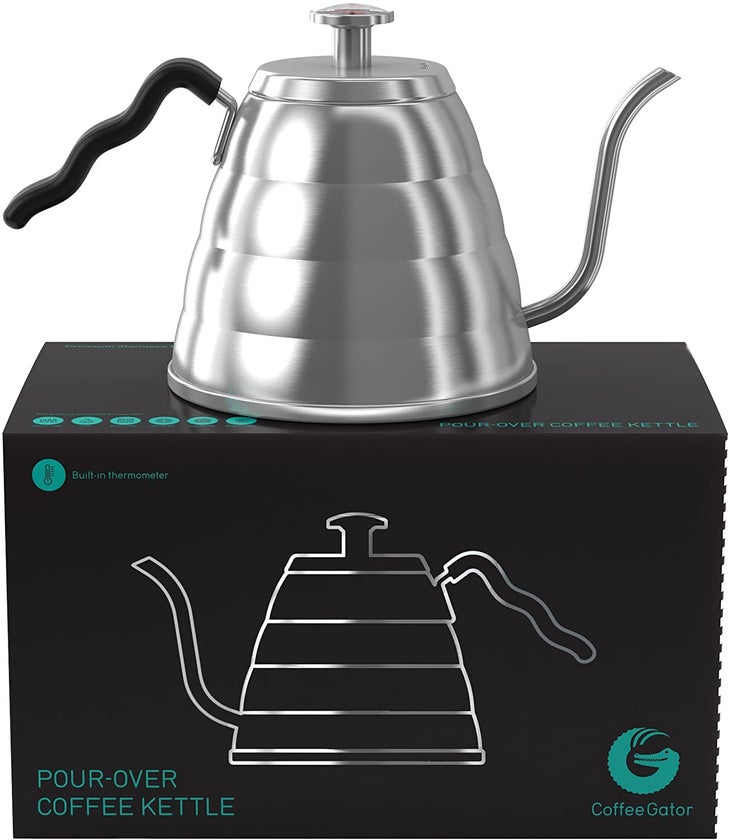 Makes Brewing Coffee a Breeze
An excellent kettle for pour-over coffee, tea, or other hot drinks.
What We Liked
This is the only true kettle on the list, and it's the best equipped for making coffee or other piping hot beverages. An ergonomic handle and gooseneck spout make pouring simple and hassle-free. Better yet, a built-in thermometer lets you know when your concoction has reached the perfect temperature. No more burnt coffee with this one! Buy Now.