Best Canning Racks
Despite being a relatively straightforward process, canning does involve a bit of science and takes technique to master. That's why avid canners ensure they're using all the tricks of the trade available to them to ensure safe and effective results for every batch of vegetables, fruits, and sauces they can. When it comes to safety, the last thing you want is to be working with boiling liquids and delicate glass, only to have it explode all over your kitchen and potentially cause injury. And when it comes to effectiveness, you defeat the purpose of canning if only a fraction of the contents of your jars achieve the necessary level of heat transfer–as this can cause a tainted finished product. That's part of the reason why canning racks exist. In essence, a canning rack ensures that the bottoms of your jars are slightly elevated as to not be too close to the heating element of your stovetop. It's also to ensure that the boiling water itself is able to come into contact with all surfaces of the jar, without entering the jar itself. So whether you're new to canning or are looking to trade-in your homemade rack for something designed for the job, a canning rack is a must-have for your at-home canning set. We took a look at a few options and put together a list of what we considered to be the best.
Heading out the door? Read this article on the new Outside+ app available now on iOS devices for members! Download the app.
Most Professional
Presto Cooking/Canning Rack for Pressure Canner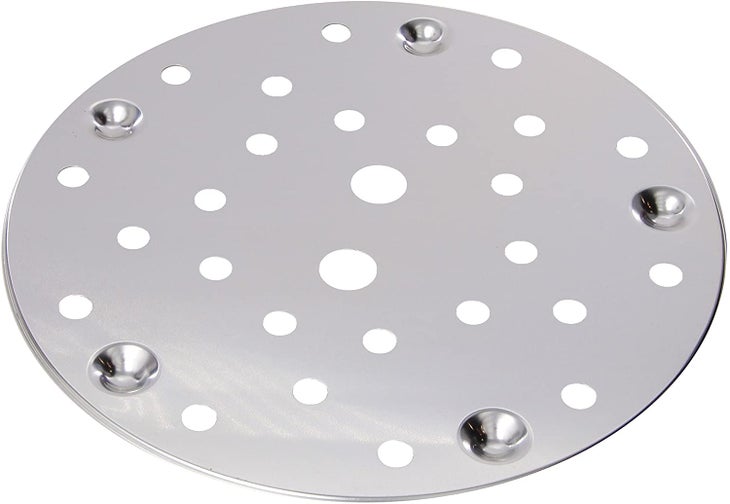 Elevate Your Cans
Designed specifically for Presto Pressure Canners, this 11-inch rack can be used as a replacement for your canning cooker or create a second layer for smaller-sized jars.
What We Liked
If you've got a Presto Pressure Canner and need a replacement, or if you like to cook in pint jars,instead of quart and want to double the amount of jars you can fit in the pot, this is the rack you need. Even if you use a conventional pot, this rack will do the trick for anything greater than 11-inches in diameter. It does exactly as intended: keeps your jars away from the heating element, keeps food out of the cooking liquid, and prevents the intermingling of flavors. Order Online.
Best Design
Roots & Branches Flat Canning Rack 12″ Diameter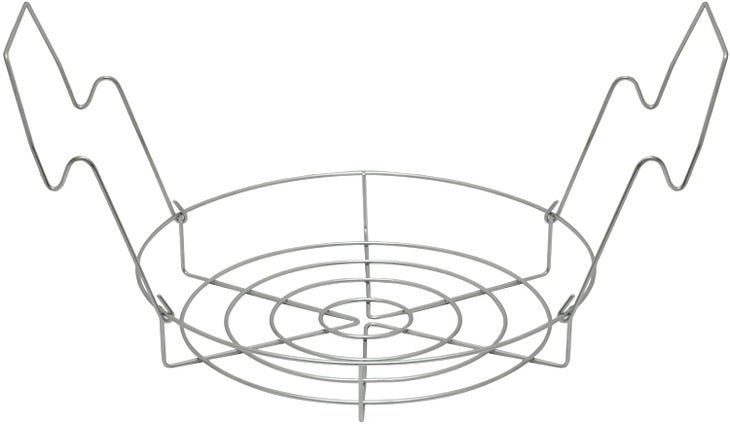 Two Canning Tools in One
This 12-inch, flat canning rack holds 8 pint or 7 quart jars with handles that conveniently rest on the side of your cooker, allowing your jars to remain elevated from the bottom of the pot.
What We Liked
In addition to its ability to hold up to 8 pint or 7 quart jars, and keep the bottoms of them away from the heating element of your cooker or pot, this rack eliminates the need for a pair of jar removal tongs all together. While most canning enthusiasts are used to using either tongs or magnetic removal tools to remove one jar at a time, this rack allows you to take everything out at once with its easy lift handles. It's made of rustproof, dishwasher safe stainless steel and suitable for both Roots & Branches canning pots or conventional 12-inch stovetop pots. Get Yours Today.
Most Versatile
Prepworks by Progressive Reversible Stainless Steel Canning Rack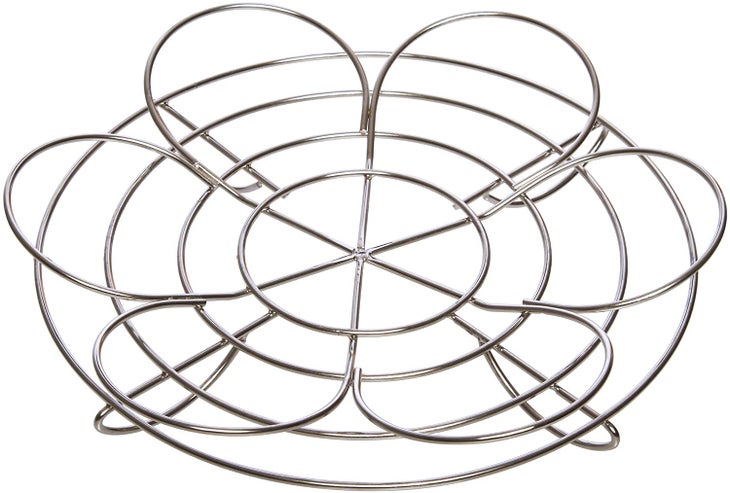 Reversible Design for Pints & Quarts
With its flower petal design, the rings on this stainless steel rack ensure your jars don't touch each other in the pot, allowing for more even cooking of your jars' contents.
What We Liked
This truly innovative design provides you with the nooks and crannies your jars need to stay secure and ensure even cooking inside your pot. One side can accommodate four quart jars and the flip side fits seven half-pint or pint jars. Get two of these racks, and you automatically double the amount of canning you can do in a single batch. The rack fits in a standard 16-quart, or larger pot and is made of rustproof, dishwasher safe stainless steel. Buy Here.
Most Convenient
2-Pack 11-Inch Pressure Cooker Canner Rack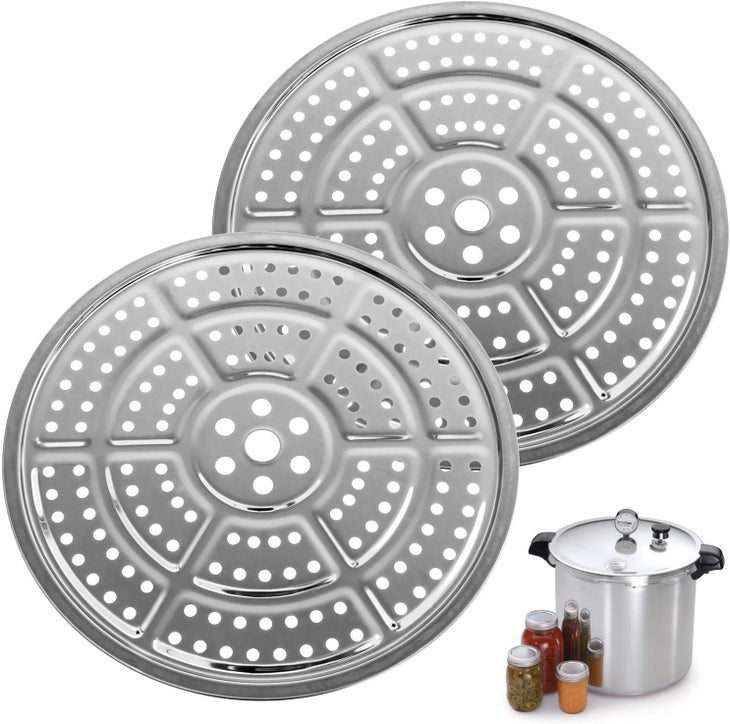 Two Layers of Canning Convenience
This two pack of 11-inch racks automatically converts your pressure canner or pot into a dual-layered canning vessel.
What We Liked
These after-market racks are compatible with all major pressure canners or 12-inch pots and allow you to speed up your canning process by creating even layering of your jars and proper circulation of the boiling water. They're lightweight yet sturdy and made of rustproof steel that will withstand years of use. Purchase Now.