Best Chicken Bone Broth
Bone broths have long been used in various cultures around the world. Chicken bone broth makes a delicious savory snack when sipped on its own and can be used in many recipes. This healthy broth is low in calories, trace nutrients, and high in protein. Most bone broths are also Keto and Paleo-friendly, so they can fit many diets and lifestyles. Here is our review of four different chicken bone broths so you can find the one for you.
Heading out the door? Read this article on the new Outside+ app available now on iOS devices for members! Download the app.
Best Eco-Friendly Cartons
Chicken Bone Broth Soup by Kettle and Fire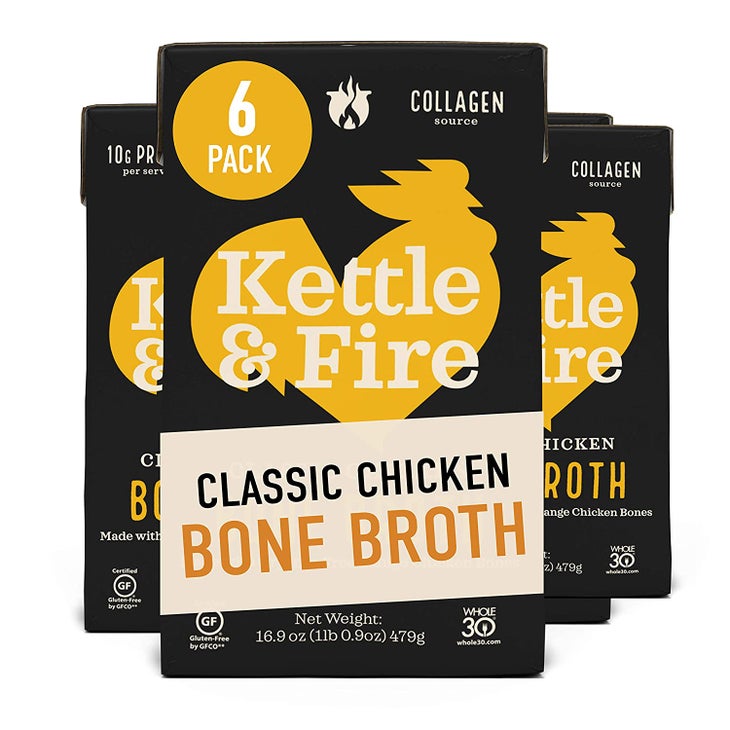 Keto, Paleo, and Whole 30 Approved
This chicken bone broth soup is slowly simmered for over 14 hours to provide a delicious and nutritious experience in every sip.
What We Liked
This pack of six cartons contains broth made from the bones of grass-fed chickens, so each serving contains a high quality of nutrients and collagen. The bones are slowly simmered for over 14 hours with a variety of vegetables and herbs to provide a delicious, healthy soup. This bone broth is Keto, Paleo, and Whole 30 approved, so it suits many lifestyles. This gluten-free broth contains 50 calories, 10 grams of protein, and 4 to 8 grams of whole food-based collagen per serving. Order Online.
Best Certified Organic Broth
Pacific Foods Organic Bone Broth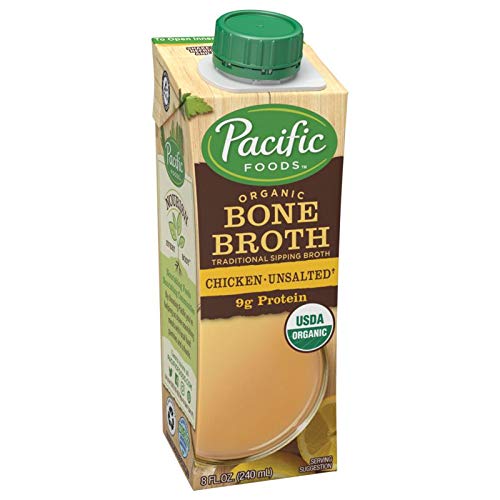 12-Pack of Unsalted Broth
This 12-pack of organic chicken bone broth is made from slowly simmered chicken bones and does not contain artificial additives, dairy, gluten, or MSG.
What We Liked
This 12-pack contains an easy twist-open pour spout, making it convenient to serve a cup for sipping or including it into a recipe. Each serving contains 45 calories, 9 grams of protein, and contains collagen. This USDA certified organic broth is Paleo and Keto-friendly and free of artificial additives, dairy, gluten, soy, and MSG. Each container holds eight ounces and has no added salt or sugar. Buy It Here.
Best Prepared Broth for Taking On the Go
Swanson Sipping Bone Broth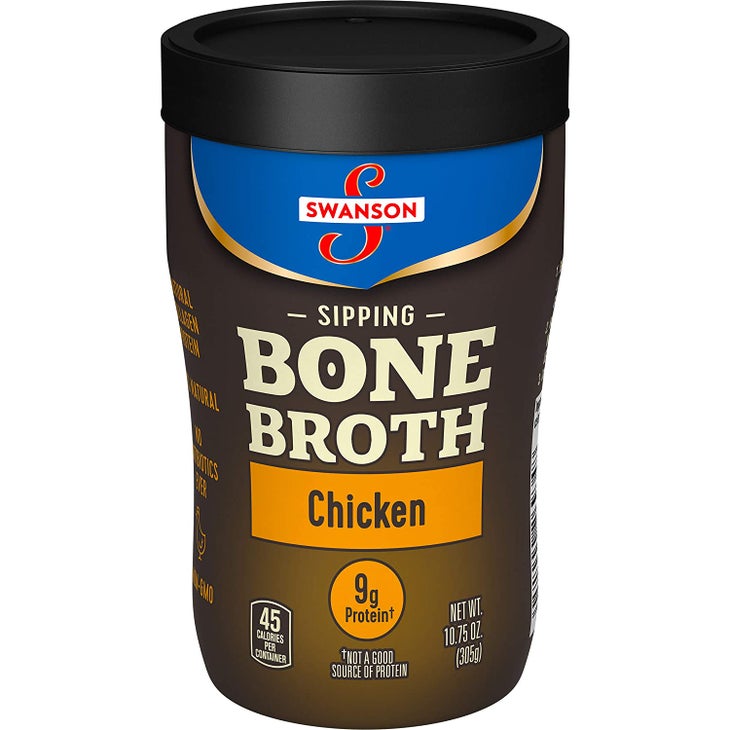 Nutritious Bone Broth Snack
This sipping bone broth contains natural collagen protein and comes in a convenient microwavable sipping cup to make it easy to drink anywhere.
What We Liked
This pack of eight sipping bone broth cups is easy to take with you as a snack. Each microwavable sipping cup contains 10.75 ounces of bone broth that is non-GMO, 100 percent natural, and free of antibiotics. Each serving has 45 calories and 9 grams of collagen protein and is made from chicken bones, vegetables, and herbs. Order Yours Here.
Most Convenient Powder for Traveling
LonoLife Chicken Bone Broth Powder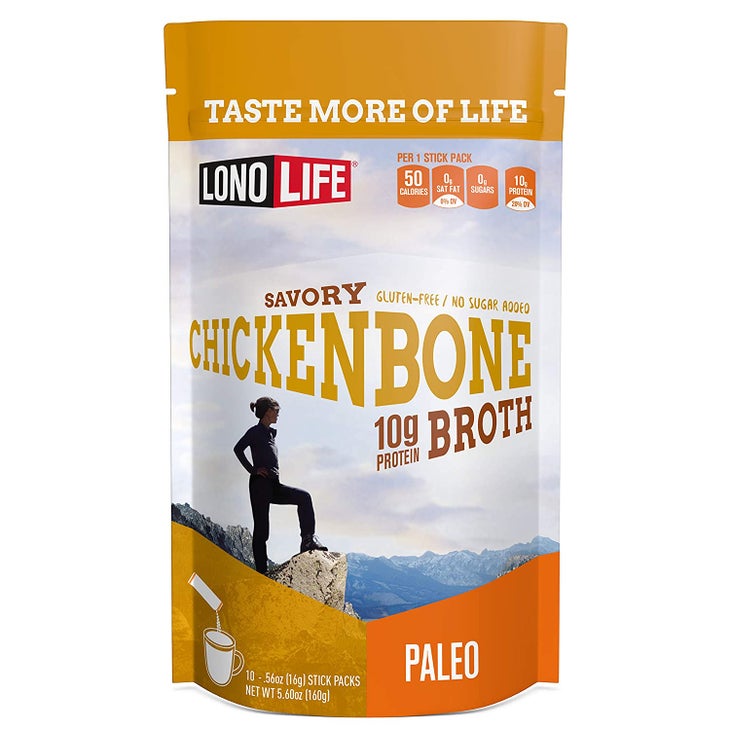 Pack of 10 Powder Sticks
These chicken bone broth powder packets are easy to take with you when traveling, camping, or when away from home. You only need to add eight to ten ounces of hot water before drinking.
What We Liked
This pack of ten chicken bone broth powder tastes just like slow-cooked broth. It's made from high-quality ingredients, including roasted bones, chicory root, sage, thyme, black pepper, and sea salt. These packets do not contain artificial colors, sweeteners, or preservatives. This product is free of MSG, gluten, dairy, and soy. Each serving contains 10 grams of protein, 3 grams of carbohydrates, and 3 grams of fiber. These Paleo and Keto-friendly bone broth packs make it easy to have a healthy snack on the go. Buy Now.