Best Cream Makers
Whipped cream is a tasty, sweet treat found atop many desserts and coffee drinks. Though commonly found in dispensers at the grocery store, nothing beats home whipped cream, which doesn't contain extra preservatives or potentially harmful ingredients. Making whipped cream at home can be done by hand or with traditional hand or countertop mixers, but nothing beats the effectiveness or nostalgic sound of freshly whipped cream from a dedicated dispenser. It's not just whipped cream that you can make with a dispenser, you can also create aerated sauces, soups, infused liquors, and a variety of other modern gastronomical delights. Not sure where to get started making your own homemade creams? Check out some of these easy-to-use options below.
Heading out the door? Read this article on the new Outside+ app available now on iOS devices for members! Download the app.
Most Functional
ICO Profesional Whipped Cream Dispenser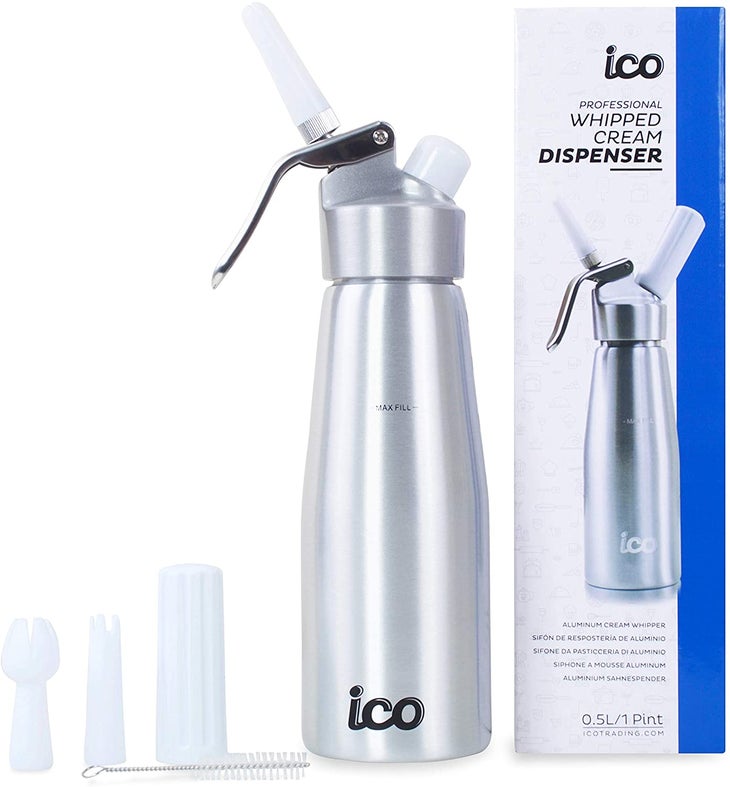 Professional Quality for Home Use. A professional-quality design that's suitable for the aspiring home chef, this ICO whipped cream dispenser is made of TUV-certified aluminum and includes three nozzles for a variety of cream-dispensing sizes and styles.
What We Liked
Ranked by America's Test kitchen as one of the best dispensers on the market, this dispenser quickly and conveniently makes over 2-quarts of whipped cream that can keep in the fridge up to 14-days. An included instruction manual provides instructions and recipe ideas for creating aerated sauces, soups and infusions as well. An airtight vacuum seal prevents the breakdown of mixtures to maintain the desired consistency for both hot and cold applications. Order Online.
Best For Home Chefs
EurKitchen Professional Whipped Cream Dispenser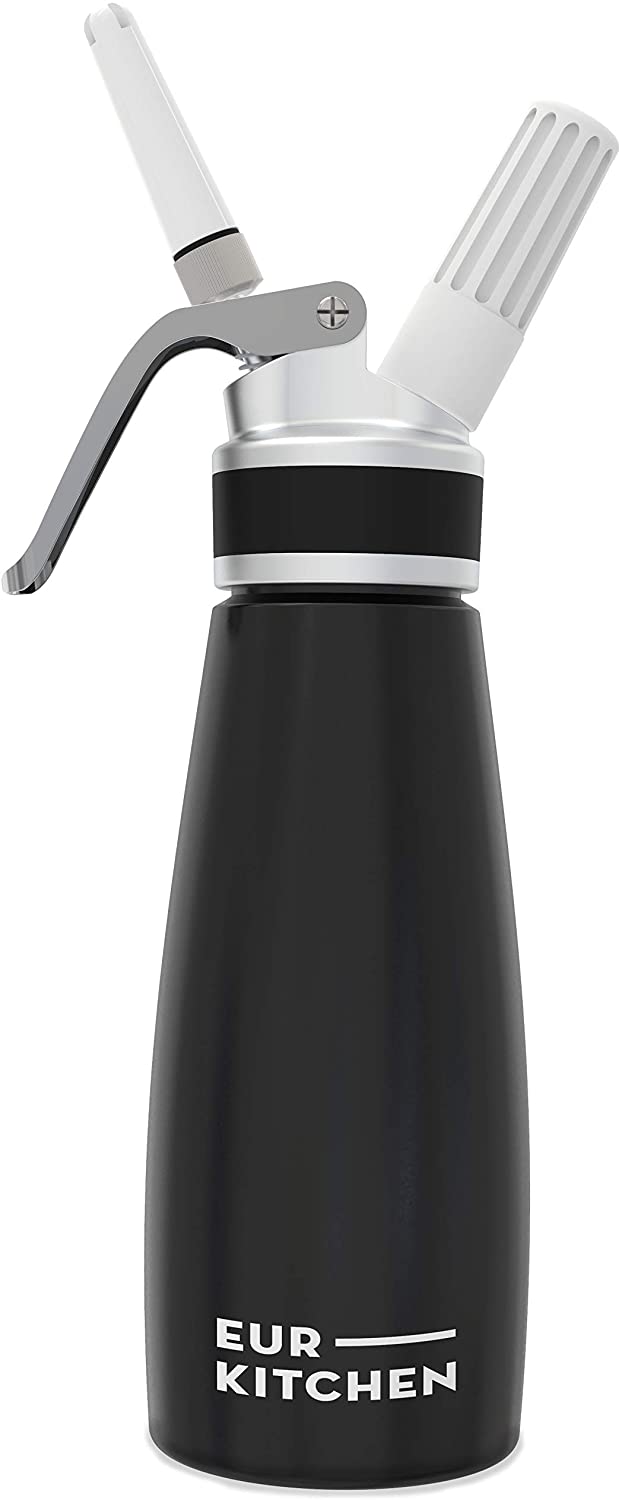 Easy to Use & Maintain. This one-pint, NO2-powered aluminum canister with silicone grip makes the creation of whipped creams, chocolate mousses, soups, sauces and homes as simple as pouring and squeezing.
What We Liked
The aluminum canister and head with reinforced threads of this dispenser from EurKitchen is both lightweight and more durable than the average plastic-headed varieties and helps alleviate hand fatigue for everyday use. The dispenser comes with decorating tips and recipes so the average home chef can expand their repertoire beyond simple whipped creams into beverages, mousses and sauces. The device is easy to maintain and care for by simply rinsing out the canister and using the included cleaning brush to scrub out the nooks and crannies of the decorating heads. Click Here to Purchase.
Most Professional
Otis Classic Whipped Cream Dispenser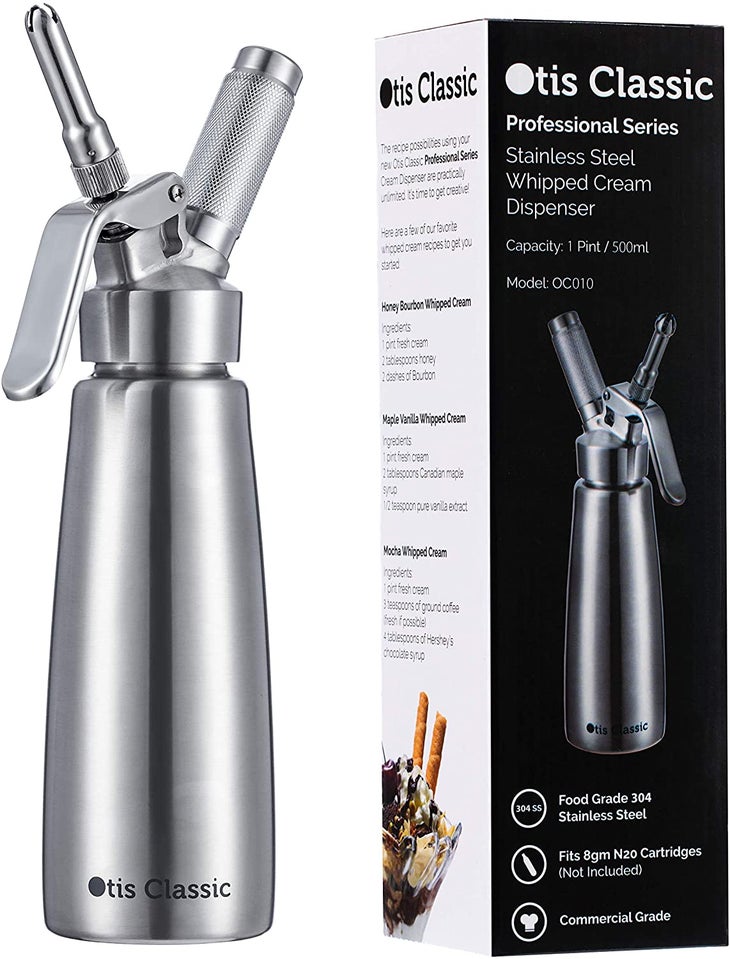 Otis Classic Commercial Grade Stainless Steel. With a 100% stainless steel body, head and lever, this whipped cream dispenser is built for the food service industry and is the kind you'd see used in professional kitchens, but is equally suited for the home chef and everyday use.
What We Liked
There are zero plastic parts on this professional, commercial-grade whipped cream dispenser from Otis Classic made of 304/18-8 food grade stainless steel. Designed to last a lifetime, this dispenser creates quality whipped cream like you'd find at your favorite coffee shop or restaurant. It comes with three styles of decorating tips, allowing even the most amateur of home chefs and bakers to make art pieces out of their recipes. Order Yours Today.
Easiest to Clean
AmazeChef Whipped Cream Dispenser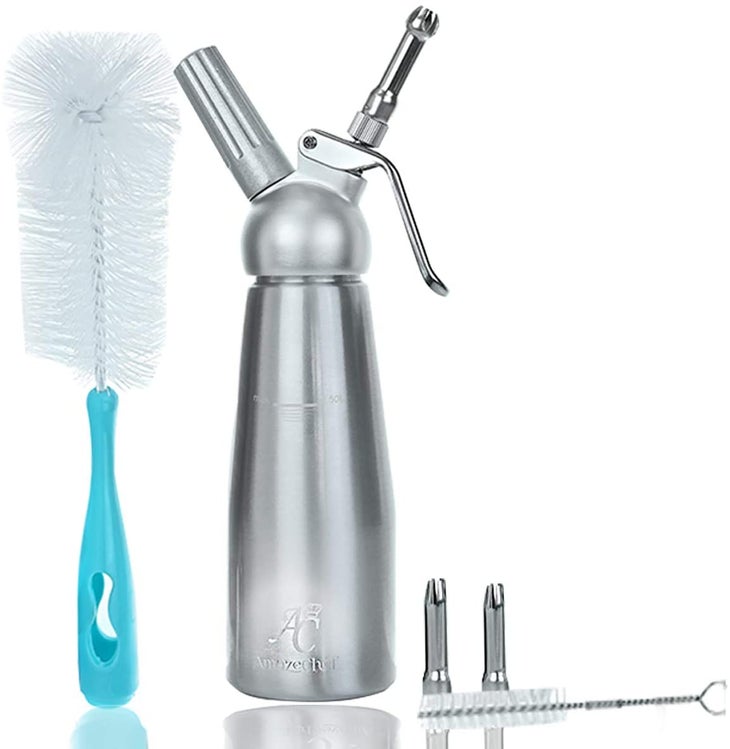 Amaze Chef Whipped Cream Fun. Great for keto-friendly and vegan creations and making beautifully decorated cupcakes, pastries and lattes, this stainless steel whipped cream dispenser from AmazeChef makes cooking and baking whimsical and fun and clean-up a breeze with two sizes of cleaning brushes.
What We Liked
Made entirely of sturdy aluminum steel, including three stainless steel decorative tips, this dispenser includes a standard cleaning brush and an additional extra large brush to scrub the interior walls of the cannister. All it takes to clean this device is a little soap and rinse of hot water. If you want guaranteed fresh and fluffy homemade whipped cream for your next dessert, why not make it yourself with this easy to use–and even easier to clean–dispenser from AmazeChef? Backed by stellar customer service and a quick recipe guide right on the box, this is a must-have for home chefs looking to add a little extra flair to their next party. Buy Here.