Best Dried Apricots
Dried apricots are one of the healthiest snacks that you could possibly have. They are extremely high in antioxidants, and they're packed with fiber. They are also a great source of vitamins C and E. They contain lutein and beta carotene, and they protect your eyes from damage. They also promote regularity. What's more, they are extremely portable. You can stick some in a resealable bag, or you can make a yummy trail mix with apricots, nuts, chocolate, and other fruits that you like. Both kids and adults enjoy them. When you're trying to find the brand you like most, you're probably going to want the ones that stay plump and succulent, rather than ones that are dried-out and tough. Most parents also want the ones that don't have any sugar added. Check out our favorites below.
Heading out the door? Read this article on the new Outside+ app available now on iOS devices for members! Download the app.
Editor's Choice
Traina Home Grown California Sun Dried Fancy Ruby Royal Apricots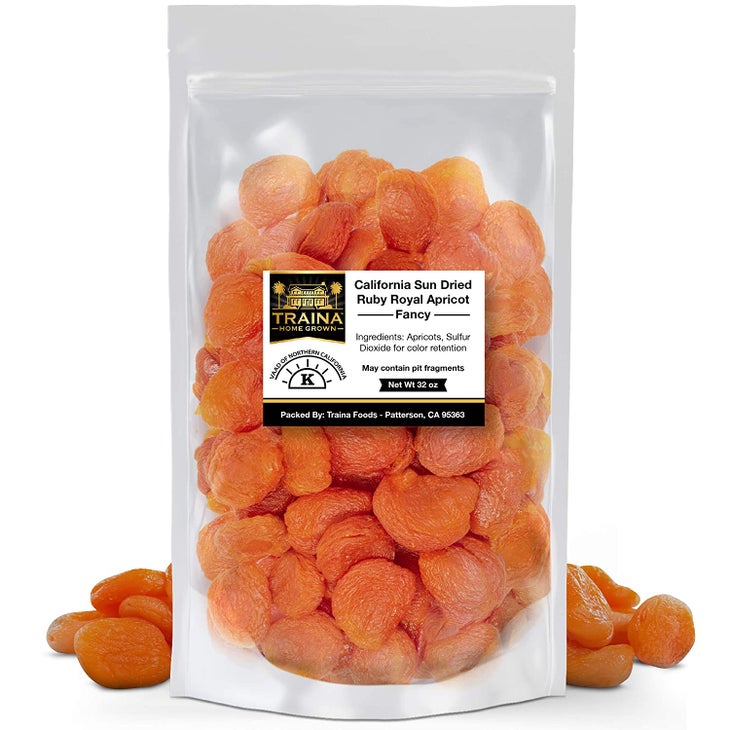 Delicious Dried Apricots. These sun-dried California apricots have a vibrant color, and they provide a tangy burst of flavor in every bite.
What We Liked
This is a two-pound, resealable bag of high-quality dried apricots. With fruit, there is a difference between being dried and being dried-out. You want a company that knows how to retain the flavor and texture of the fruit, or else eating them will seem like a chore. Traina is able to accomplish this. Their apricots are plump and juicy, and they have a marvelous texture and flavor. They are sweet enough to be enjoyed with no excess sugar, and they are free of GMOs and gluten. If you're going out and you need a pick-me-up as you hike or camp, these will do the job nicely. If you're staying home, put them on cereal, yogurt, or make them part of a salad. Get Yours Today.
Largest Pieces
Jumbo Dried Apricots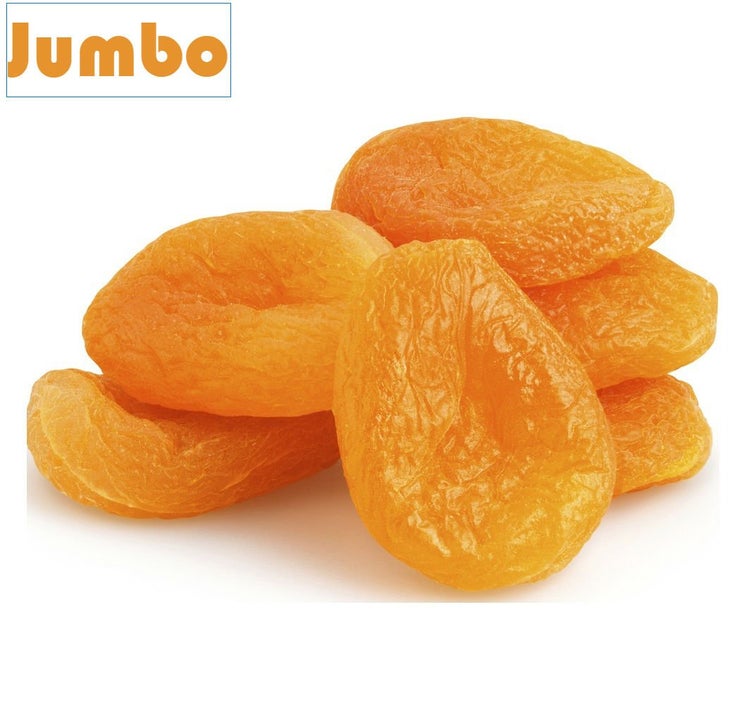 Huge Apricots in a Resealable Bag. This is a one-pound bag of extra-large apricots that have all kinds of uses if you're creative about your meals and snacks.
What We Liked
The packaging of this one-pound bag of apricots can be resealed easily to keep the dried fruit fresh for several days after the initial opening. Each piece of fruit is also enormous, larger than the standard dried varieties. This is a vegan snack that is free of GMOs and gluten. They are rich in fiber, iron, potassium, Vitamin A, and magnesium. They have no sugar or food coloring added. They're great on cereal, in salads, as part of a trail mix, or you can even use them as an ingredient in homemade energy bars. Pack them in a lunch, or snack on them after a workout. Purchase Online.
Smallest Pieces
Anna and Sarah Dried Turkish Apricots in Resalable Bag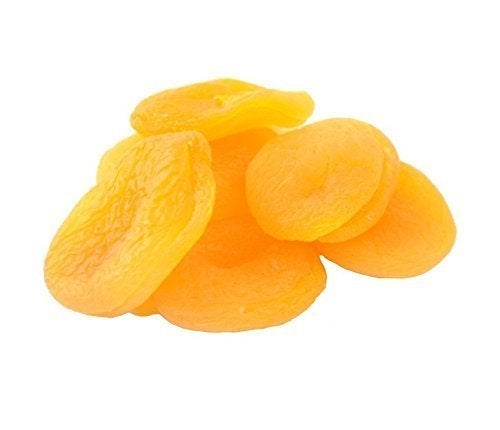 Small, Sweet Dried Apricots. These succulent dried apricots have many uses, as you can incorporate them into your meals and snacks.
What We Liked
Anna and Sarah Dried Turkish Apricots are a little smaller than some other varieties, and they have a sweet, tangy flavor. You get two pounds in a single, resealable bag. They are rich in minerals and vitamins, particularly magnesium, potassium, iron, and Vitamin A. They have plenty of fiber, too. If you live in a hot, humid environment, then you should put them in the fridge once the bag has been opened so they will last longer. You can use these apricots for so many things. They're great in a salad, trail mix, as part of school lunches for the kids, or as a mid-afternoon snack if you're trying to be healthy. Click Here to Buy.
Runner Up
Mariani – Ultimate Apricots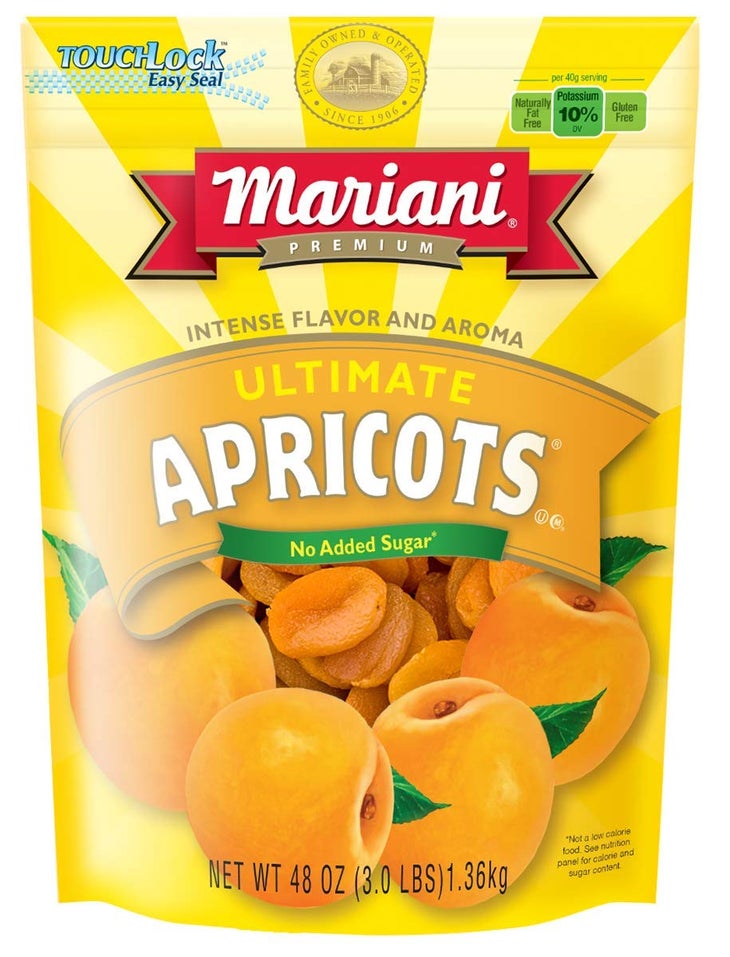 Intensely Sweet. You'll love the tangy smell that fills your kitchen when you open this bag of Mediterranean-style apricots. The flavor is bold as well!
What We Liked
From Mariana, there are billed as "Ultimate Apricots," and it's hard to argue with that assessment. They are larger than many other varieties, and they emit a sweet, spicy odor as soon as you open the bag. You get 48 ounces of apricots in a resealable package, and they are a great source of Vitamin E and potassium. They have no sugar added, and each serving gives you 8 percent of your daily recommended amount of fiber. They are naturally low in sodium, and contain no trans fats. You can take them with you when you go biking, hiking, camping, or exploring your neighborhood. Order Now.