The Best Dried Coconut Snacks
Called the "tree of life" by the many cultures, the coconut palm provides both sustenance and shelter to communities around the world. While we once thought of the coconut as a fuzzy, hard food that was lacking in taste, over time we've discovered many delicious and nutritious ways to prepare this popular nutriment. Known for being a rich source of dietary fiber and for naturally enhancing the flavors of other foods, coconut chips are a healthier alternative to sugary snacks for many reasons. Of the many brands that sell coconut today, we've selected four different varieties as our top picks. Check them out below!
Heading out the door? Read this article on the new Outside+ app available now on iOS devices for members! Download the app.
Top Pick
Dang Keto Toasted Coconut Chips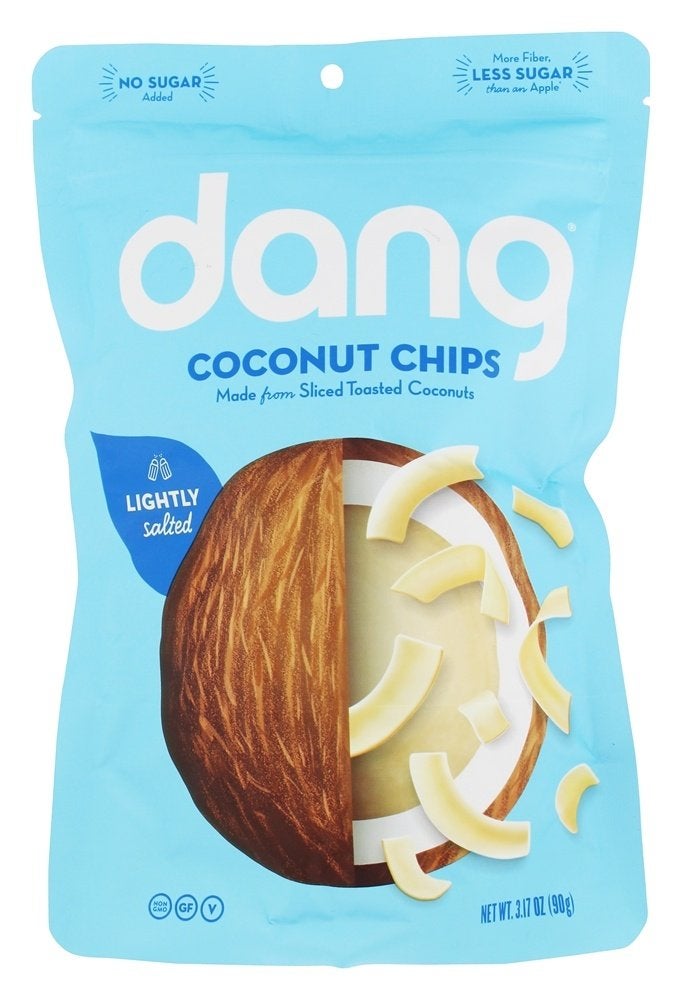 Best Variety You'll Find. Coconut chips may sound bland, but with six different flavors ranging from lightly salted to caramel sea salt, DANG makes the ordinary coconut chip something we can all enjoy.
What We Liked
If plain coconut chips just aren't your thing, there's a good chance DANG makes a flavor that'll hit you in the taste buds. Made from five preservative-free and Certified B Corp ingredients, these chips contain 50 percent less sugar than apple chips. But they're just as enticing! With six different flavors or a variety pack to sample them all, options abound as you incorporate this healthy snack into your daily grazing routine. Order Online.
Honorable Mention
Philippine Brand Dried Young Coconut Snacks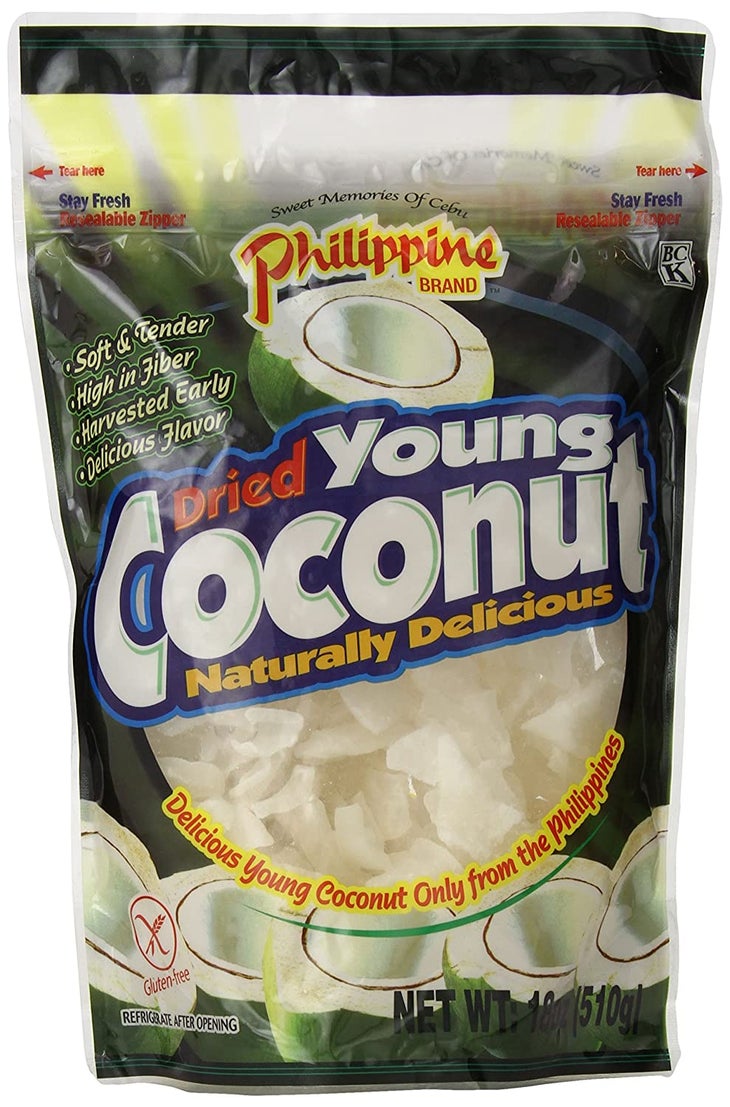 Best for Something Sweet. Dried coconut snacks from Philippine Brand use a little added sugar to make this a rather sweet snack.
What We Liked
Of the many ways we can give dried coconut chips a little extra kick, adding some sugar is one way to make them taste like a pretty sweet deal. Made by the Philippine's largest dried food producer, these coconut chips have made their way to satisfied shoppers in Asia, Europe, Canada, and the U.S. While these coconut chips receive plenty of applause for their texture and taste, we also applaud them for being a sweet yet still healthy option on the market! Purchase Yours Today.
Best Classic Flavor
Next Organics Dried Coconut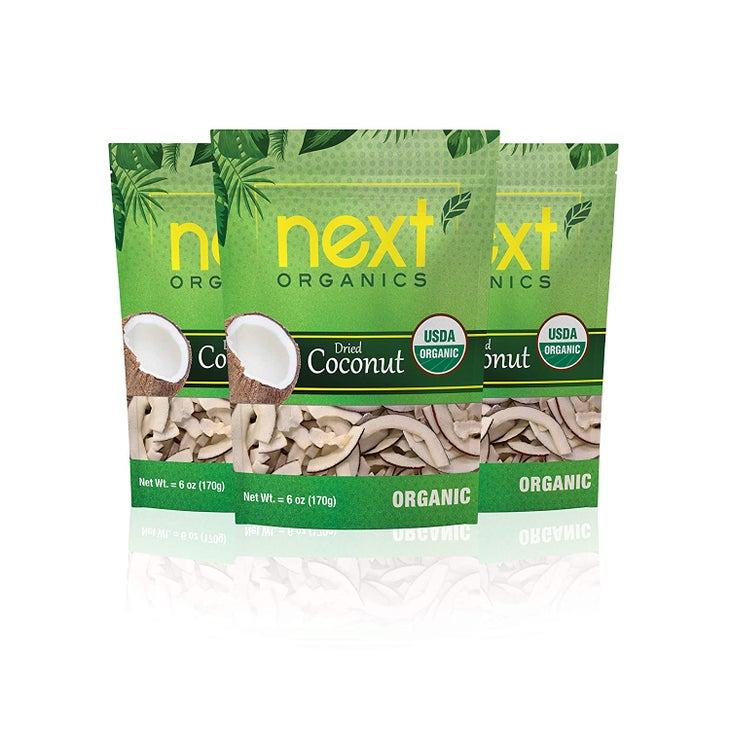 The No-Frills Coconut Chip. Sometimes we just want a coconut chip without all the glitz and glamor. This is the original coconut chip. It's pure flavor you'll love.
What We Liked
Next Organics' dried coconut chips are the quintessential snack that coconut chips have always been. Made from USDA certified organic dried coconut, these chips come straight from nature and are dried with no preservatives or additives. Available in packs of three or six, these 6-ounce bags of dried coconut make for a healthy, fibrous snack no matter the time of day. Get It Here.

Best for Baking
Sincerely Nuts Coconut Chips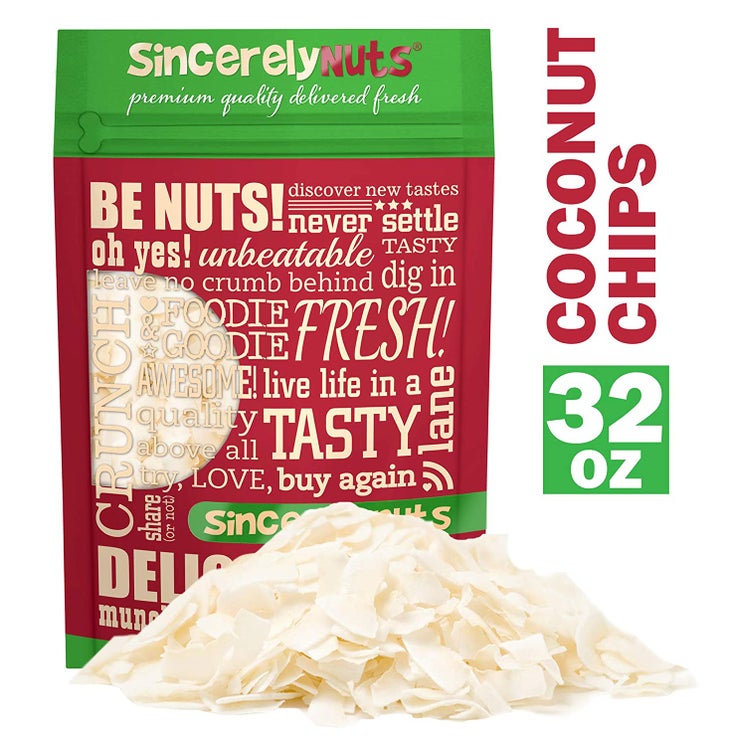 Ready to Bake (and Munch) Better? Chopped into finer chips that also serve as baking chips, Sincerely Nuts places emphasis on the versatility of this popular snack.
What We Liked
Coconut chips are a multipurpose food. While it's true we can bake them into large chip sizes and serve them as a tasty nibble, we can also cut them into flakes that take them beyond the snack bowl. These raw, vegan, low carb chips come in 1- to 3-pound bags so you can enjoy them as you snack and cook throughout the day. Throw them in your cereal for some extra crunch and flavor, or sprinkle them into your favorite desserts to add a hint of healthy coconut. If you're looking for a coconut chip that works wonders throughout the kitchen, look no further. Buy Now.