The Best Mincers
To mince ingredient in the kitchen means to chop them up, either finely or coarsely. It is something that is most often done with vegetables, herbs, or sometimes fruits or other ingredients. There are some varieties of mincers that are used for things like tenderizing meat or cutting noodles. They come in all kinds of different styles. Some of them are manually operated, while others are electric. Some have very simple designs, while others are considerably more complex. When you're trying to figure out which mincer best fits your needs, you should think about the kinds of recipes that you normally make. Certain mincers do better with particular tasks. As you're shopping amongst the ones that are available, pay particular attention to the descriptions to see what each of them can do. You'll also want one that is quality, as well as tried-and-true. That's where we come in. Keep reading to see a few of our favorites out there.
Photo: Getty Images/iStockphoto
Heading out the door? Read this article on the new Outside+ app available now on iOS devices for members! Download the app.
Best for Herbs
HIC Harold Import Co. 5618 HIC's Gourmet Rolling Fresh Herb and Multipurpose Kitchen Mincer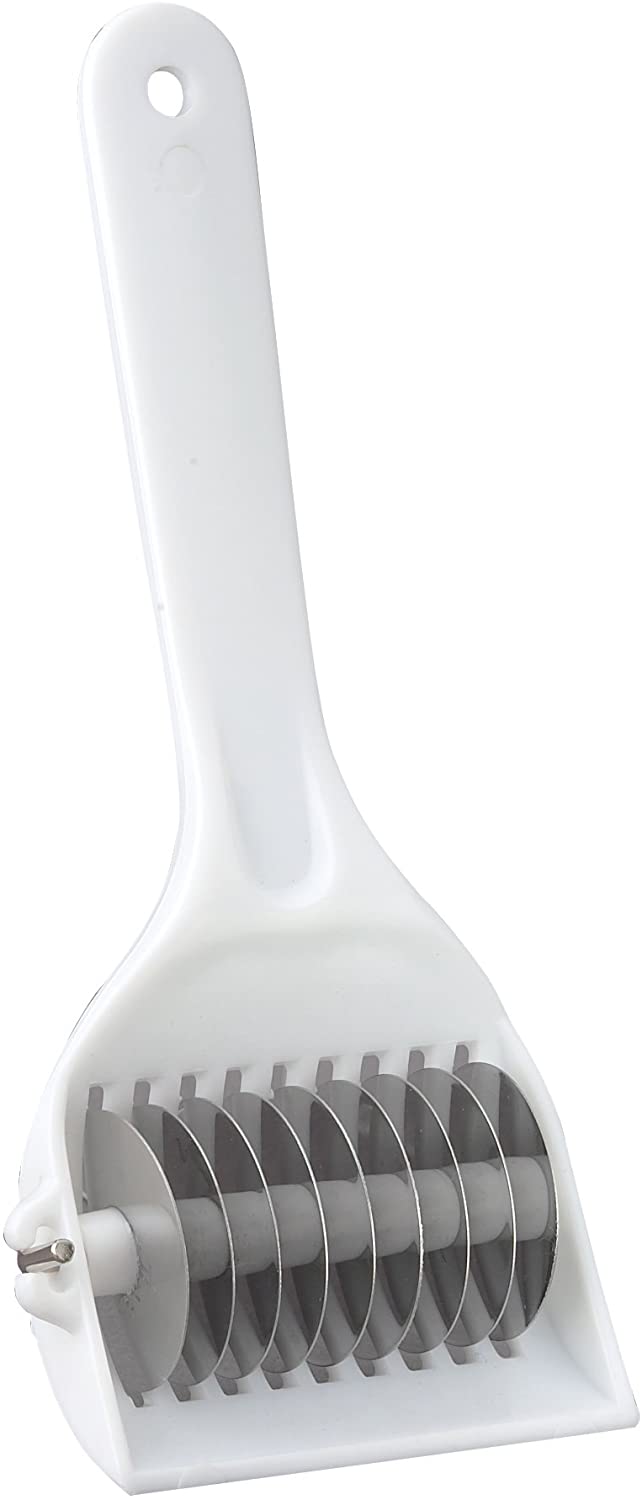 Small and Handy. The Harold Import Company brings you this compact mincer that works great for herbs, greens, and fruits.
What We Liked
This mincer works well for the mincing of garlic and herbs. If you are cooking an elaborate fish or meat dish, this is what you'll need to chop up the herbal ingredients coarsely so they can unleash a burst of flavor into your recipe. You can use it to tenderize fish and meat, to chop fruit and greens, or to cut homemade noodles into your choice of width. It comes equipped with nine stainless-steel blades that will stay sharp for repeated uses. The easy-grip handle is ergonomically-designed. It is dishwasher-safe for easy cleanup. You'll love using this tool when you're making stir-fry, salads, casseroles, soups, stews, or healthy snacks. Get it here.
Most Powerful
Ourokhome Vegetable Chopper Garlic Mincer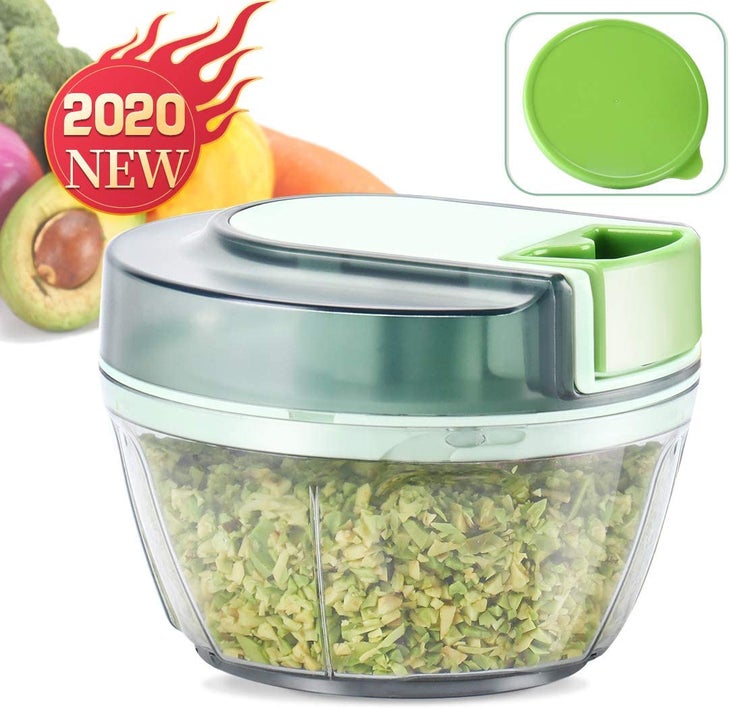 Mighty Vegetable Mincer. This vegetable mincer features extra-sharp stainless-steel blades that will not bend or rust. It's with you for the long haul!
What We Liked
This mincer is powerful and built to last. It is a manual food chopper that features stainless-steel blades that won't rust, bend, or break. It has an anti-skid base and a soft-grip lid, so your chopping can be done quickly and with minimum effort. It comes with a storage lid to keep all the ingredients in the container, and all the materials are free of BPAs. This is ideal for chopping onions or garlic. You can chop up tomatoes for salads or salsa, or use it in the preparation of humus or salad. It also works for fruits and veggies, boneless meat, or for preparing ingredients for chili. It is quiet, compact, and creates virtually no mess. Buy it now.
Best for Garlic
Kitchen Innovations Garlic-A-Peel Garlic Press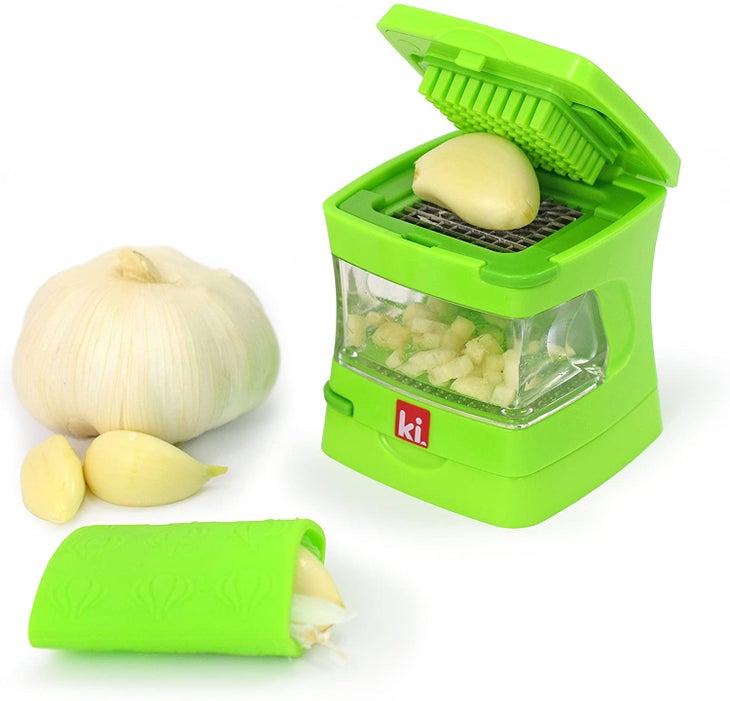 Your Go-To for So Many Dishes. This mincer is designed specifically for garlic, and allows you to peel, slice, and dice whole cloves with ease. Whether you're whipping up something Italian or Asian, or pulling together a little plate of comfort food, you can mince this signature ingredient hassle-free.
What We Liked
This is a mincer that was designed for garlic. Since so many recipes call for it, this should see a lot of use in your kitchen. This innovative tool has a silicone peeler and two interchangeable blades. You can get cube-shaped garlic with one blade, and the other creates longer, thinner garlic slices. The raised teeth of the clear container allow you to catch the garlic and grind it into paste if you would prefer that. The silicone peeler peels the garlic for you, leaving no odor on your hands. The smart-cleaning blades can be easily removed and washed by hand. All of the components are dishwasher-safe as well. The high-quality plastic parts are free of BPAs. Buy it here.
Best Design
3-in-1 Herb Mincer-Roller Cutter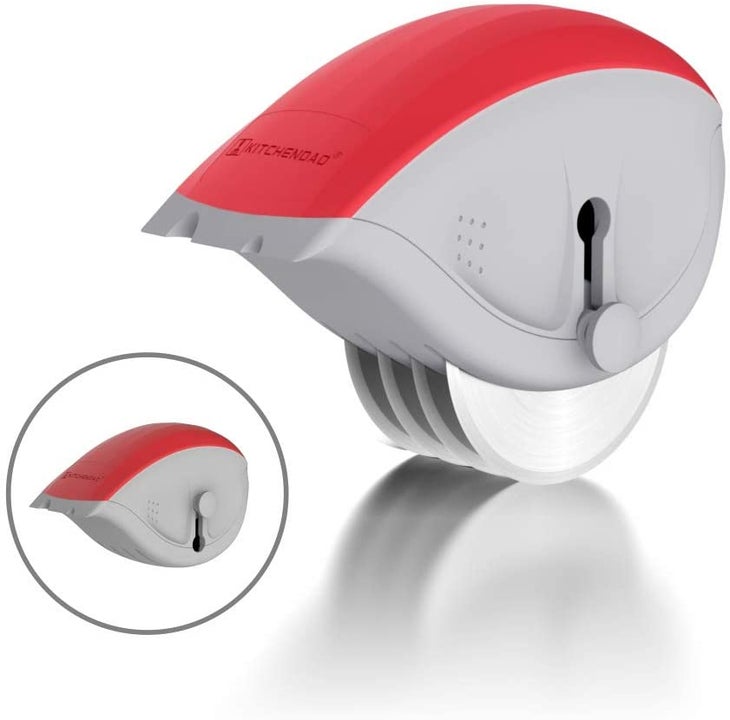 So Very Versatile. This device has three functions in one. It can work as an herb stripper and mincer, and it also has a scraper attachment.
What We Liked
This three-in-one tool allows you to strip and destem fresh herbs, such as thyme or rosemary. The four sharp blades mince quickly, without bruising the fresh herbs, saving you some prep time. The scraper then gathers the herbs together. If you are getting the garnish ready for a meat or fish dish, or preparing a marinade, this tool will come in handy. It has a palm-shaped design that fits snug in your hand. The soft-touch handle has a comfortable grip. It can be easily disassembled for cleaning, and it is dishwasher-safe. The blades also retract for safe storage, so you won't have to worry about cutting yourself when you reach for it in a drawer or on a shelf. Get it now.