Top Condiment Racks
Imagine it — you're cooking at home, you're in the zone, you're managing stirring and scooping and scraping multiple pots and pans on the stove. You need a particular spice. You go to your cabinet and all of your spices are in a disarray. You can't find what you need and you spend so much time digging around in your cabinets for it that whatever you're cooking ends up burnt or otherwise ruined. All of that trouble could be saved if you simply had a spice rack to organize all of your spices. However, don't go thinking all spice racks are the same. There are just about as many types of spice racks as there are spices themselves. Take a look at a few of our favorites below, and get cooking in a new and improved way!
Heading out the door? Read this article on the new Outside+ app available now on iOS devices for members! Download the app.
Most Decorative
Freestanding Countertop or Wall Mount 3-Tier Spice Rack Organizer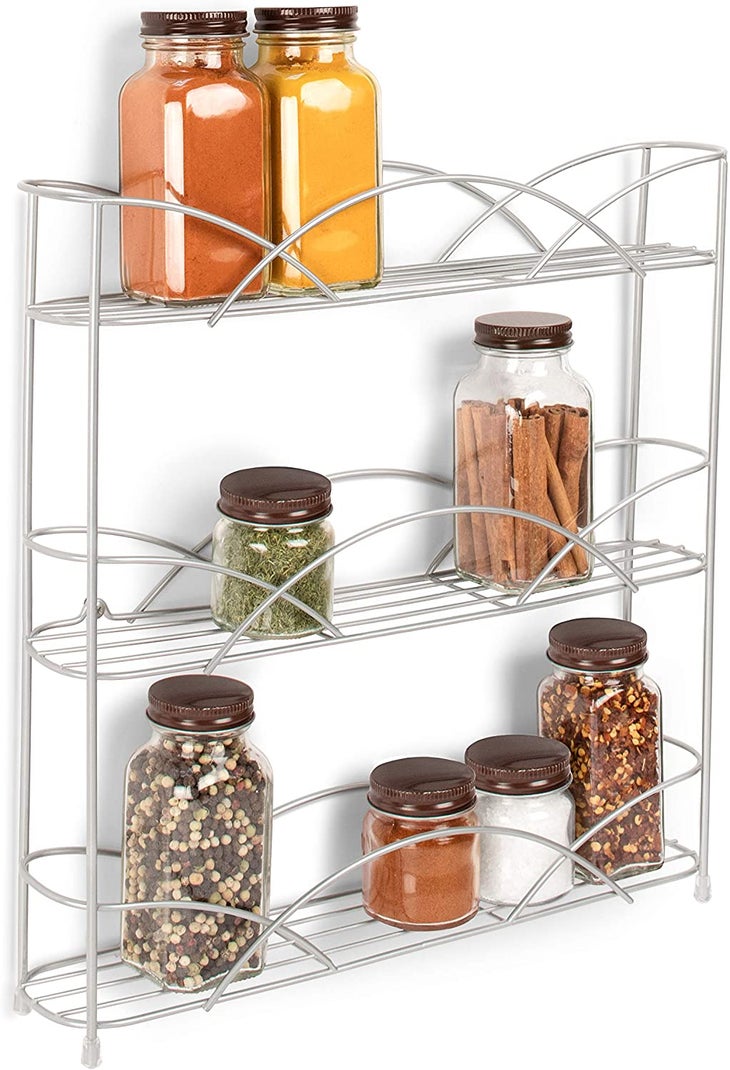 Fits Any Kitchen Decor
Roomy, stylish, streamlined — it doesn't get any better than spice storage that's not only functional but also stylish.
What We Liked
This freestanding spice rack is minimalistic and sleek, but also stylish enough with its silver decorative look. It'll fit with just about any kitchen design. It can hold not only spices, but also non-refrigerated condiments and anything else you might need to keep handy in the kitchen. Because it's designed for countertop use rather than cabinet use, it's ideal for those with little cabinet space to spare. Order Online.
Most Accessible
Clear Seasoning Rack Spice Pots by AIQI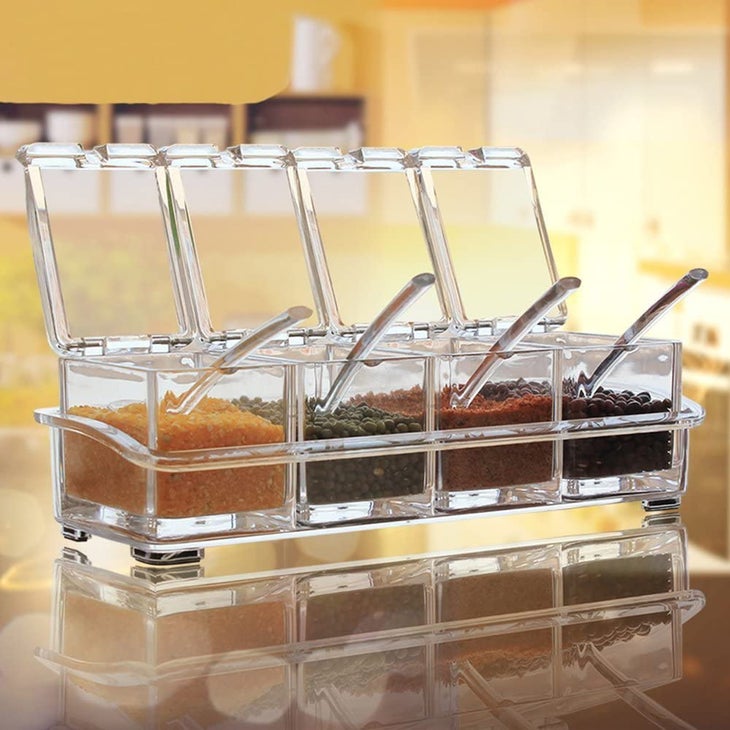 On Hand During Every Meal
Spices aren't only necessary in the kitchen; now you can keep your favorite seasonings handy at the dinner table, too.
What We Liked
A lot of individuals like to add spice, seasoning blends, and condiments to their food right at the dinner table when they're actually eating. But it's not very aesthetically appealing to keep a spice rack as your centerpiece. But now, you have these spice pots that are clear acrylic and very visually appealing, that you can set right in the middle of your table. Each one comes with a little spoon for easy measuring. Purchase Yours Today.
Best for Savvy Cooks
Kamenstein 5084920 Heritage 16-Jar Revolving Countertop Spice Rack Organizer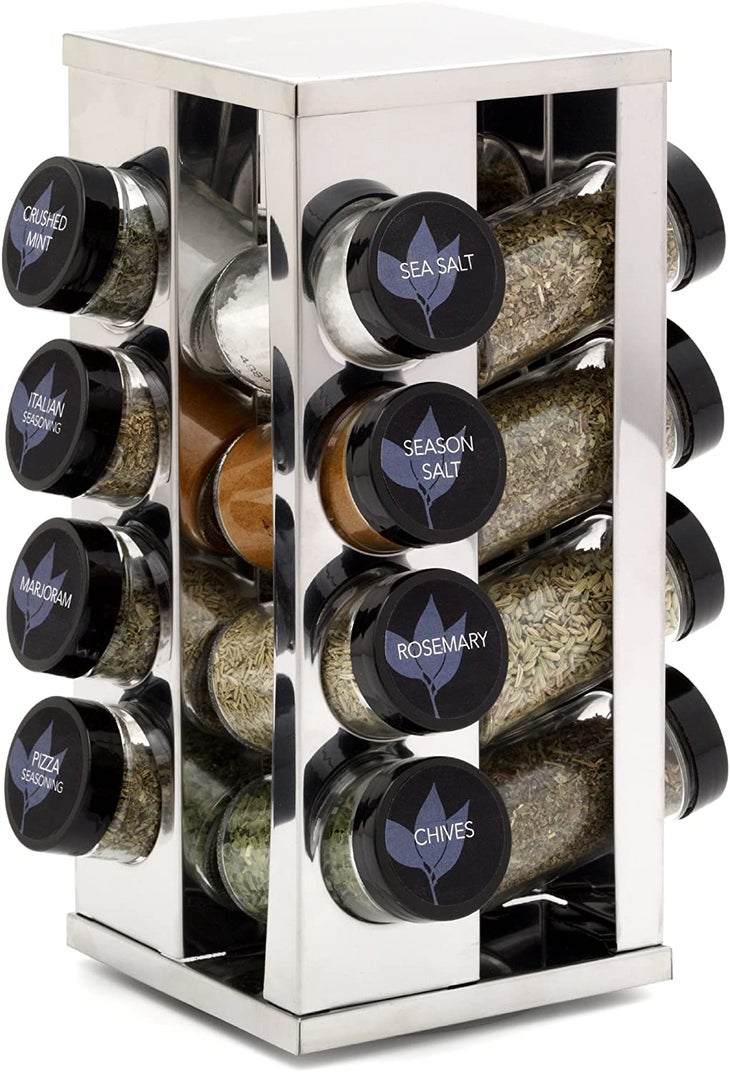 Everything You Need!
This spice organizer doesn't just come with the organizer; it also features an array of spices and then refills on all of those spices for up to five years!
What We Liked
If you're a frequent, daily cook, then you know how quickly you can go through spices. Stop spending unnecessary cash on seasonings! This countertop spice rack is not only easy to use but also boasts a sleek, silver design that's aesthetically appealing. Plus, it comes with free spice refills for five whole years. That's five years of never spending another dime on spices. Get It Here.
Best for In-Cabinet Use
Copco 2555-0189 Non-Skid 3-Tier Spice Pantry Kitchen Cabinet Organizer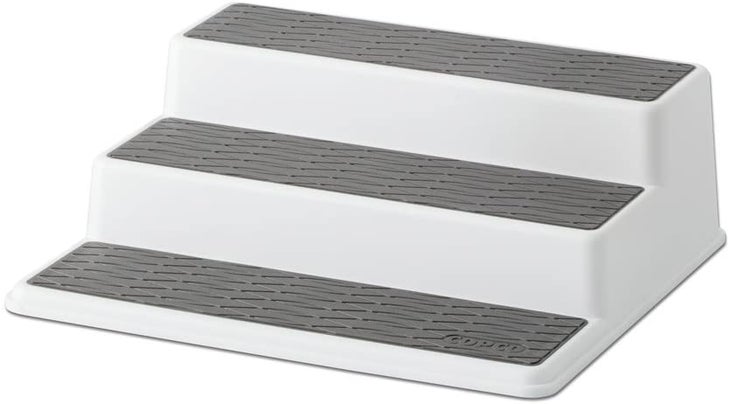 Keep Your Cabinets Organized
Find exactly what you're looking for, every time, for any culinary creation.
What We Liked
If you want to keep your spices securely stashed away in the cabinets, you can still add an extra layer of organization to your kitchen with this tiered spice organizer. It offers three shelves, each elevated over the other. You can open your cabinet and quickly see what you have and where it is. The durable plastic features a non-skid bottom to prevent any unfortunate spills. Buy Now.