Peek Inside These Celebrity Fridges!
We open the door to some clean celebrity fridges. Take a look at what's inside!
Heading out the door? Read this article on the new Outside+ app available now on iOS devices for members! Download the app.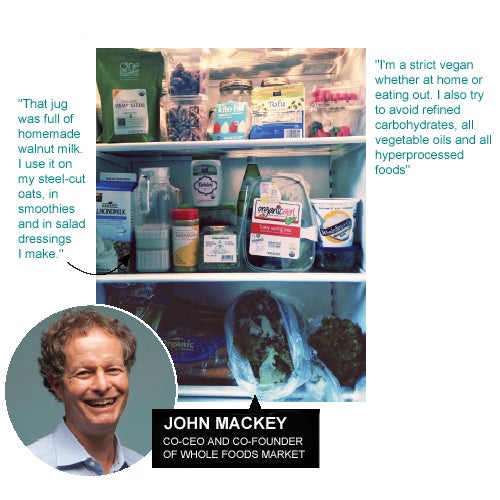 1. John Mackey
John Mackey co-founded Whole Foods Market in 1980 and is the current CO-CEO of the organic empire, which has more than 400 stores across the United States, The UK and Canada.
What foods should Americans eat more of?
Fresh vegetables of all kinds, especially greens such as kale, collards and spinach.
What's the employee discount at Whole Foods Market?
We have incentive discounts team members can earn based on how healthy they are. We measure team members' biometrics in four important areas: body mass index, blood pressure, cholesterol and whether one uses tobacco. Depending how they score they are eligible for four different levels: Bronze receives a 22% discount, Silver 25%, Gold 27% and Platinum 30%. I am very happy to be at the Platinum level.
Where do you hide the sweet treats?
No baked goods or desserts at all. We do use whole-grain crackers for when we make hummus, usually brown rice crackers with no oil. The best way to avoid eating junk food is not to buy any. If you buy it and bring it home, chances are very high that you will eat it.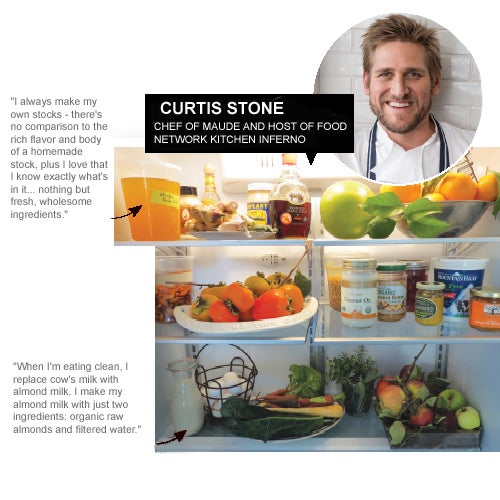 2. Curtis Stone
Chef and host of Food Network's Kitchen Inferno, Curtis Stone has appeared on numerous television shows across the globe and recently opened Maude, a restaurant in Los Angeles.
Your fridge items look carefully selected. What makes the cut?
I'm always reading the labels of purchased condiments, like jams, mustards and hot sauces. If it doesn't have a short list of ingredients with recognizable names, I don't buy it.
EVOO or butter?
I really prefer cooking with olive oil over butter, but when I use butter, I choose organic, grass-fed butter. Coconut oil is another great option – I love it in stir-fries.
Are those wheat berries tucked behind the coconut oil?
I look for easy ways to add whole grains to my diet. Wheat berries, pearl barley and brown rice are just a few of my favorites. You can usually find little jars of Bircher muesli in my fridge for a healthy on-the-go breakie.
We love your herb bucket!
I prefer fresh herbs and aromatics like garlic, ginger and lemongrass (over the dried stuff) – they not only pack a ton of flavor, but also nutrients.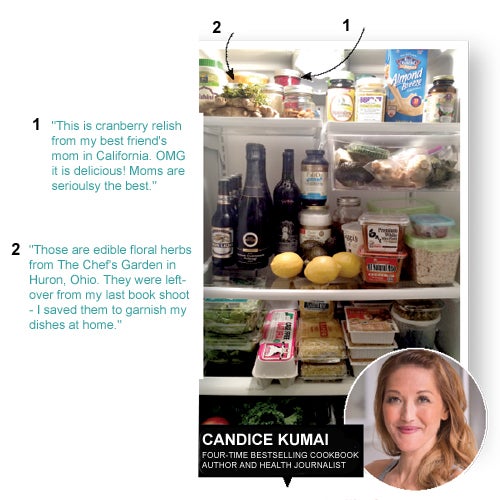 3. Candice Kumai
Chef, health journalist and TV Personality, Candice Kumai has authored four cookbooks including Cook Yourself Thin and Clean Green Drinks.
Take us through the libations…
We love our red vino and sparkling! I'm a fan of Kim Crawford and Silver Oak wines. Kim Crawford makes some of the best white wines and "fizz" – pictured here is a nice bottle of 2009 Marlborough sparkling! I usually only drink wine with meals but sparkling is my weakness. Kirin Ichiban is a clean and pure Japanese beer my Japanese grandfather (Jiichan) used to drink. It's a tradition to have it in our fridge. Kanpai!
You said your fridge is very Japanese. How so?
I was raised by a beautiful Japanese mother who could cook like nobody else! She is the reason I got into cooking. Everything from wakame, arame (seaweed) to Marukome miso paste. We eat a lot of delicious tofu! I usually make everything from okonomiyak (Japanese savory pancakes) to miso soup, edamame tofu barley bowls, fresh ramen and my mom's Japanese Fried Chicken.
What type of diet do you follow?
No diets allowed here! I follow my "Clean Green" life, which just means eating real and clean 95% of the time. Though every now and then after surfing all day we'll go to In-N-Out.
4. Luca Manfé
Luca Manfé is the Season 4 winner of MasterChef, the author of My Italian Kitchen and founder of Dinner with Luca. 
I take it you're a fan of eggs and dairy?
We love eggs in the morning and milk at any hour of the day. We buy raw milk and eggs from a farm in Jersey. It's the milk people used to drink a long time ago – unpasteurized. It brought me back the pleasure of drinking milk. I cannot drink store-bought milk anymore.
What's the most popular dish in your Dinner with Luca series?
For sure the balsamic-braised beef short ribs that I served to the judges in the MasterChef finale. I serve them with a purée of sunchokes, chanterelle mushrooms and watercress.
Will this feature inspire a cleanup?
My fridge is constantly a mess, but an organized mess because I know where everything is and how much of it I have. When I get a few days off, I always take everything out.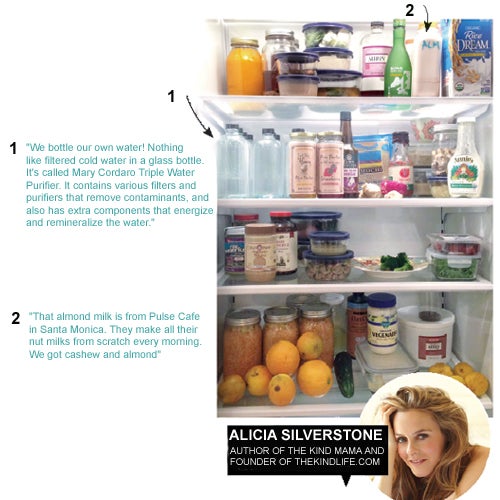 5. Alicia Silverstone
Alicia Silverstone fist won our hearts in the cult classic, Clueless, almost 20 years ago. Since then, this PETA ambassador has reinvented herself as a vegan cooking and lifestyle guru on her website thekindlife.com. She's the author of The Kind Diet and The Kind Mama.
Favorite homemade meal that reappears often?
We almost always make brown rice and greens. My husband makes the best sautéed greens with fried garlic. In the summer I make killer salads with great dressings. And I always love to throw together soups. Breakfast features some other favorites such as almond butter, steel-cut oatmeal, mochi waffles, pancakes and greens on the side like bok choy, kale, collards or watercress.
How many nights a week do you cook?
Almost every day… when I'm shooting a film or work is too crazy we have food delivered by a macrobiotic chef. But even if things are busy we're still cooking something daily!
What's in the green bottle (top shelf?)
I am not a big drinker, but if I'm feeling a little frisky I'll go for a healthier option like organic sake. That's what's in the green bottle. It can take me weeks to get through that bottle!