Hot-Off-The-Press Book Review: Plant-Based for Tired People
Feeling low-energy? You aren't alone. And you may be pleased to learn that the solution could be found in plants, according to a new book: Plant-Based for Tired People by Rachel Morris. Read on for our thoughts (plus an exclusive recipe from the author!)
Heading out the door? Read this article on the new Outside+ app available now on iOS devices for members! Download the app.
Clean eaters identify with many diet styles – mainstream, flexitarian, vegetarian, etc. – but the one thing we all have in common is our penchant for plants. This sentiment is echoed in health editor and writer Rachel Morris' latest book. Plant-Based for Tired People.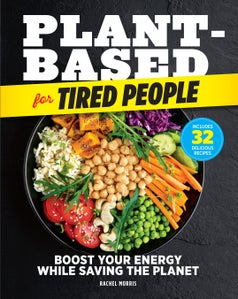 A veritable field guide for the beginner plant-based eater, this near-200-page tome provides an overview of everything the fledgling flexitarian, vegetarian or vegan, or just someone looking to up their veg intake, may want to know going in. The book makes the case for getting carbohydrates – the body's primary source of energy – from naturally complex-carb-rich plant sources. Similar to CE's approach to plant-forward eating, the author explains in the book, "For optimal energy, complex carbs like beans, whole grains, sweet potatoes and quinoa should be your first choice." 
200 pages of information is broken down into easy-to-read columns and bite-sized morsels of info, interspersed with eye-catching food photography. Nutrition can get complicated quickly, so it's nice to pick up a dietary wellness book and actually understand what's going on from beginning to end. 
The book is broken into four chapters:
The Power of Plants: An overview of eating plant-based, such as the diet's history, its health benefits and how it benefits the planet.
Making the Switch: Advice to make going plant-based easier, such as easing in, kitchen essentials for painless prep, a grocery list of must-haves and plant sources of the three macronutrients (proteins, carbs and fats).
Smart Living: Smart ingredient swaps, bulk cooking, effective storage, innovation in the plant-based market and more.
Energizing Recipes: 32 vibrant recipes for breakfast, lunch and dinner. Check out our favorite below.
From cover to cover, Plant-Based for Tired People is full of pertinent information for anyone wanting to give the lifestyle a go. Gauging by the book's title, we had hoped for a deeper dive into the energy and focus benefits of a plant-forward diet, with specific brain-and body-boosting food lists and a deeper look at the studies behind them. But as a jumping off point for the plant-based eater, this book definitely addresses two need-to-know topics: namely, why and how to eat more plants. Check out our favorite recipe from the book:
Whole-Wheat Pasta With Olives, Roasted Cherry Tomatoes & Ricotta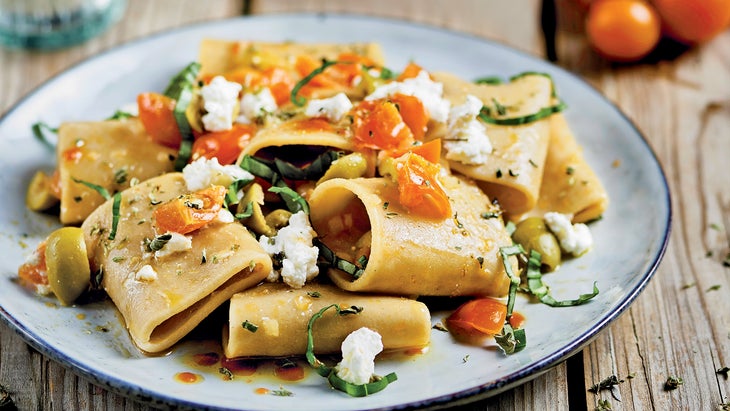 Ingredients
25 to 30 cherry tomatoes
Olive oil
Sea salt, to taste
1 tsp each dried basil and oregano
1 lb whole-wheat rigatoni
½ cup fresh ricotta
1½ tsp fresh basil, chiffonade
⅓ cup grated Parmigiano-Reggiano
1 cup green olives, pitted and halved
Preparation
Preheat oven to 350°F. Cut tomatoes in half and place on a cookie sheet lined with parchment paper. Drizzle with oil and sprinkle with salt, basil and oregano. Roast for 15 minutes.

Meanwhile, cook rigatoni in boiling salted water according to package directions. In a medium bowl, mix ricotta, basil and Parmigiano-Reggiano.

Chop tomatoes coarsely. When pasta is done, drain; top with tomatoes, cheese-basil mixture and olives. Drizzle with olive oil and toss to coat.