Help Shape the Future of Clean Eating!
Every year, your thoughtful, passionate feedback helps to shape Clean Eating. Help us give you more of what you want by voicing your valued opinion. As a thank-you, we're giving away our favorite kitchen appliances of the moment, hand-picked just for you.
Heading out the door? Read this article on the new Outside+ app available now on iOS devices for members! Download the app.
I've never been a fan of speculative decision-making. Unfounded "facts" about what readers like, don't like or would like to see in the future have never sat well with me unless I had cold hard data to back them up. Could you imagine if I revamped your favorite magazine based on my favorite (or least favorite) colors and fonts and all the curry- and spice-filled recipes that I enjoy to no foreseeable end? Then, likely, I'd be the only person reading it!
Which is why I am recruiting your insight. I am thrilled to announce that Clean Eating is soon getting a facelift that transcends cosmetics. We are reimagining and upgrading the look and feel, improving the reader experience and stepping up the quality of our storytelling. To that end, we'll be paring back on topics that are no longer pertinent to you and expanding topics that better address your life in 2016.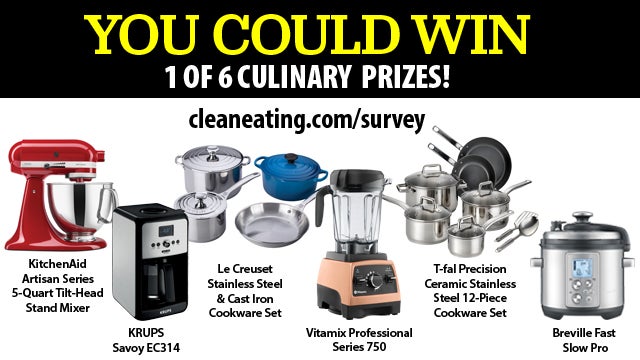 But before any major changes, first must come research – and a lot of it – and that research relies heavily on you. Please visit cleaneating.com/readersurvey and spend 15 to 20 minutes voicing your passionate opinions. Tell us which new logo you like best, which tagline speaks to your clean-eating soul and how you want your recipes laid out for easier cooking plus much, much more! In exchange for your time and thoughts, we are offering a gaggle of killer kitchen prizes, $250 Visa gift cards and 25 free one-year subscriptions. I can't wait to pore over all your feedback and use it to refine your #1 healthy-cooking resource.
Thanks for being an honorary part of our team!
Alicia Tyler
Editor-in-Chief