Know Your Beef Cuts
Chef Jo's guide ensures that you know exactly how to handle your beef, no matter which cut you choose!
Heading out the door? Read this article on the new Outside+ app available now on iOS devices for members! Download the app.
The key to cooking beef perfectly – and saving money at the butcher – is knowing your cuts of beef. The section of cow that your beef comes from drastically affects its flavor, texture and cook method, so as a home cook, it's important to know your cuts. This can also help you save money, as you can easily turn inexpensive, tougher cuts of beef into melt-in-your-mouth meat by using the right cooking method.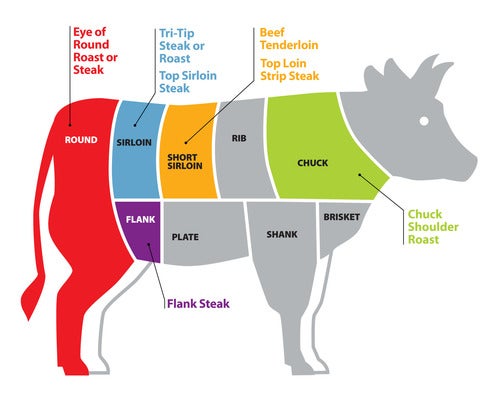 Here's a rundown of cuts and how best to cook each:
Flank Steak (aka London Broil)
– Tough but flavorful and inexpensive
– Braise, or marinate before broiling, grilling or searing
– Be wary of overcooking; best cooked to medium or medium-rare
Eye of Round Roast or Steak
– Tough, inexpensive cut
– Great for stews or braising in slow and low heat
– If grilling or searing steak, marinate or tenderize before cooking
Tri-Tip Steak or Roast
– Lots of flavor for minimal cost
– Best marinated and broiled, grilled or seared to medium or medium-rare doneness
Top Sirloin Steak
– Tender, more expensive cut
– Broil, grill, sear or stir-fry
Chuck Shoulder Roast
– Very tough, inexpensive cut
– Braise in slow and low heat (your slow cooker is best!)
– Acidity will help tenderize, so add a touch of red wine to braising liquid
Beef Tenderloin
– Most tender, expensive cut
– Sear whole tenderloin and finish cooking in oven, or slice into steaks for filet mignon
Top Loin Strip Steak (aka NY Strip)
– Tender, more expensive steak
– Great balance of texture and flavor
– No need to marinate; simply season and broil, grill or sear