Autumn Produce Guide
Here's a rundown of the best ways to choose and store our end-of-summer picks. Plus, a few more easy ideas to enjoy them deliciously!
Heading out the door? Read this article on the new Outside+ app available now on iOS devices for members! Download the app.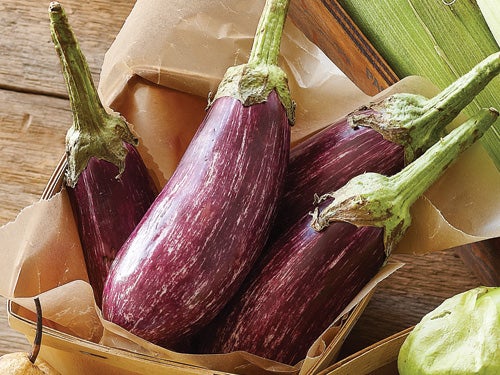 1. Eggplant
The eggplant is native to southern India, where it is frequently used in vegetarian soups and curries. Called "aubergine" in France and much of Europe, the vegetable got its English name because the first cultivated plants bore round, whitish fruit that resembled eggs. The large purple variety you're probably familiar with is known as Italian eggplant, while the smaller, slender Japanese eggplant makes for a good substitute in most recipes.
SELECT: Small- to medium-sized and symmetrical with smooth, taut skin and no bruising. Feeling heavy for its size indicates moist, tender flesh.
STORE: In a plastic bag in refrigerator crisper drawer for five to seven days; eat as soon as possible.
EAT: Slice and grill along with bell peppers and zucchini, then drizzle with balsamic vinegar and stack on whole-grain Ciabatta rolls with spinach and provolone cheese to make veggie sandwiches.
TRY: Eggplant & Sausage Linguine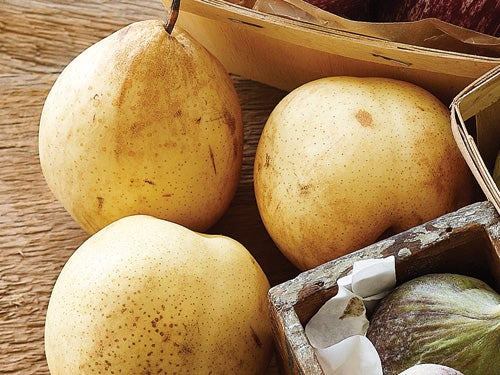 2. Asian Pears
The most popular variety of Asian pear available in the US is the Japanese Nijisseki, although Asian pears are also grown in China and Korea. The ones you're likely to find most often in supermarkets hail from California and Chile. More like an apple than a pear, this juicy, crisp fruit remains firm when ripe.
SELECT: Very firm, round fruit with a few to no brown spots; slight fragrance indicates sweetness.
STORE: At room temperature for up to one week; refrigerate for several weeks. May be eaten immediately due to tree ripening, but keep well.
EAT: Crisp slices on a steak or in a blue cheese salad or chicken sandwich. Chop and spritz with lemon juice to prevent discoloration and add to fruit salads.
TRY: Pork Burgers with Asian Pear Slaw & Gorgonzola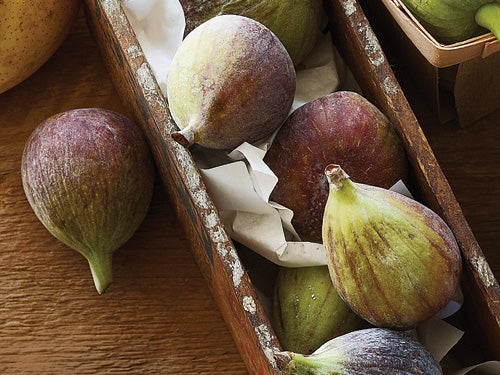 3. Black Mission Figs
Black mission figs are so named because the Spanish clergy, who established religious settlements called "missions," planted fig trees along the California coast. Most of the figs sold in the US are still grown in California. Other common types, such as brown Turkey figs and Calimyrnas and Kadotas, may be used interchangeably in many recipes.
SELECT: From slightly soft to soft fruit with smooth, unblemished skin. Firm figs get sweeter when cooked; very soft ones (you may even see syrupy juice leaking out) should be eaten immediately.
STORE: In refrigerator for up to two days; bring to room temperature before serving. Since figs ripen fully on the tree, they should be eaten as soon as possible.
EAT: Sweet figs with firm, salty cheeses such as feta, asiago and blue cheese, whether in a salad, on pizza or as a snack.
TRY: Arugula Pesto Pasta with Roasted Figs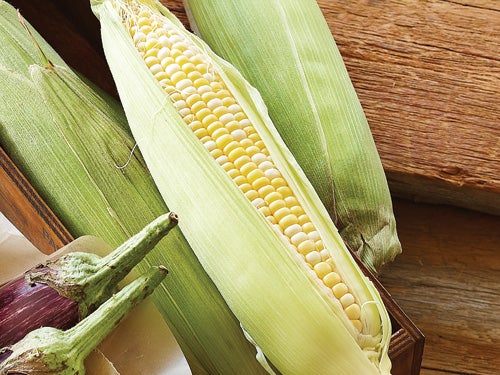 4. Corn
Corn bursts with natural sweetness. If you purchase corn in season, you'll not only enjoy the best possible flavor of the year, but the kernels will be so crisp and tender that you'll want to cut them directly from the cob and add them to salads or salsas raw. You can quickly brown your corn under the broiler to add a smoky element to a dish's flavor profile.
SELECT: Ears with tight, green husks and compact rows of plump kernels that become smaller towards the tip (peel back husks to check).
STORE: In refrigerator for up to two days; eat as soon as possible, since the natural sugars are converted to starch over time, causing sweetness to diminish.
EAT: In a clean Cobb salad (grilled chicken, hardboiled egg, tomatoes, aged cheddar, romaine lettuce and vinaigrette), or in a frittata with asparagus and goat cheese.
TRY: Chilled Corn Soup with Shrimp, Avocado and Tomato Relish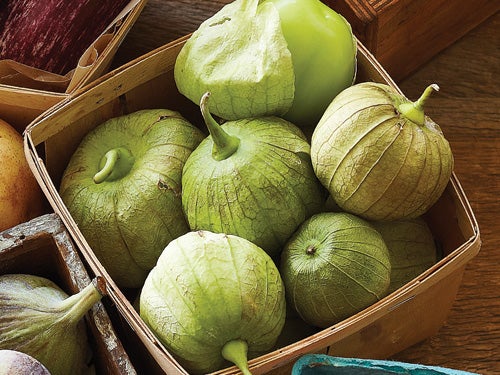 5. Tomatillos
Tart, green tomatillos are a key ingredient in Latin American sauces, such as the one in the below recipe. While delicious roasted, they may also be eaten raw or added to soups.
SELECT: Tomatillos with fresh-looking husks that are tight and intact and firm, with bruise-free skin. May have a sticky coating from the husk.
STORE: In a paper bag in refrigerator for up to two weeks. Just before using, remove husks and wash thoroughly to remove film left by husk.
EAT: Chopped and used to replace tomatoes in any homemade salsa. Simmered in chicken, corn and lime soup until slightly tender.
TRY: Striped Bass with Roasted Tomatillo Sauce & Tomato-Scallion Quinoa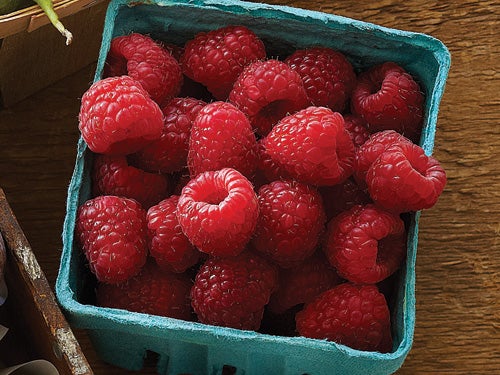 6. Raspberries
Each of the tiny globules that make up a single raspberry contains its own seed. This means the raspberry is an "aggregate," made up of many tiny, individual fruits. In the United States, these ruby-red (you may also spot white raspberries) fruits are grown mostly in California, Washington and Oregon and are part of the same botanical family as the rose.
SELECT: Dry, well formed fruit in containers with no wetness or juice stains, which may indicate crushed berries.
STORE: In refrigerator for two to three days. Wash just before serving to minimize moisture, which leads to spoilage. Will not ripen after picking, so eat as soon as possible.
EAT: Swap them for blueberries in your favorite muffin or pancake recipe.
TRY: Chocolate Raspberry Macaroon Tart.