Benefits of a Keto Diet
Keto diet veteran Maria Emmerich gives us her take on the benefits of a ketogenic diet and how easy it can be to cook keto meals at home.
Heading out the door? Read this article on the new Outside+ app available now on iOS devices for members! Download the app.
Do you want to learn more about the ketogenic diet? Register now to join best-selling author Maria Emmerich, the foremost authority on the keto diet and a wellness expert in nutrition and exercise physiology, for our newest 8-week clean online course Clean Keto for Weight Loss: The Ultimate Guide to a High-Fat Diet. 
Clean Eating: What motivated you to go keto?
Maria Emmerich: I struggled with my weight most of my life. I tried exactly what I was told to do – eating low fat and working out more and more. I even got to where I ran a marathon and still ended up gaining weight! I knew there had to be another way. I spent years researching all the latest science, and that led me to a ketogenic lifestyle and I have never looked back. I cured my irritable bowel syndrome (IBS), acid reflux and polycystic ovary syndrome (PCOS) and lost the extra pounds.
CE: How does the keto diet work to help the body shed weight?
ME: It helps by removing carbs and forcing the body to rely on fat for fuel. This sort of primes the body for using stored body fat for fuel. It also gets hormones under control, especially hunger hormones like leptin and grehlin. It works because it is a lifestyle, not a fad diet. People can stick with it because they feel so good, aren't hungry and don't have cravings anymore.
CE: Is intermittent fasting essential with a keto lifestyle?
ME: It is not essential. You can be fully ketogenic without any intermittent fasting. However, most people find it natural to do intermittent fasting as their hunger is reduced to where they don't need a third meal. Keeping feeding time reduced to a smaller window during the day enables the body to use stored body fat for fuel longer, which benefits weight loss. My husband Craig and I still do intermittent fasting every day as maintenance. It just makes life easier only having to make two meals a day instead of three.
CE: How can people expect to feel when starting out?
ME: There is a sort of three-phase process the body goes through as it adapts to burning fat as its primary fuel. After two to three days, you will show elevated ketones [the buildup of chemicals created by the body when it burns fat for energy] in the blood. Energy will be low for the first week or two, but keeping electrolytes up such as sodium, magnesium, potassium [by using sea salt liberally and considering a supplement if necessary] and drinking water usually help. After about four to six weeks, the body actually makes more mitochondria [the powerhouses of our cells], and that is when your energy starts to soar. You also start seeing amazing mental clarity and focus, cravings go away more and more.
CE: Are there any challenges for women specifically when it comes to weight loss?
ME: Women typically have a little harder time losing fat than men as men have larger lean muscle masses resulting in a higher basal metabolic rate (BMR). But sticking with it will result in reaching your goals – it just might take a little longer.
CE: What does an average keto dinner look like for you?
ME: A great example is a hamburger with my keto ketchup and a side salad with my ranch dressing, tomato and lettuce. Simple and fast. You can have pretty much everything you love just by using a couple of different ingredients to make it keto.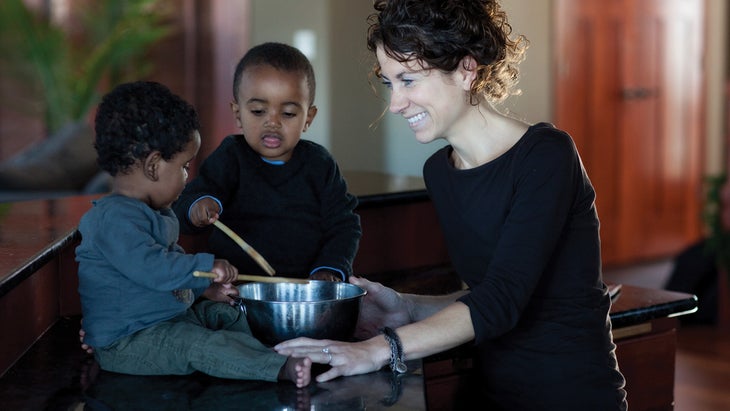 CE: What do you say to people who think the keto diet is too complicated to try?
ME: Keep it simple. Pick three or four recipes you like from my books or meal plans and just make a larger batch of those and eat them for the week. It's really just about shifting and finding substitutes for higher-carb ingredients.
Maria has written several books including The Ketogenic Cookbook.
You can include many of the same foods you love in a keto diet, according to Maria. You simply make a few easy swaps to keep meals lower in carbohydrates.