Making the Most of Your Tiny Kitchen
Heading out the door? Read this article on the new Outside+ app available now on iOS devices for members! Download the app.
I'll be the first to admit that I'm one of those people who easily gets caught up in the moment. This is why – or rather how – I find myself living in an apartment with a ridiculously small kitchen.
It was after a long and grueling day of apartment viewings that I finally stumbled upon a building in my dream neighborhood – fragrant fruit markets dotting the area, cozy bookstores and a quaint little two-screen movie theatre right across the street. Maybe it was exhaustion or the frustration of having walked through dozens of unappealing apartments that led me to eagerly sign on the dotted line of the rental agreement that day.
Don't get me wrong – I love the creaky old wooden floors, bright bay windows and classic (if inconvenient) claw-foot tub hogging half of my bathroom floor space. But the dollhouse-sized kitchen – that's one thing I'm still struggling with.
Over the past few months, I've gradually attuned my kitchen to be as functional as possible. Here are my top tips for keeping your kitchen organized and under control, no matter how big or small:
1. ORGANIZE
Avoid those moments where you just can't find that ingredients you know you have by keeping your cupboards organized. At my worst, I've been known to keep chicken broth and cough medicine on the same shelf. Now I divide my cupboards by "sweet" and "savory" – baking items in the sweet and regular cooking supplies in the savory.

Gil's sweet cupboard.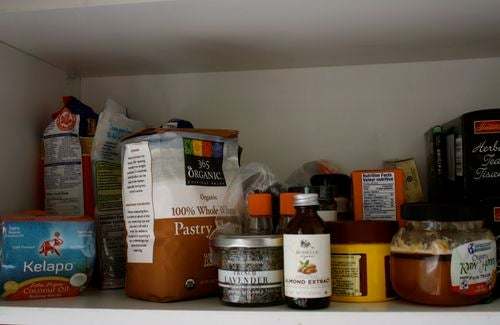 See also5 Do's & Don'ts for an Orderly Kitchen.
2. KEEP IT HANDY
Things I use every day, such as oils, salts and spices, are always kept on lower shelves so I can easily grab them when needed. Just remember to store your spices and oils away from direct sunlight to keep them from going rancid or losing flavor.

Gil's savory essentials cupboard.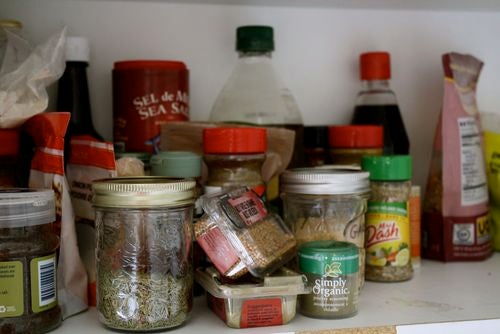 3. MULTI-TASK
My salad spinner is in constant use, but it takes up quite a bit of cupboard real estate. My solution? I wash and spin greens as soon as I get home from the market, then refrigerate them right in the spinner. It saves cupboard space and I always have washed greens on hand to whip up a quick salad. Plus, leaves stay crisp and fresh for up to a full week when they're washed and spun thoroughly. Win-win!
4. STACK
Get in the habit of storing grains and dried beans and pasta in stackable, re-sealable jars or plastic containers. This saved me a lot of space, and they look so pretty in my cupboards.
See alsoHow to Organize Your Fridge Like a Pro.
5. LOOK UP
Your walls are a great source of storage. Thankfully, my kitchen has relatively high ceilings, so I was able to install shelves above my head to store cookbooks and dishes that would otherwise be relegated to the back of a cupboard. If you can spare the space, install a metal rack on your wall to hang pots, pans and other gadgets that will ultimately make your kitchen look well used and well loved.
Do you have your own tips for making sense of a minuscule kitchen? I'd love to hear them! Leave a comment or send an email to my attention to: editorial@www.cleaneatingmag.com